The Different Types of CBD Products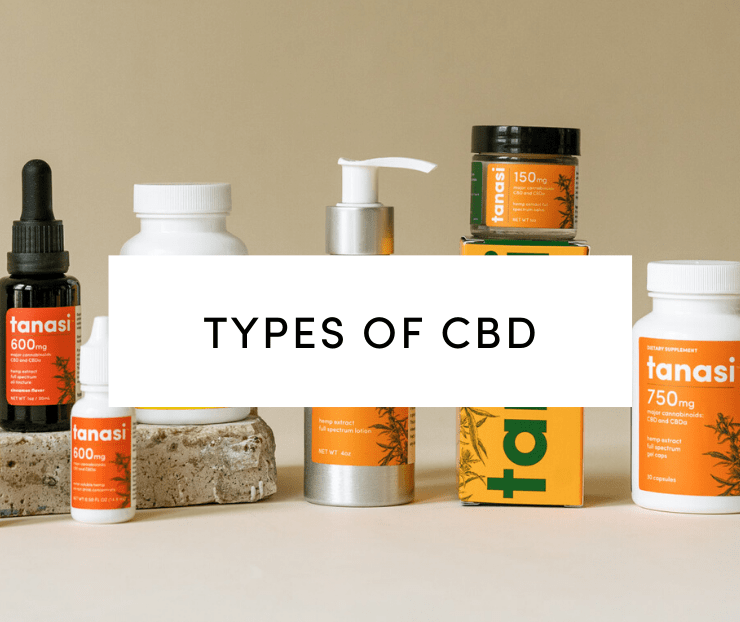 Posted on June 12th, 2020
There are numerous forms of CBD products, and as the industry expands, more are bound to be released. And there's a reason for this that goes beyond marketing and personal preference. Inside your body are various types of endocannabinoid receptors, so the different forms of CBD and other cannabinoids can communicate with all the different receptors. In this comprehensive read, we'll look at the varying types of CBD oil products and why you may want to use or avoid certain forms.
A Closer Look at the Different Types of CBD Delivery
Cannabidiol oil, commonly referred to as CBD oil, is a natural compound that's sharply increased in popularity in the past couple of years. It is one of many compounds, categorized as cannabinoids, found in the Cannabis plant. When ingested or applied topically, CBD and other cannabinoids interact with your endocannabinoid system (ECS), producing a range of different effects in your body. As a result, we've seen many people report improved health outcomes after using CBD products. Early research suggests this is because of CBD's ability to connect with your ECS, which is responsible for keeping your body in balance. 
Still, while all forms of CBD will interact with your ECS receptors, different products will produce slightly different effects in your body. So let's take a closer look at how some of the most popular forms of CBD perform in your body.  
CBD Tinctures
CBD oil tinctures were the original delivery method for this cannabinoid, and are still the most widely available and commonly used form of cannabidiol in the industry. Tinctures come in liquid form; you can ingest your dose on its own, or mix it into food or drinks. But, in order to maximize your CBD's bioavailability (how much of the cannabinoid your body can absorb), it's best to dose sublingually (under your tongue, without mixing in other products).
CBD oil tinctures come in a wide variety of concentrations, making this delivery method a great option for everyone from people just beginning their CBD journey to veterans of the cannabidiol world. Regardless of your experience in CBD intake, tinctures are great for testing the dosage that works best for your body. They are also pretty affordable, meaning you do not have to spend a fortune to achieve your desired results. 
Want to know another reason we love CBD tinctures? They allow you to enjoy that natural, earthy CBD flavor, or you can have fun with added flavors such as mint or strawberry. Keep in mind that some people struggle to get the right dose into the included dropper, while others are turned off by the flavor. But if that's your situation, don't despair: just seek out a different delivery method! 
CBD Vaping
Vaping CBD enjoyed a moment of extreme popularity, due to the bioavailability in this form of consumption.
When you vaporize CBD, it goes to your lungs and makes its way into the bloodstream rather than passing through the stomach and liver. The initial pass effect occurs in your gut wall and liver, where fractions of the product are lost before reaching the destination. However, when you vape, you do not have to worry about this loss, since substance hits your circulatory system much faster.
This is why many nausea or anxiety sufferers tried vaping–they were looking to address symptoms as soon as possible. But this fast-delivery method can also be problematic. 
First of all, you need a much lower dose when vaping, because of its high bioavailability level. If you dose too high while vaping, you may experience side effects like dizziness or mild nausea. But that's not the biggest concern with vaping: recently, we've learned that vaping can cause serious illness, lung injury, or even death. As such, we can't recommend vaping CBD oil.
CBD Topicals
CBD oil topicals come in the form of creams, lotion, salve, balms, shampoos, deodorant, conditioner, and much more. When you use this form of cannabidiol, it doesn't enter your bloodstream. Instead, the CBD interacts with your skin and its concentration of your endocannabinoid system's CB2 receptors. Now, when is it a good idea to choose a CBD topical?
Many people prefer CBD oil topicals when addressing inflammation or acute injuries. You can apply a CBD topical directly to a targeted area, and expect to see targeted effects. Some topicals are also made with menthol, camphor, or capsaicin, in order to enhance soothing effects. 
You may also explore CBD topicals for general skin health. They come in the form of sunscreen, shampoos, and lip balms. All these products are designed to help protect and moisturize your skin. 
CBD Isolate
This type of CBD comes in an array of forms, including powders, wax, and crystals. It is the most expensive form of CBD, but it is the purest form you can find.
CBD isolates provide the most accurate CBD dosage since you can measure it down to the milligram. However, this is a CBD form that's usually best suited for experienced users. The wax and crystals can be vaporized, like smoking, and the crystals can be ingested like candies if you wish so.
CBD isolate is a versatile form, as it can be added to e-juices for vaping, beverages or foods, and even used in cooking. This kind of versatility is what makes CBD isolate quite popular. But keep in mind that when you choose a CBD isolate, you miss out on experiencing the entourage effect. This is a term we use to describe how CBD produces greater effects in your body when combined with other cannabinoids and terpenes (natural oils found in cannabis plants.) It's also why, at Tanasi, we provide a full-spectrum CBD oil instead of a CBD isolate. 
Types of CBD Products
CBD Edibles
While you could experiment by adding CBD oil to your recipes, you could also go ahead and purchase CBD edibles. These are available in all forms, including cookies, gummies, chips, and much more. 
There is also a range of CBD-infused beverage options. Today, you can find numerous teas and coffees that are formulated with cannabidiol. You may purchase syrups you can add to your cocktail, protein powder, shots, and water. Just keep in mind that the Federal government still hasn't legalized adding CBD to food or drink. That's because the Federal Food, Drug, and Cosmetic Act prohibits adding any type of drug, even one that's legally approved, to food intended for human or animal consumption. 
CBD Capsules
CBD capsules were the first CBD pills to enter the market, but companies have since expanded their offerings, now including regular pills and easier to swallow soft gels. Perhaps the biggest benefit of this type of CBD is that the dosing is very precise. Some individuals just feel more comfortable when they know their exact CBD consumption level. And here's the good news: you can find CBD soft gels in isolate form as well as a broad or full-spectrum hemp-extract CBD capsule.
With pre-measured, easy to swallow doses, your daily CBD routine is a breeze. You can include capsules together with your daily medications or supplement. This is especially great if you're forgetful. But remember, always consult with your physician before adding CBD to your daily routine. 
Capsules also allow for relatively fast delivery as they are easily digestible. This is a form to consider if you do not like the taste of any of the oils. The only downside is that some manufacturers may include additives in their pills. As such, you need to do your homework to ensure you get the right product and choose a manufacturer who, like Tanasi, lists every included ingredient. 
CBD Patches
This is another topical form of CBD oil consumption, but with a patch, CBD will enter your bloodstream. A patch is simply a medicated adhesive that's put on your skin to release a specific dose of the infused substance, thus promoting effects in targeted regions of your body. 
A benefit of this form of CBD application is that a CBD patch gives you a more controlled release of the compound. This is achieved via a porous membrane or via body heat, which melts the formulation embedded in the adhesive. 
This is an excellent CBD oil delivery form if you want to address localized pain or inflammation. 
Emulsified CBD
CBD may be a hydrophobic compound (it doesn't mix with water), but that hasn't stopped companies from producing water-soluble CBD oil products. This relatively new form of CBD has opened up a variety of different CBD types, including nano, micro, and liposomal emulsions. These come in several familiar forms, including powder and capsules. 
Summary
As you can see, there are numerous types of CBD products. So how do you choose your perfect product? The answer boils down to which will meet your specific needs. Once you know what you're looking for in a CBD product, you'll be better equipped to decide the form of CBD that's best for you.