Broad Spectrum vs Full Spectrum CBD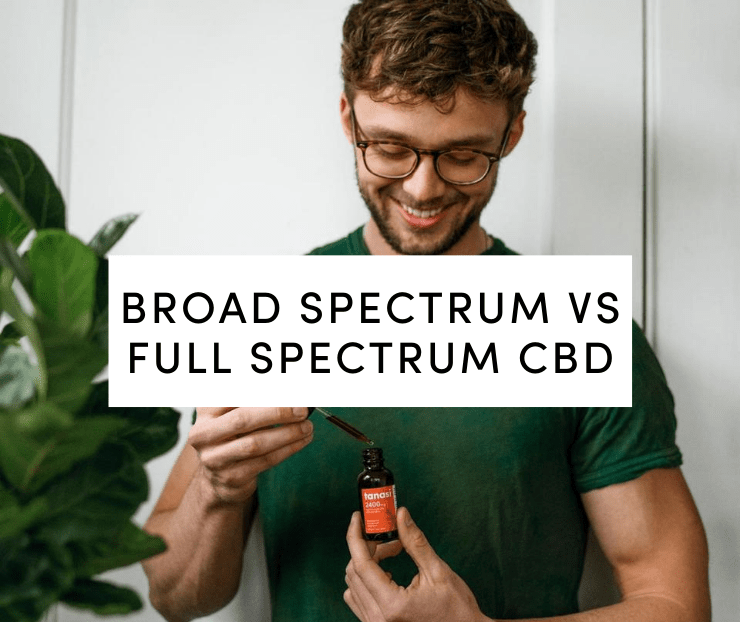 Posted on August 14th, 2020
If you've been shopping for CBD (cannabidiol) products, you've probably come across a number of different options, and terms such as broad-spectrum CBD and full-spectrum CBD. These are two of the most popular choices among CBD consumers. For those who are new to CBD, you might be wondering what these terms actually mean. 
In general, the terms refer to what kind of CBD oil is used to make the product. Each type contains CBD with similar potential benefits, though each has a slightly different chemical composition. For this reason, the experiences you get with one product may not be the same when using the other. 
In this post, we'll take a deeper look into the difference between full-spectrum vs. broad-spectrum CBD, the pros and cons of each, and what each is most suited for; to help you determine what might be the right option for you. 
But before we get into the details, it's important to first understand the basic chemistry of CBD oil. 
A Little Background on CBD Oil
Cannabis is quite a complex plant, containing hundreds of different chemical compounds. More than 100 of these compounds have been identified as cannabinoids, with two of the most popular ones being THC and CBD. However, they only make up a small fraction of the chemical profile and cannabinoid content of cannabis. There are other important compounds such as flavonoids, terpenes, and essential fatty acids. 
These compounds are responsible for determining the difference between a broad spectrum, full-spectrum, and CBD isolate oil. Moreover, these compounds are believed to work together to produce the "entourage effect" in the body. 
The entourage effect is defined as the combined effect of the different kinds of compounds present in the cannabis plant that work harmoniously to produce a greater effect than would have been the case if each worked separately to produce distinct effects. 
The three key cannabis compounds involved in the entourage effect are cannabinoids, flavonoids, and terpenes. The main idea here is that whole plant extracts usually have much greater benefits compared to their isolated counterparts. 
As their respective names imply, broad-spectrum and full-spectrum CBD oil contains a wide range of cannabinoids and other compounds that lend to the entourage effect. Nonetheless, to understand the benefits each of them has, it's best to first look at them individually. 
What Is Full-Spectrum CBD?
CBD oil is typically extracted/obtained from hemp or cannabis plants. The supercritical CO2 extraction method is one of the most common extraction methods, mainly because it's sustainable, safe, and produces the purest and cleanest form of CBD oil. The result of this CO2 extraction is full-spectrum CBD oil. 
The terms "full-spectrum" refer to the full-spectrum of cannabinoids along with other compounds that are present in cannabis and are associated with the entourage effect. Essentially, full-spectrum CBD has zero cannabinoids removed, meaning it contains trace amounts of the compound THC. The main reason for this is to achieve the entourage effect. 
Whenever you come across the "full-spectrum" phrase on a label, be sure to check the company's lab reports. Keep in mind that while the industry is yet to regulate the terms, full-spectrum CBD oils will most likely contain minute amounts of THC. With this said, it's important to note that most full-spectrum CBD hemp-derived products will contain less than 0.3% THC by weight, which isn't enough to cause any psychoactive effects. 
The widely available full-spectrum CBD products are typically derived from hemp, a cannabis plant with naturally low levels of THC. The legal requirements for hemp plants are actually to contain 0.3% THC, and most CBD products will contain less than that. However, while this THC content is unlikely to make you get a "high", it could potentially lead to a failed drug test. 
Some users are concerned about failing a drug test, can't tolerate THC, or simply don't want to have any THC in your system but want to enjoy the full benefits of the entourage effect. That's where broad-spectrum CBD comes in. 
What Is Broad-Spectrum CBD?
Broad-spectrum CBD is basically full-spectrum CBD with any THC content removed. This means that the consumer can still benefit from the entourage effect with broad-spectrum CBD without consuming the THC. 
From the initial CBD extraction, some companies prefer to rid their products of THC. However, they retain the rest of the cannabinoids in the formula. CBD products whose THC has been removed tend to be marketed as broad-spectrum CBD. 
Removing THC
It's important to note that some manufacturers tend to use the term for any CBD product containing any other cannabinoid alongside the CBD. However, true broad-spectrum CBD is made by removing THC from a full-spectrum extract, usually by refining it through a chromatography process. What remains is a broad-spectrum formula rich in CBD that also contains a wide variety of terpenes, cannabinoids, and other organic compounds. 
The refining process is crucial when it comes to crafting broad-spectrum oil. Refining ideally removes the unwanted cannabinoids from the formula. Companies are usually given an option to choose which cannabinoids are to be removed. 
Since most companies understand that many consumers want to benefit from the entourage effect but may want to avoid THC, they mostly remove THC only to create the broad-spectrum oil. And since only THC has been removed from the final product, the final broad-spectrum product offers the synergy of other cannabinoids. 
Some enthusiasts and users alike argue that since THC has been removed from the broad-spectrum oil, it doesn't lend to the same entourage effect. What they forget is that all the other beneficial compounds are still there, including cannabinoids like CBN, CBG, and CBC; terpenes like linalool, myrcene, limonene, and pinene; and different flavonoids known for supporting homeostasis and overall wellness. All these work harmoniously to help create an entourage effect. 
This makes the broad-spectrum CBD ideal for people who don't want THC in their system, whether for personal, professional, or legal reasons. Why? Because the products offer exactly what they are looking for, with the peace of mind of consuming a product that's 100% THC free. 
Choosing Full-Spectrum vs Broad-Spectrum CBD 
Now that you understand the difference between broad-spectrum vs. full-spectrum CBD, it's much easier to choose what form of CBD is most suitable for your individual needs. Everyone has their own unique needs. Understanding the differences will better help you to determine which CBD type is best suited for you. 
Remember that the bioavailability of CBD (how much CBD is absorbed into the bloodstream) and the activation time for CBD products (how long the CBD takes to produce effects) will mainly depend on the type of product in use, not the type of CBD oil. 
In most cases, a proper dosage of CBD from a product made by a reputable manufacturer should be enough for you to experience the effects of CBD. However, if you're still trying to find the right product for you, here are some factors to consider:
Any Upcoming Drug Tests?
As already mentioned, full-spectrum CBD derived from hemp usually contains trace amounts of THC. However, it largely depends on the exact test in question. There's a chance that it could result in a positive drug test. If you're concerned about this, your best bet is to stick with a broad-spectrum CBD or a CBD isolate. 
Want the Most Out of Your CBD?
Regardless of the THC content in a CBD product, CBD by itself is more effective when combined with other compounds than it is when consumed in isolation. The organic compounds contained in broad-spectrum and especially the full-spectrum CBD will work together to produce the entourage effect. 
Odor and Color
Full-spectrum and broad-spectrum CBD will typically feature a hemp-like flavor because of the terpenes and other compounds present. So, if you want rich flavor and taste, then both will serve you well. However, if you want a clean flavor, you may want to consider getting a CBD isolate. 
Pros and Cons of Full-Spectrum CBD
Pros:
It's the least processed form of CBD

Lets you experience the full benefits of the entourage effect

Comes with flavonoids and terpenes for maximum benefits

No psychoactive effects
Cons:
May show up in a drug test

Has the natural aroma and flavor or hemp that can be too much for some users
Full-Spectrum CBD Is Ideal for:
People looking to benefit from the entourage effect 

People living in states where cannabis and industrial hemp is legal
Pros and Cons of Broad-spectrum CBD
Pros:
Zero exposure to THC

Produces the benefits of the entourage effect
Cons:
Less available than full-spectrum CBD

Carries the strong aroma and flavor of hemp
Broad-Spectrum CBD Is Ideal For:
Individuals who are sensitive to THC

New CBD users who are wary of THC
Final Thoughts
Just as with most things, the best type of CBD for you will boil down to your personal preferences, priorities, and situation. However, no matter what you choose to go for, you should always make sure that you purchase your CBD products from a reputable source. And that you check for third-party lab test results. Make sure to always consult your physician before starting CBD. This is especially important if you have any health conditions or are taking medications.