How Often Should I Take CBD?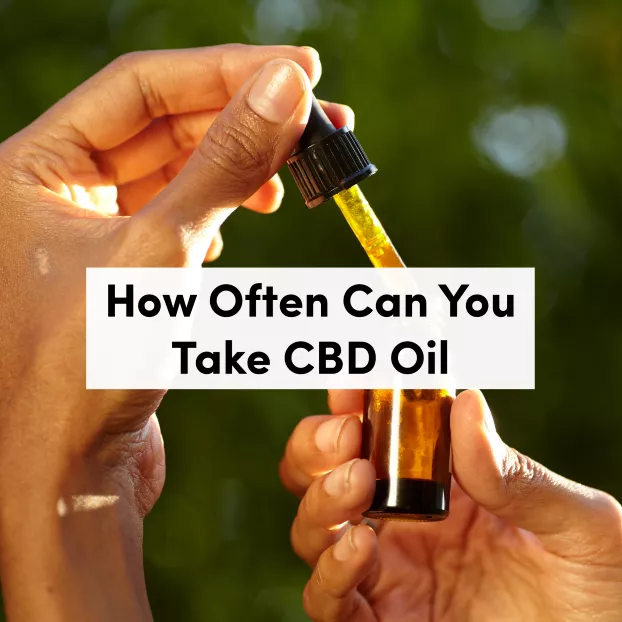 Posted on February 18th, 2022
So, you have already heard about CBD or cannabidiol: the supplement with many potential health benefits. Now, you're thinking about giving it a try! The health and wellness industry is buzzing about this natural chemical compound due to its potential to help with pain relief, menopause symptoms, anxiety, insomnia, and a host of other conditions. If you wonder how often should you take CBD, you have come to the right place. Keep reading this article to answer your question, "how often should I take CBD?"
How Can I Take CBD Oil?
There are different types of CBD products on the market today. In fact, you can choose from a wide variety including capsules, oils, tinctures, ointments, gummies, smoothies, vape pens, and more. Here are some of the most common ways of taking cannabidiol at home:
. Tinctures –
A tincture is a concoction that you take by a dropper and spray straight into the mouth. Place the tincture directly under your tongue for best results. This is the part of your mouth where there are lots of capillaries. Cannabidiol will reach the bloodstream much quicker when you place the substance under the tongue and hold it there for a minute before swallowing.
. Capsules –
Capsules are great for people who want to have a consistent amount of CBD in their bodies. But capsules have to pass through the digestive tract before they release active ingredients into the bloodstream, which means you may have to wait for more than 30 minutes to experience the benefits of the substance.
. Vaping –
Vape pens are popular today. The latest vape pens could easily go undetected since they produce very little smoke. Vaping is a quick way to get the benefits of the substance since it enters the lungs and is rapidly absorbed into the bloodstream. But the long-term safety of vaping is still unknown.
. In Smoothies –
CBD oil has a pungent and earthy taste at times. Most people prefer to mask the taste of the substance by adding a few drops into their favorite smoothies.
. In Coffee –
There are different CBD coffee brands on the market today. These products let you enjoy the energy of coffee without the associated jitters. They help get rid of anxiety caused due to caffeine consumption.
. In Sweet Treats –
Today, you find hemp extract cookies, gummies, brownies, and caramel candies on the market. Manufacturers infuse CBD into all these edible products to provide instant relief for a wide range of conditions. You can easily take these sweet treats with you wherever you go. Nobody will notice that you are taking cannabidiol when it's infused into your favorite edible products.
. Topical Balms –
Manufacturers blend cannabidiol with beeswax or fragrant coconut oil to create a topical balm or rub. This delivery method may provide fast relief for various pains and aches in the body. You can easily spread these balms and rubs on the affected area of the body.
How Often Should I Take CBD: Calculate The Right Dose For You
Your dose may depend on many factors including the condition you want to get relief from, your body weight, your individual body chemistry, and the concentration in your chosen product. In fact, there are many variables that go into determining how much cannabidiol you should consume. The most important thing is to talk to your healthcare provider about the dosage and possible risks of taking the substance. Your doctor is the best person to decide this because he or she knows your medical history and current medications. Cannabidiol can interact with some medications. Your doctor will discuss a safe dose, depending on your health condition and the medications you are taking right now.
How To Calculate The Dosage?
The active dosage in edibles, capsules, or pills is usually indicated on the label of the product. For example, if you opt for a CBD capsule product, the label may indicate that there is 5 mg of active ingredient per capsule. CBD oil comes in dropper bottles where the label specifies how much cannabidiol is there in the entire bottle. Hence, it becomes harder to know how much you'll ingest with one drop. One drop equals 0.05 milliliters (ml), which means a 10 ml bottle has 200 drops of oil. If the entire bottle contains 1,000 mg, each drop should contain about 5 mg cannabidiol. If you need 10 mg per dose, you should take two drops.
How Often Should I Take CBD?
CBD affects different people in different ways. You should always start low and slow when beginning your CBD journey. Take half the recommended dose and see how it helps you. Slowly increase the dose until it meets the recommended dosage. The dosing schedule will depend on many factors such as your body weight, body type, health condition, and the medications you currently take. Your healthcare provider is the best person to recommend how much CBD you should take and how often, depending on your medical history.
If your doctor doesn't provide a specific dosage, the best thing is to start with a smaller dosage and gradually increase it. Start with 20 or 40 mg a day and increase the dosage by 5 mg after a week. You should continue with this dosage until it provides effective relief for your condition. You should also keep track of how much CBD you are taking and how it's affecting your health condition.
Is It Possible To Consume Too Much?
A 2011 study revealed that CBD was safe for humans even at higher doses of 1,500 mg a day. But a 2019 study done on mice raised some concerns about potential liver damage as well as interactions with other medications. If you are taking other medications at the moment, you should speak to your doctor before taking CBD products. Still,  this supplement has very few known side effects. If side effects occur at all, they may include diarrhea, change in weight, change in appetite, and fatigue.
How To Buy CBD?
The FDA doesn't regulate CBD products other than Epidiolex – which is approved by the FDA to treat seizures caused by Dravet syndrome and Lennox-Gastaut. Hence, there are many low-quality CBD products on the market today. It is up to you to make sure you are only using the highest quality CBD products to get relief for your health condition. Look for CBD products from reputable brands with third-party testing. In fact, you should avoid CBD manufacturers or companies that have a history of inaccurate labeling. In fact, a 2018 CDC report stated that more than 52 residents of Utah had bad reactions to certain CBD products. Most of these people had used CBD products that included synthetic CBD. Some of these products didn't contain any information about the manufacturer or its ingredients. You should avoid such products and opt for the best CBD products on the market.
If you are looking for the best CBD products on the market today, you can find many CBD brands online. Tanasi.com is a trusted brand of superior quality CBD products. We sell some of the best CBD tinctures, capsules, oils, creams, salves, and more. Check out our website at Tanasi.com to purchase high quality CBD products at affordable prices.