Determining CBD Dosage For You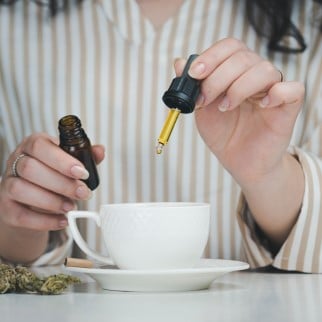 Posted on February 24th, 2022
Determining CBD dosage can be tough. And that's a problem, because CBD is one of the fastest-growing alternative pain-relieving products on the market. Many people rely on cannabidiol to manage chronic pain, reduce anxiety, and sleep better due. But if you are confused about how to determine the right CBD dosage for your condition, you've come to the right place. This article provides information on some factors to consider when determining CBD dosage for you.
Possible Health Benefits Of Cannabidiol
Cannabidiol or CBD is just one of the hundreds of chemical compounds found in the cannabis plant. Now, the marijuana variety of cannabis is a centuries-old natural medicine. But, recently, researchers isolated CBD and explored its own medicinal properties. Thankfully, current research shows that CBD may have some beneficial physical and mental health effects. Here are a few of these potential benefits.
. Treat select epilepsy syndromes
CBD is found to treat two rare forms of epileptic seizures resulting from Dravet syndrome and Lennox-Gastaut syndrome. In fact, the FDA or Food and Drug Administration approved the use of a CBD-derived drug by the name of Epidiolex to treat these conditions in patients at least 2 years old. There were several well-vetted studies conducted by researchers to influence the FDA to approve the use of this CBD product to treat such patients.
. Alleviating depression –
Some studies suggest CBD may relieve depression for some patients. These studies reveal that CBD might have an influence on how the brain responds to a neurotransmitter called serotonin, which plays an important role in regulating mood. (That's because people with depression have low levels of serotonin compared to happy individuals.
. Improving sleep quality –
The latest studies reveal that CBD may improve sleep quality in people who suffer from insomnia. One study demonstrated that cannabidiol helped improve the quality of sleep in patients struggling with sleep issues.
. Relieve unmanageable pain –
Canada approved the use of Sativex in 2005. It treats multiple sclerosis-related central neuropathic pain. By 2007, Canada expanded its approved use to treat cancer pain that proved unresponsive to other medications. Several U.S. studies also reveal that CBD can relieve chronic non-cancerous pain. In these studies, participants showed a significant reduction in sharp pains and itchy sensations after using topical CBD compared to those who used a placebo.
Determining CBD Dosage For You
Thanks to several different studies, we now know target doses for several different conditions. Here are some of the common dosages used in these research studies:
. Poor sleep – 25 mg per day.
. Cancer-related pain – 50-600 mg per day.
. Anxiety – 300-600 mg per day.
. Parkinson's disease – 75-300 mg per day.
. Psychosis – 600 mg per day
. Bowel disease – 10 mg per day.
When determining CBD dosage, you should always consult with your healthcare provider. That's important, because taking CBD can worsen an existing health issue if it interacts with the other medications you are currently taking. On the other hand, if the product is FDA approved, you can look at the dosage information on the label of the CBD product. Currently, there is only one FDA-approved CBD product – Epidiolex. The starting dosage of Epidiolex is 5 milligrams per kilogram of body weight. The dose can be increased to 5 mg per kilogram of body weight twice a day after some time. Almost all of the other CBD products on the market today are not approved by the FDA. Hence, they don't have officially recommended dosages, which can make it difficult to determine how much you may require.
There are many factors that impact the dosage of CBD. These factors will affect how much CBD you need to consume to get the relief you want. But these factors are not definitive since everyone reacts differently to CBD. Here are some of the most common factors that may impact the dosage of CBD:
. Your height and weight –
The more you weigh, the more CBD you require to feel the relief you want. In fact, CBD interacts with the CB1 and CB2 receptors of the ECS or endocannabinoid system, which extends throughout your body – from the brain to the feet. The rate of CBD absorption and metabolization varies depending on the height and weight of the person. If you are a taller and heavier individual, you may require a higher concentration of CBD compared to a lighter and shorter person. You should stick to 0.2-0.7 mg of CBD per pound of body weight on average. To get the correct dosage, multiply your body weight by 0.2 mg and increase the amount as needed over time.
. Your age –
Your body should first break down the compound for you to feel the effects of CBD. Metabolism plays an important role in breaking down CBD. Since your metabolism will slow down with age, your age plays an important role in choosing the correct CBD dosage for you. The younger you are, the more effective the CBD product is. On the other hand, the older you are, the longer it may take to feel the effects of CBD.
. Your past experience taking CBD –
If you have already taken CBD products in the past, you may have a rough idea of the correct dosage. But if you haven't taken any CBD product for a while, you should start low and slow. On the other hand, changing the form of CBD – such as using CBD oil instead of CBD capsules – can increase or decrease the effects of CBD.
. Your gender – There is some evidence to show how men and women react to CBD (Ref: https://www.ncbi.nlm.nih.gov/pmc/articles/PMC2931555/). Research shows that CBD may have more noticeable physiological effects on men than women in terms of energy balance & food intake. It is also stated that CBD may have a more profound impact on women than men in terms of stress and mood disturbances.
. Your symptoms –
The symptoms you are trying to alleviate may have an impact on the dosage of CBD. For example, a study showed that people who took 25 mg of CBD each day had improved sleep quality. But the same person may require a lower or higher dose of CBD when trying to alleviate other types of symptoms.
. Your sensitivity to CBD –
Your ability to tolerate CBD also plays an important role in determining CBD dosage for you. In case you are quite sensitive to CBD, you should opt for a lower dose while people who are not affected by the substance should take a larger dose to notice any beneficial effects.
Is It Possible To Take Too Much CBD?
Researchers have found that 600 mg of CBD per day appears to be safe. But another study shows that CBD doses of up to 1,500 mg per day can be tolerated and are safe for many people (Ref: https://pubmed.ncbi.nlm.nih.gov/22129319/). But you should remember that research is still going on, and the experts don't understand the possible long-term effects of CBD usage. The best way to decide the right dosage is to discuss your CBD use with your healthcare provider.
If you have decided to consume CBD to alleviate a chronic or acute condition, the dosage of the product may depend on many factors. Finding the right dosage may take some experimentation and adjustments. The aforementioned article provides information on some of the factors that should be taken into consideration when determining CBD dosage for you.