Does CBD Do Anything?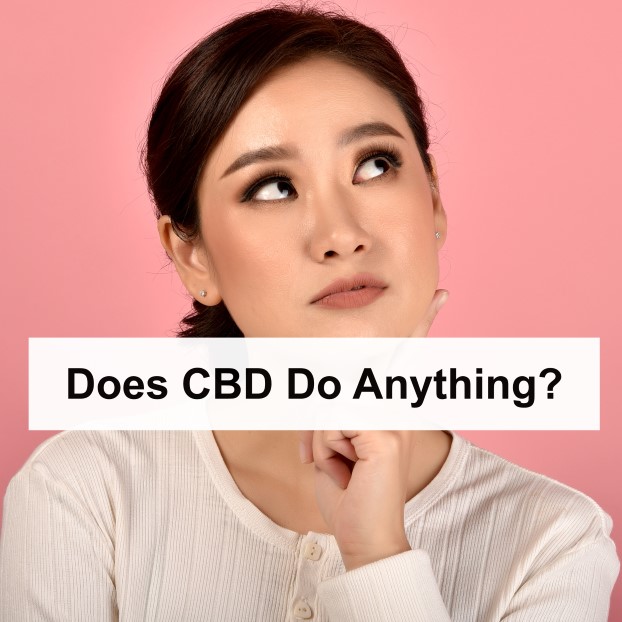 Posted on November 16th, 2020
Does CBD do anything? A question people unfamiliar with CBD's therapeutic potential ask around fairly often since the rise of CBD. If you are curious and plan on soon trying CBD yourself, it's good for you to know all about it before buying it. That way, you will have a prior idea of what you will be getting yourself into, so there aren't any surprises catching you off-guard.
As with any other alternative supplement, you better check with your doctor before starting CBD. This is doubly so true if you have any underlying health conditions and/or are currently taking medications because CBD does interact with some.
If you happen to be pregnant, please, do not use any cannabidiol product. Note that CBD is federally legal, but may still not be legal in all states across the union. Hence, check the legal status of hemp products in your current location before getting some. In this article, we'll answer your question and tell you definitively if does CBD do anything.

Definition Of CBD
CBD, otherwise known as 'cannabidiol,' is an oil from the cannabis and hemp plants. CBD is a cannabinoid, a family of compounds found on both plants. There are over a hundred different cannabinoids already identified. Each has its own distinct effects, although some might overlap a bit with one another. Despite both being cannabinoids present in the cannabis plant, cannabidiol is different from tetrahydrocannabinol, or THC.
THC is the primary psychoactive compound of cannabis, meaning it is because of THC that you get 'high' when consuming it. CBD products, on the other hand, have very little THC content, less than 0.3% to be precise. Thus, a CBD product will never get you high as regular cannabis does, but it will give you some therapeutic benefits. CBD had been booming in popularity and, as experts keep discovering new things now and then, it's likely that it becomes even bigger.
The way in which cannabidiol interacts with the body is mostly through the endocannabinoid system (ECS). This is a complex network of receptors, known as cannabinoid receptors, and enzymes spread all over our bodies. Cannabidiol attaches to the receptors and delivers its effects. There are two kinds of cannabinoid receptors, CB1 and CB2. Each provides distinct therapeutic effects when interacting with CBD.
Forms Of CBD
If there's something CBD has in spades, its variety. There are a lot of ways you can take cannabidiol. Therefore, there's a whole variety of different types of products.
The most well-known are oils, creams, and lotions. All of which show potential to treat pain, inflammation, and even skin conditions like acne. Another seemingly popular way is ingesting them as edibles. If you are looking for a way to enjoy the benefits of CBD fast, better use natural oils and tinctures. You can take it sublingually, that is, putting some drops under your tongue to kickstart the effects. For many that cannot or are not kin to taking pills, this is the go-to way to consume it.
Alternatively, you can take CBD in capsules and pills. There's even a prescription medicine to treat epilepsy that contains cannabidiol: it's called Epidiolex. It just goes to show you how rapidly the CBD market is growing.
Lastly, as it could not be any other way with cannabis, you can also inhale it. However, instead of rolling a joint, you can vape CBD oil. Vaporized CBD will make you feel the effects very fast since CBD goes straight to the bloodstream through your lungs.
The Benefits of Using CBD
No one would even be aware of cannabidiol if the compound did not deliver some effect when you consume it. The reason why CBD is popular is that it does. Here are some of the potential benefits researchers have identified by studying this cannabinoid.
May Help Insomnia Patients.
Struggling with sleep? If so, CBD might be the way for you to avoid long, restless night. The primary mechanism to deliver a good night's sleep CBD appears to have is its potential anxiety-relief effects. If there's something on your mind keeping you up at night, you may find relief if you take some CBD. Users report a feeling of calmness after taking CBD, leading them to fall asleep easier.
It Helps Quitting Smokers Battle the Withdrawal Symptoms.
Used to smoke and looking to give it up? This is not your first try, is it? Nicotine withdrawal symptoms are the nightmare of any aspiring former smokers. Everyone knows that backsliding is common among users because the anxiety and restlessness of withdrawal are intense. CBD's potential anxiety-relieving effects may make things easier. Studies show that you can reduce cravings since cannabidiol has a relaxing impact on the user.
Cancer And Chemotherapy.
There are early indications that cannabidiol might delay the growth of tumors when taken regularly, yet research is ongoing. However, CBD may also serve as a support for cancer treatment by assuaging some of chemotherapy's side effects.
Scientific evidence points to cannabidiol as an effective anti-nausea treatment as well as appetite inducer. Thus, two things chemotherapy patients could use very, very much. Finally, CBD also acts on the CB2 receptors, which associate with the body's autoinflammatory response. Therefore, giving patients relief from pain endured while getting treatment.
Lowers Blood Pressure.
Blood pressure tends to rise due to many factors: stress, diabetes, chronic alcohol abuse, obesity, etc. The higher the blood pressure, the more you risk developing heart disease or having a heart attack. Cannabidiol appears to have vasodilatory properties; it may help improve blood flow throughout the body. However, before you take it, run it through your doctor to get their approval. This is especially true if you are on other medications already.
Hinders Epilepsy
As stated previously, there's already an FDA-approved antiepileptic medication based on CBD called 'Epidiolex.' Thus, certifying cannabidiol's capabilities to deal with epilepsy. Cannabidiol's anti-seizure properties are especially handy since cannabidiol is all-natural. Thus, severe side-effects from the drugs regularly prescribed do not happen when taking CBD.
Targets Skin Conditions.
Cannabidiol may alleviate skin conditions since it promotes the death of cells that bring about eczema. It controls the production of excess oils in the skin and, as a result, may prevent acne. When it comes to skincare, CBD is a very functional anti-oxidant. Other skin conditions that cannabidiol may helps address include psoriasis and allergic dermatitis.
If you want to target acne, you have to look for a CBD product with antibacterial compounds. Breakouts tend to differ. For example, if they are mild; you should use topical CBD products. If they are severe, a mixture of CBD oil and topical CBD products could do the trick.
Side Effects of Using CBD
The World Health Organization deems cannabidiol safe to use even though it might have some mild side effects on some users. The side effects may include
Feeling fatigued
A change in appetite
Alteration in the liver enzymes
Inhibition of hepatic drug metabolism
Diarrhea
A few users prone to allergy report some discomfort and allergic reaction when applying cannabidiol on the skin. Vaporized CBD contains vegetable glycerin, which can cause an allergic reaction too. You may end up feeling nauseous, dizzy, and have shortness of breath if you are allergic to it. Unfortunately, you cannot know how your body will react to CBD before you actually take it CBD.
CBD Interactions with Other Compounds
Please note that it can interact with other medications, which is why your doctor has got to know if you are planning on taking it. Due your due diligence, avoid having a bad reaction with CBD because of it interacting with some other meds you are taking.
Only use CBD after the doctor clears you up to start taking it. Also, taking meds or supplements with grapefruit warnings while using cannabidiol will interfere with the cytochromes P450. The latter are a group of enzymes that are critical for drug metabolism.
The way to avoid these side effects is by ensuring you follow the prescription given to you. Also, the dose you actually take will depend on factors like body weight, age, and the condition you are treating.
Does CBD Do Anything? – The Takeaway
All the points touched upon, individually and as a whole, answer the question of if indeed does CBD do anything.
If you are really looking to feel CBD's potentially therapeutic effects, make sure you are purchasing high-quality cannabidiol products. When looking to avoid stumbling upon any of CBD's potential side effects, it's better you find your optimal dose. To actually determine what dose that is, there is a method you can use to calculate it.
If you have a friend or family member suffering from some of the previously mentioned conditions, let them in on the secret – CBD works. Remember that they must talk to a doctor before consuming CBD to avoid any complications whatsoever. Better safe than sorry!
Also, make sure that you mention any underlying conditions that you may be having to know whether you are fit to take cannabidiol.
Researching will be a bonus on your side because who does not want to know more about cannabidiol if they are to consume it anyway? Remember choosing a sketchy manufacturer to buy from will have you missing out on cannabidiol's therapeutic effects. Worse, it might actually put your health in jeopardy if they mixed artificial compounds to lower production costs. Buy from high-quality sources to have a highly enjoyable experience with CBD.