Can CBD Help With Kidney Stones?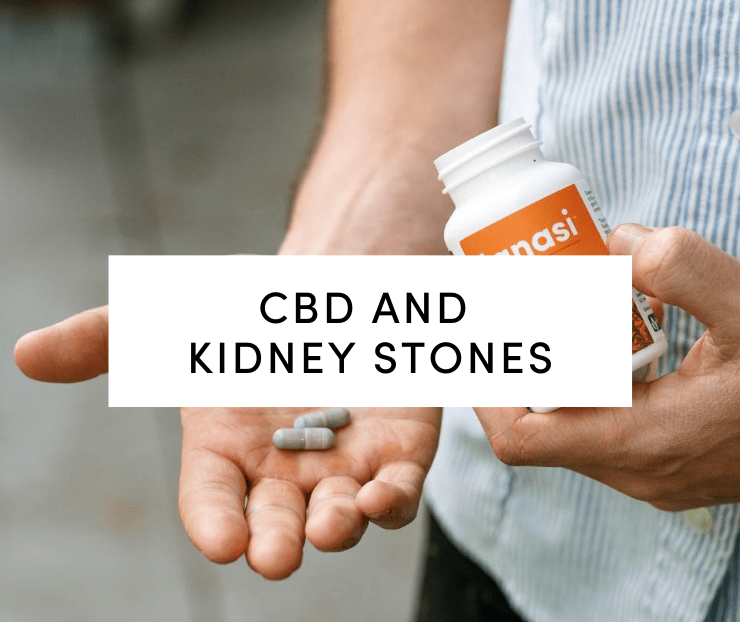 Posted on August 25th, 2020
Kidney stones are a common, painful condition that affects many people. While you can treat kidney stones, many common therapies are invasive and painful, requiring you to stay in the hospital. Kidney specialists are always looking for new ways to prevent and treat kidney stones. And, recently, experts have explored CBD oil's potential to address kidney stones. But first, a refresher.
If you're suffering from kidney stones, but have never used CBD oil before, it's a good idea to familiarize yourself with this compound and its potential benefits. So let's take a deeper look into what CBD is and how CBD works. 
What Is CBD?
Officially known as cannabidiol, CBD is a chemical compound found in the cannabis plant, both in hemp and marijuana strains. CBD comes from a larger group of naturally occurring chemicals in the cannabis plant referred to as cannabinoids. 
There are somewhere between 80 and 100 different cannabinoids in the cannabis plant. Each has the potential to uniquely interact with your body. The only cannabinoid more well known than CBD is THC. This is the cannabinoid responsible for the high you experience with marijuana use. 
The good news is that, if you use a hemp-extract CBD, it will only contain trace amounts of THC. This means that you can enjoy the cannabinoid's potential benefits without the fear of intoxication. 
But How Does CBD Work?
It turns out that your body produces its own internal cannabinoids. In fact, we have an entire internal system, known as the endocannabinoid system (ECS), to process internal and external cannabinoids. This complex system closely regulates many different processes in the body, including memory, food, and mood. That's why CBD and THC produce effects in these systems and functions.
Many cannabinoids bond directly to ECS receptors, classified as CB1 and CB2 receptors. But CBD acts somewhat differently than the other cannabinoids. Instead of bonding with receptors, CBD stimulates your ECS, encouraging the production of internal cannabinoids, called endocannabinoids. It also slows the breakdown of enzymes that keep existing cannabinoids in your system.
And that's not all: CBD affects more than 60 different pathways in your brain, influencing your serotonin reception, immune system function, and a lot more. This is why we're constantly discovering new ways that CBD can impact our lives. 
But, today, our question is: can CBD help with kidney stones? Now, there are no studies directly pertaining to this subject, but we can make an informed decision based on information from other studies. So let's take a look at what exactly kidney stones are and how you might identify them.
What Are Kidney Stones?
Understanding the problem helps us understand how CBD oil might help. A kidney stone is actually a small concentration of minerals that collects in your urine, inside your kidney. If these minerals are not properly filtered from your urine, they form deposits or stones that are large enough to become noticeable. The most common kidney stone symptom is severe pain.
Kidney stones are most commonly formed from calcium oxalate. The calcium collects in your urine when your body doesn't use it. The oxalate can come from vegetables, or it can be produced internally by your liver. Eating high-oxalate foods can greatly increase your risk of developing kidney stones.
Struvite stones are common if you suffer from urinary tract infections. Struvite stones can develop and grow very quickly inside your kidneys. This can result in sudden and severe symptoms.
There are two other types of kidney stones: ulric acid stones and cystine stones. Ulric stones are more common if your diet is high in fish. Cystine stones are common in patients with cystinuria. Regardless of the type of kidney stone you develop, the major symptoms are generally the same.
What Are the Symptoms of Kidney Stones?
Severe and lingering pain below your ribs in your back or side is the most common symptom. The pain can remain until you pass or surgically remove the kidney stone. Patients often struggle to find relief through pain medication. So this is one area where CBD oil may make a difference.
The pain of kidney stones may not be isolated. It can radiate into your lower abdomen and fluctuate with intensity over time. You may also experience increased pain or burning when urinating.
Many of the additional symptoms cause some level of discomfort. You may experience fever, chills, and nausea. These symptoms are more common if you have a related infection. Your urine may also be cloudy or change colors altogether. You may also feel the need to urinate frequently.
Those symptoms sound bad. And kidney stones are certainly unpleasant. So you should discuss them with your doctor, especially if the pain reaches a point of severity that limits your daily life. Fortunately, however, you may be able to address symptoms with plant-based CBD supplements.

How Can CBD Help With Kidney Stones?
One of CBD's most well-documented properties is its ability to alleviate pain. And it appears to fight pain in different ways and from different sources. Remember, CBD stimulates the ECS and affects more than 60 different neural pathways. CBD influences the reception of pain throughout your entire body. That makes it one of the most capable potential sources of natural pain relief.
CBD's ability to fight pain at different levels of intensity makes it a potentially valuable option for addressing kidney stones. The pain associated with kidney stones is often varied and unpredictable. You may have constant, stinging pain as well as regular flashes. CBD can help provide some level of relief for both types of pain.
CBD also has powerful anti-inflammatory properties. This is particularly useful at fighting the pain caused by kidney stones. Acute renal colic is a type of pain caused when kidney stones block the flow of urine. It is a sudden and intense pain that can be treated with anti-inflammatories. Which is why CBD oil and a bowl of blueberries may offer fast relief while you seek medical intervention. 
Is CBD Oil Good for the Kidneys?
Many studies suggest that CBD oil may promote general kidney health. It's an area that needs further research but is already showing promise. One study indicates that stimulating the CB1 and CB2 receptors improves kidney health in patients. A later study tracked the impact of CBD on patients undergoing chemotherapy. And both these studies showed that CBD oil could have an overall positive effect on kidney health and function. This suggests that CBD oil could help reduce the risk of kidney stones in the future, while also helping reduce the severity of immediate symptoms. 
Is It Safe to Take CBD With Kidney Stones?
While you should talk to your doctor about your specific health conditions, CBD is considered a safe, well-tolerated supplement. It may help relieve your most severe kidney stone symptoms while promoting better kidney health going forward. If you've tried pain medications or other kidney stone treatments in the past without results, then it may be time to talk to your doctor about adding CBD oil to your kidney stone prevention protocol. Always look for a high-quality CBD product from a reputable source. A certificate of analysis from a third-party lab is a good indicator of a reputable source. Here, you can find the ingredients and their potency in the product.