Is CBD Oil Federally Legal?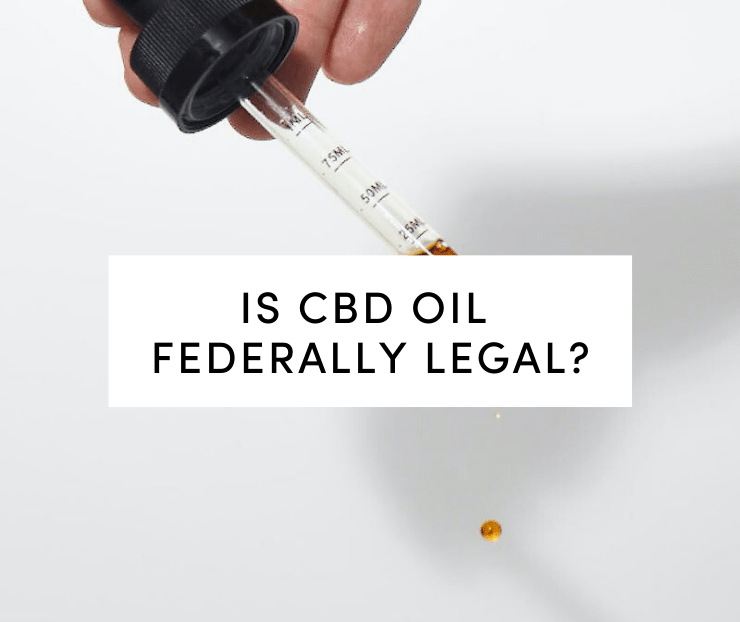 Posted on July 20th, 2020
Today, we talk about CBD oil as a powerful phytocannabinoid capable of offering a wide array of potential health benefits. Studies show these benefits may include pain relief, improved heart health, and an increase in concentration, among other potential benefits. Given this research, many people are exploring regular CBD oil use. However, one question keeps popping up: is CBD oil federally legal? Can we purchase this substance without breaking the law?
So, to help you make an informed decision here is a detailed breakdown of the exact legal status of buying and selling CBD oil in America.
Legalities of CBD Oil
In 2014, CBD oil came into the forefront of legal discussions due to its rising popularity. Eventually, the government passed the Agricultural Act of 2014 (2014 Farm Bill), making new legal allowances for the hemp industry while analyzing its various processes. Until that point, hemp was a controlled substance, so the federal government largely ignored the industry. Once hemp's legal status changed, however, it became imperative to further understand what regulations were necessary to protect consumers.  
Now let's fast forward to 2018: further adjustments were made to the 2014 Farm Act, introducing the new 2018 Farm Act. What exactly was its aim? To remove hemp from the Schedule 1 Controlled Substances List, using the premise that any cannabis product with THC content less than 0.3% was now legal and removed from this list. 
The bill passed, with the caveat that the FDA would still regulate what was permitted and what was not when it came to hemp and hemp-derived products. The goal was for the FDA to have the final say on whether or not CBD oil was ready to be sold on the open market. To keep companies within the legal parameters, hemp-based solutions had to gain the FDA's seal of approval before becoming available for sale. 
Today, at the federal level, CBD is a viable commodity that can legally be grown and sold in the US. However, due to the 0.3% THC threshold, the DEA still keeps CBD derived from the cannabis plant with greater than 0.3% THC on the Schedule 1 Controlled Substance list. 
Rules for Growing and Selling Hemp
Sounds confusing, right? How can the federal government and the DEA be at odds? Well, here's how the differences generally play out. Basically, farmers can grow hemp and still receive federal funding. They can also access insurance programs without fear of being denied for growing hemp. 
Still, there are subtle nuances at play when it comes to hemp and/or CBD products' legality. CBD that is sourced from marijuana plants will come under greater scrutiny, especially at the state level. And that state level is important for shoppers to consider: while you can legally buy and sell CBD in all 50 states according to the federal government, each state has its own interpretation of what is and isn't permissible within its own borders.
Recent research suggests that the FDA may value CBD's potential medical benefits. The organization continues to explore CBD as an organic therapy for several serious conditions, and we've already seen exciting breakthroughs. In fact, in 2018, the FDA approved CBD-based drug Epidiolex, designed to assist in controlling seizures in children with certain rare forms of epilepsy.  
State Level Laws
While the federal laws are quite clear on CBD's legality, that's not the end of the story, since each state has its own set of  CBD oil regulations. So, in order to be safe, you have to carefully read your state's specific rules and restrictions. 
The majority of state restrictions relate to how your CBD oil is sourced. Basically, any product sourced from marijuana plants will be subject to more regulations than those that are sourced from hemp plants. As a reminder, hemp and marijuana plants are varieties of cannabis, differentiated by their THC content. (Marijuana has high THC concentrations, hemp's THC content is below that 0.3% legal threshold.) 
States such as Washington and Colorado allow any type of CBD oil to be sold in their states. This includes marijuana-sourced CBD.
Other states that have accepted CBD oils and/or other marijuana products include Maine, Nevada, California, Massachusetts, Vermont, Oregon, Alaska, and the District of Columbia. 
Other states haven't yet embraced marijuana, but do permit the sale and use of hemp-sourced CBD oils. So, if you live in a state we didn't specifically mention, it's best to research individual legalities for yourself. We always say that it's better to be safe rather than sorry before you invest in high-quality CBD oils.   
Is CBD Oil Legal Federally?
To answer the main question, yes, CBD oil that follows the 2018 Farm Bill's established regulations can be bought, sold, and used within all 50 states. From the federal government's perspective, this is a viable option that can be used by its citizens. 
However, it's important to note that is only true when CBD oil contains no more than 0.3% THC content. Anything above this number is deemed illegal and will not gain approval from the FDA as a legitimate product. 
It's also smart to realize that each state has a unique legal perspective when it comes to CBD oil. While most are okay with hemp-sourced CBD, you still need to carefully review regulations before making any purchases. 
Finally, remember: CBD oil is a powerful, organic substance that may produce significant effects in your body. This is why states are very careful about their CBD regulations. Still, in most cases, states do allow the sale and use of hemp-sourced CBD. 
Verifying CBD Suppliers
This is one of the most important factors associated with legal CBD oil.
There are thousands of suppliers on the market; not every marketer properly vets its CBD products. And that's a problem since it means their CBD could be sourced from the wrong plants or have a higher THC content than is legally regulated. This is risky, and it's something you need to be aware of when purchasing CBD. 
A good way to vet suppliers is to make sure they are clear about how they source CBD. 
Verification can include:
Source of CBD Product

Adherence to FDA Guidelines 

General Quality Control Protocols 

Third-party Tested Certificates of Analysis
Don't take risks when it comes to finding a quality CBD supplier. The most trusted sources are those that are upfront about their production process and product ingredients. You should also investigate the brand's customer reviews, to make sure your source has a good track record with buyers. 
In the end, CBD oil sourced from hemp plants is federally legal, as long as the CBD oil doesn't have a THC concentration higher than 0.3%. You just need to buy CBD from a source you can trust to carefully monitor and accurately report their product's THC content. 
Tanasi takes great pride in offering world-class, strictly vetted CBD products to its customers. This includes state-of-the-art CBD oil that can be used for a number of health benefits.