Is Hemp Oil the Same as CBD Oil with CBDa?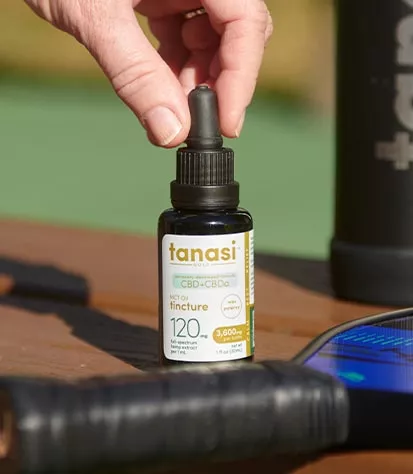 Posted on June 13th, 2023
CBD and hemp oil are both attracting attention in the mainstream media today. Once products reserved for 'hippies', health food enthusiasts, and athletes, these oils are now as mainstream as multivitamins and other supplements. But what's the difference between hemp oil and CBD? And why does Tanasi add CBDa in a 1:1, patent-pending formulation to our CBD oil products? Read on to find out! 
What is CBD?
CBD, or cannabidiol, is one of many cannabinoids that is found in the hemp/cannabis plant. CBD is a bioactive compound, meaning you may experience effects when you ingest or topically apply this compound. There are many other cannabinoids, and they also appear to have effects in your body. However, CBD is being studied more and more each day, so we expect to learn more about its potential uses. 
Already, Tanasi's scientific team has discovered a lot about this compound. One important thing we uncovered in our research? CBD is 2X more effective when combined with CBDa in our 1:1 formulation. Also, we've learned quite a bit about autophagy and CBD. If you want to hear more about that, you can search for the term in our research, here.
Finally, it's important to remember. We can extract CBD from any cannabis plant variety. And that includes marijuana or hemp plants. But the plant you choose will have a big impact on the legality of your final extract.
Marijuana vs Hemp
Marijuana and hemp both belong to the Cannabis Sativa L. plant family. But there are many cannabis species, with  the three most common being Sativa, Indica, and Ruderalis. Contrary to popular belief, hemp and marijuana are not actually 'species', or even 'strains' of cannabis. Rather, they are cannabis classifications based on one key detail: that plant's THC content.  
Just like CBD, THC is a cannabinoid. And it seems to have effects in your body. However, THC is psychoactive, which means it gives you a 'high'. So, what's the real difference between hemp and marijuana? Hemp plants are cannabis plants with a THC content of 0.3% or less. We use hemp for food, clothing, industrial textiles, cosmetics, and so much more. Across the world, it's legal to import and export hemp, even in areas where marijuana is either illegal or controlled.
Are Hemp Oil and CBD Oil the Same Thing?
Hemp seed and CBD oil come from the same plant. But they are very different. Hemp seed oil doesn't contain CBD. And that's because it comes from cannabis plant seeds. Now, they do contain many compounds, including Omega 3, 6, and 9. In fact, some people call hemp seeds a superfood. Still, they don't contain cannabinoids. (You can only find cannabinoids in trichomes. And they only grow on the plant's leaves and flowers). So, while hemp oil is a great product, it won't help you supplement CBD.
What Are the Benefits of Hemp Oil?
Hemp oil is not the same as CBD, but that doesn't mean it lacks benefits. Hemp seeds are rich in essential fatty acids, also containing  protein, Vitamin E, phosphorus, potassium, zinc, magnesium, sulfur, and iron. Plus, as we mentioned earlier, they are packed with omega-6 and omega-3 fatty acids, along with gamma-linoleic acid. But, once again, remember that hemp seed oil contains no CBD. 
What Are the Effects of CBD Oil?
CBD oil is packed with CBD. But it's not really an oil. In reality, we add CBD to carrier oils like MCT oil. Now, here's where you might get confused. Because we extract CBD from the hemp plant, it's often marketed as 'hemp-derived CBD'. Keep in mind, however, that hemp seed oil will never be labeled as CBD. So that should help you keep things straight. 
Now, what are CBD's effects, you may be wondering? Every individual has a different CBD experience. So we can't tell you what to expect, because you'll have to try that for yourself. What we can tell you, though, is that taking CBD with CBDa in our patent-pending, 1:1 formulation maximizes those effects by a factor greater than twofold. 
Which Oil Should You Use?
If you're trying to decide between CBD oil and hemp oil, remember the following:
Both products are cannabis-derived oils 

You can use either oil orally or used topically

Both oils have popular effects
Of course, that's where the similarities end. As we discussed earlier, because we derive hemp oil from a different part of the plant than CBD, its contents—and effects—are vastly different. 
Choosing CBD and Hemp Products
So, now you have an understanding of the differences between hemp seed oil and CBD oil, and our CBDA/CBD oil and water-soluble products. The challenge is deciding which product is your best choice. In general, hemp oil is far less expensive than CBD oil, and tends to work better for cooking. So, if you want to boost your day-to-day meals, hemp oil might be a logical choice.
CBD oil costs more, but that's because it has more specific and focused effects. If you're looking for a general wellness supplement,  then you may prefer to choose CBD oil products. And we believe that our CBD/CBD products are superior to CBD alone. Choosing a full spectrum or broad-spectrum, highly-concentrated oil is the best option in our opinion. And that's why we offer those two varieties of product in our digital CBD store. 
Hemp oil is a dietary supplement, too. But it's really more of a superfood. CBD, on the other hand, can create effects that you see and feel. In fact, many Tanasi customers tell us they feel the difference when they stop taking their daily CBD dose. Don't notice effects from your cannabinoids? Try playing with your dose. How much you need to take depends on your size, your desired effects level, and the oil's concentration. 
In short, both hemp seed oil and CBD oil are supplements. And people turn to each product for different reasons, enjoying different effects. So, you can choose between the products for specific uses. Or, you can incorporate both products into your wellness routine, and get a cannabinoid supplement as well as a superfood!