Is Hemp Oil the Same as CBD Oil?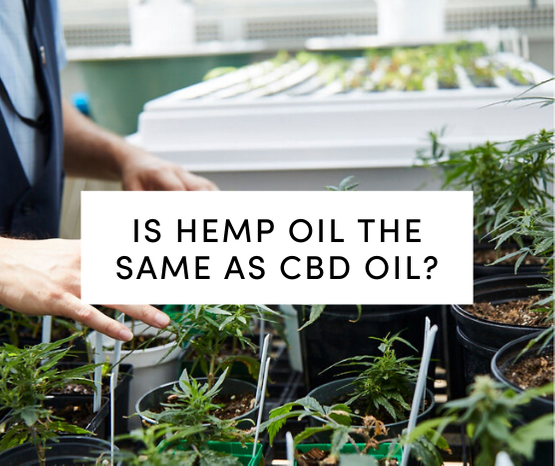 Posted on May 13th, 2020
CBD and hemp oil are both attracting attention in the mainstream media today. Once products reserved for 'hippies', health food enthusiasts, and athletes, these oils are now as mainstream as multivitamins and supplements. But what's the difference between hemp oil and CBD? And which should you use if you're looking for the maximum therapeutic benefit?
What is CBD?
CBD, or cannabidiol, is one of many cannabinoids that is found in the hemp/cannabis plant. CBD is known to interact with your body's endocannabinoid system, and is thought to have anti-inflammatory effects, as well as being potentially useful for reducing pain, soothing anxiety and depression, and even promoting better sleep. There are many other cannabinoids, and they also appear to have therapeutic effects. However, CBD is being studied more and more each day and appears to be beneficial.
Marijuana vs Hemp
Marijuana and hemp both belong to a family of botanicals known as the Cannabis Sativa L. plant. There are many species of cannabis plants. The three most common are Sativa, Indica, and Ruderalis. Contrary to popular belief, hemp and marijuana are not actually 'species', or even 'strains' of cannabis. Rather, they are cannabis classifications based on one key detail: that plant's THC content as the plants hold many cannabinoids per plant and different levels or concentrations of cannabinoids. 
Just like CBD, THC is a cannabinoid. And it seems to have many beneficial effects. However, THC is psychoactive, which means it's the element of marijuana plants that gives you a 'high'. So, what's the real difference between hemp and marijuana? Hemp is simply a cannabis plant bred to have a THC content of 0.3% or less. We use hemp for food, clothing, industrial textiles, cosmetics, and numerous other products. Across the world, it's legal to import and export hemp, even in areas where marijuana is either illegal or only accepted for medicinal use.
Are Hemp Oil and CBD Oil the Same Thing?
Hemp seed and CBD come from the same plant and have some significant differences. Hemp oil is not CBD. Hemp oil is made from the pressing of the seeds of the cannabis plant, which contain many compounds. These compounds are primarily Omega 3, 6, and 9 which are beneficial to human health. Hemp seeds have been called a superfood. But they contain no cannabinoids (those are only found in the trichomes that grow on the plant's leaves and flowers). So, while hemp oil can do great things for your body, it won't deliver the benefits associated with CBD.
What Are the Benefits of Hemp Oil?
Hemp oil is not the same as CBD, but that doesn't mean it lacks benefits. Hemp seeds are rich in essential fatty acids, which means that from a nutritional point of view, hemp oil is very good for you. Hemp seeds also contain a decent amount of protein and are a good source of Vitamin E, phosphorus, potassium, zinc, magnesium, sulfur, and iron.
Hemp oil is a good choice for people who are struggling with eczema. The omega-6 and omega-3 fatty acid content will help you combat the dryness and itching associated with the condition. Hemp is also a good source of gamma-linoleic-acid. Many women find that supplementing their diet with hemp oil helps to alleviate the symptoms of PMS and also reduces some of the inflammation you may experience during menopause.
Hemp oil is non-comedogenic. This makes it a good option for skincare, since you can apply the oil to soothe and moisturize your skin without clogging your pores or causing irritation. It can be useful for skin that is dry, flaky, or just not looking as vibrant as you'd like. Remember, your skin is the largest organ in your body, and your endocannabinoid system is identified as helping your organs regulate. 
But, once again, you must remember hemp seed oil contains no CBD, so don't expect to see any of the benefits we're about to discuss … 
What Are the Benefits of CBD Oil?
CBD oil has a high-concentration of CBD, but really isn't an oil. CBD is added to a carrier oil like MCT oil in Tanasi products. Some companies choose to use olive oil, and even hemp seed oil which can be confusing. Now, here's where you might get confused. Because we extract CBD from the hemp plant, it's often marketed as 'hemp-derived CBD'. Keep in mind, however, that hemp seed oil will never be labeled as CBD unless it expressly says so on the product label, so this should help alleviate your confusion. And, you should also know, some people make CBD oil from other varieties of cannabis. This typically happens if their already-grown cannabis supply proves to be unsuitable for smoking or turning into an edible for vape products. Here, again, you need to be cautious: when CBD oil is derived from other strains of the cannabis plant, you may encounter higher THC concentrations. Which means you could run into legal issues or encounter problems with certain drug tests. That's why, at Tanasi, all our CBD oil is derived from verified hemp versions of the plants with a THC concentration lower than 0.3% as a Full Spectrum CBDA/CBD extract formulation. This keeps you, our customers, safe while providing all the benefits of a high-quality, full spectrum CBD oil.
And, what are those benefits, you may be wondering? CBD has several unique benefits that hemp does not. For example, it has been linked with an ability to fight pain and inflammation, making it popular with those who are suffering from arthritis or other chronic aches and pains. It may also be beneficial if you're dealing with anxiety or depression. In fact, one 2018 study found that 62 percent of CBD users adopted their dosing routine to treat medical issues, with anxiety and depression being among their most common concerns and reasons for using CBD products. Some people also find that CBD helps them to manage insomnia, as CBD has been known to relax the user which may help with sleep.
Once again, we must point out that full spectrum CBD oil has some benefits which concentrated CBD in the form of isolate CBD lacks, since the CBD extraction process does remove certain terpenes from the oil. Terpenes are compounds that are found in plants that lend the botanicals their distinctive aroma. Terpenes are flavonoids that are found in every plant. Researchers are only just beginning to understand the potential interactions and impacts of terpenes. It's clear, however, that they are good for us, which is why Tanasi products proudly offer full spectrum CBDA/CBD in specific formulation. They're packed with naturally occurring terpenes for fragrance and potential health benefits. We include as much of the natural extraction possible with the cannabidiolic-acid (CBDA), or pre-processed (decarboxylated) cannabidiol (CBD). 
Which Oil Should You Use?
If you're trying to decide between CBD oil and hemp oil, remember the following:
Both products are cannabis-derived oils 

Both oils can be taken orally or used topically

Both oils have the potential to heal and soothe minor issues 
Of course, that's where the similarities end, however. As we discussed earlier, because hemp oil is derived from a different part of the plant than CBD, its contents—and benefits—are vastly different. 
An Interesting Solution – Full Spectrum CBD Oil
You may have heard a lot about CBD isolate, or 'pure' CBD. And you may be thinking that a 'pure' product is a superior one. But, let's go back to that discussion of terpenes for a minute. To make 'pure' CBD oil, you've got to strip out all the other, potentially beneficial, cannabis compounds. This means that if you choose a CBD isolate, you'll miss out on all those terpenes, not to mention a range of other cannabinoids that are present in industrial hemp plants. So, while CBD isolate is entirely free from THC, which means that it can be sold in many areas where THC is illegal, it is also 'free' of other beneficial compounds.
Basically, this means that CBD isolate users miss out on what we call the entourage effect of a full spectrum CBD oil. What is that effect? It's how we describe the idea that cannabinoids are more effective and offer greater benefits when taken together. The good news is that CBD isolate is not the only form of CBD on the market. There is a Broad Spectrum too, but we will discuss this another day on another blog post.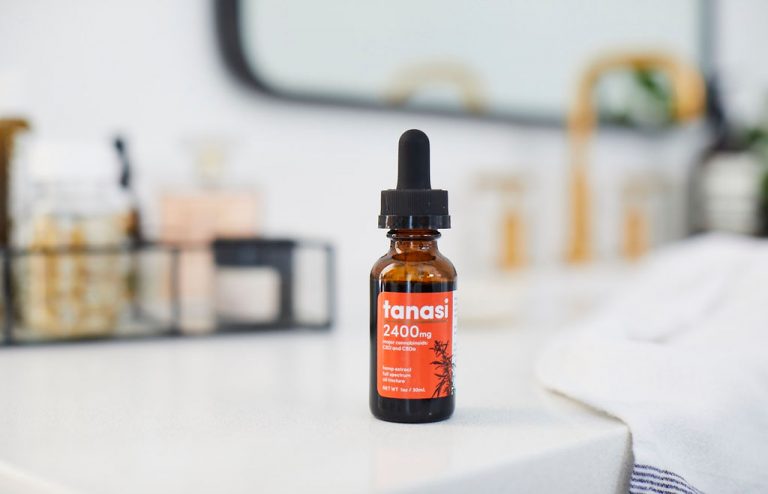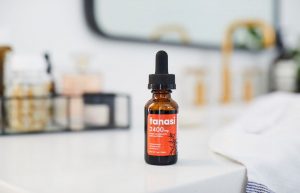 Full spectrum CBD is a better form of CBD; and in our opinion Full Spectrum CBDA and CBD in a one-to-one formulation that is the formula contained in all our Tanasi products is best. We use an ethanol extraction process with our oil products and water is used to extract our Full Spectrum CBDA in our water soluble products which allows us to preserve the plant terpenes and additional cannabinoids for your benefit, all without the fear of getting 'high' off THC. 
But don't take our word for it: the entourage effect in Full Spectrum extracts is well studied, and researchers believe that there is a case for developing cannabis strains that are tweaked through growing and breeding to produce the maximum therapeutic effect. Given the cost of CBD products found in health food stores, it makes sense to research your investment and make sure that you're getting the maximum benefit from any product you purchase. We have a satisfaction guarantee in our Tanasi products, and we stand by them. 
Choosing CBD and Hemp Products
So, now you have an understanding of the differences between hemp seed oil and CBD oil, and our CBDA/CBD oil and water soluble products. The challenge is deciding which product is your best choice. In general, hemp oil is far less expensive than CBD oil, but why are you choosing to take CBD in the first place? Hemp oil tends to taste better. And, it can be used for day-to-day cooking, salad dressing, as well as for making cosmetics. If you want a nutritional supplement or need to address your skin issues, then hemp oil might be a logical choice.
CBD oil costs more, but that's because it has a more specific and focused effects that you might realize after consuming. If you're looking for something to help you manage insomnia, cope with stress, or reduce the pain caused by arthritis and other similar situations, then you may want to choose CBD oil products, and we believe our CBD/CBD products are superior to CBD alone. Choosing a full spectrum, highly-concentrated oil is the best option in our opinion. If you are considering buying oil that is not full-spectrum, check the extraction and processing methods used. Some CBD oils are made using a solvent such as butane or propane during the extraction process. If you're wanting a pure/natural CBD then you should look for CBD products made using CO2 extraction, or ethanol, or water extraction methods.
Hemp oil is a dietary supplement and you will likely find that it takes a long time to see any results from its use, even though it is a great addition to your diet as an identified superfood. CBD, on the other hand, you should be able to determine if it's right for you or not fairly quickly. Depending on how you consume CBD, you can expect to feel the impact over days of use and possibly within one hour at most as some people do, assuming that you have taken a dose that you respond to. How much you need to take depends on your size, your reason for taking that you are hoping to address with CBD, and the strength of the oil matter too. Why the strength may vary, you may need to explore through discovery if 20mg per day or 80mg per day is right for you. 
Finally, remember that while CBD is thought to have a therapeutic effect, it is not a drug. Its use should not replace medical advice or treatment. If you are concerned about your health or you find that things do not improve after trying CBD oil, seek advice from a trained medical professional. And as always, if you are under medical care, and on prescription drugs already you must discuss CBD with your doctor.