Is CBDA Oil the Next Major Breakthrough from Cannabis?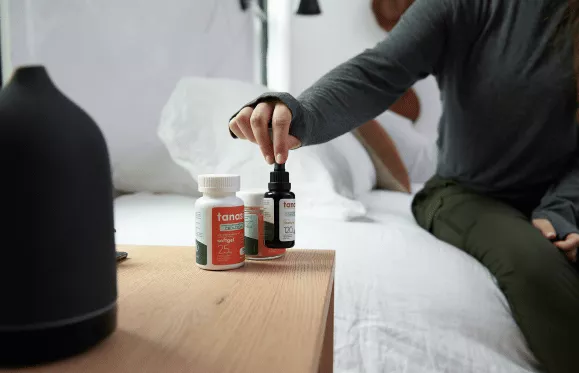 Posted on June 9th, 2023
Most people have become quite familiar with CBD oil and other hemp extracts. These products have become increasingly popular over the last decade due to their recent legalization and wide availability. But now there seems to be a new player in the arena: cannabidiolic acid. Known as CBDA for short, this compound is the predecessor to CBD and if what research is finding is true, CBDA oil may very well be the next popular hemp product.
So what exactly is CBDA, how is it different from CBD, and is it worth supplement on it's own or in combination with other compounds? Let's take a closer look! 
What Is CBDA Oil?
CBDA, or cannabidiolic acid, is the basis from which CBD is formed. The process begins with CBGA (cannabigerolic acid) which provides the building blocks for all cannabinoids. CBGA is transformed into one of the 3 main groups of cannabinoid acids – THCA (tetrahydrocannabinolic acid), CBD (cannabidiolic) acid) and CBCA (cannabichromenic acid).
These acids are then converted into better known cannabinoids – tetrahydrocannabinol (THC), cannabidiol (CBD) and cannabichromene (CBC). This conversion takes place through a process of thermal decarboxylation. Decarboxylation is the loss of the carboxylic acid group on the molecule of the compound due to heat.
Thermal decarboxylation can either take place immediately or over time. For example, vaping or smoking cannabis results in the immediate transformation of CBDA into CBD as a result of sudden exposure to high temperatures. This immediate transformation can also take place through the processes used to extract CBD from the cannabis plant or purify it such as drying.
However, CBDA is extremely unstable and will even begin decarboxylation from exposure to regular temperatures. The process can take a few hours or days depending on how high the temperature is and whether it is exposed to direct or indirect heat and light. For that reason, very little CBDa can be found inside mature hemp plants that have grown in sunlight. 
The Difference Between CBD And CBDA Oil
The primary difference between CBD and CBDA is the subtraction of the carboxylic acid group from CBDA when it transforms into CBD. There are however two other major differences:
– CBD is more stable than CBDA 
– CBDa is acidic, CBD is not
Dr. Raphael Mechoulam, the founder of the process to synthesize CBD and THC, has recently constructed a method to make CBDA more stable and therefore more viable for commercial use. However, it is still easier to eat the raw leaves of the plant to get CBDa without the risk of decarboxylation.
Another option? Take all the guesswork out of your CBDa sourcing and turn to Tanasi's hemp extracts. Each of our products is infused with a patent-pending, 1:1 formulation of CBD and CBDa. Not just because it gets you more for your money, but also because our research discovered that this formulation leads to a supplement that is 2X more effective than ones containing CBD alone. Lets try and find out why. 
The Benefits Of CBD And CBDA
CBD and CBDA work on different systems in the human body and act differently. As such, they each offer different potential effects. In other words, since they can both do different things, taking them together increases the likelihood that you'll notice a difference when you take a CBD + CBDa supplement. 
But that's not all. Our CBD + CBDa supplements are more effective because of the relationship that forms between the compounds when they're combined in a 1:1 formulation. Basically, what we've learned is that they magnify each other in ways that could compare to the entourage effect we see in full and broad spectrum CBD supplements. But you don't have to take our word for it. Instead, why not ask our Tanasi customers how they feel after taking CBD + CBDa?
Well, we did just that–and here are some of our favorite answers. After taking our soft gels, Annie M. shared, "TRY THIS!! This CBD is absolutely amazing…Just one was very strong and worked wonders for me… It was my first time trying this brand and I was really impressed!!! I will definitely be trying this again and I'd recommend you try it as well!
We're already blushing, but can't resist telling you more about our CBD + CBD combo. In reviewing our Tanasi Gold tincture, Jared V. gave us five stars because, he says, "I support the research. Quality product. I trust this brand. Reasonably priced relatively speaking." 
Now, we can't let you forget that Tanasi also creates topicals, like our brand-new anti-aging serums for day and night use. About these exciting beauty products, and her experience getting the most out of her purchase, Kassandra gushes, "I was very impressed by the care and support that I received from the Tanasi Team. My questions were answered promptly and concisely. I did notice this item provided me with a nice "glow" which made my skin appear less porous and with a smoother finish." 
Ready to discover the effects of CBD + CBDa for yourself? Shop our line up of topicals, tinctures, edibles and more in our online CBD store. each of our products is backed by a 30-day satisfaction guarantee. So the risks are minimal. And the rewards have limitless potential, if reviews from our loyal customers are any indication.
Conclusion on CBDA Oil
While the rest of the world is only now discovering the wonders of CBDa, Tanasi's scientific research team got on the early bandwagon for this acidic precursor to CBD. By funding $2.5 million of scientific research, our experts in chemistry and biology determined that adding the 1:1 formulation of CBDA to our CBD hemp extracts improves the overall effectiveness of our products.
But we don't stop there to get you what you want from a supplement. Because we also believe in the entourage effect. So we include many various cannabinoids in our formula, allowing you to experience the full spectrum of effects that come from trying one of our full spectrum or broad spectrum hemp extracts. We are proud of our product line up and hope you enjoy using our supplements as much as we enjoyed making them!