Can I Carry on CBD When Flying?
Posted on March 1st, 2022
If you're wondering, can I carry on CBD when flying, this read is for you! Cannabidiol is the second most prevalent compound in cannabis. You can ingest it in various ways, which means CBD products come in many different forms, some of which are easier than others to pack or travel with.
Want to stick to your CBD routine on the go? Well, in this article, we are going to focus on two different factors to consider: rules for traveling with CBD between US states and rules for traveling across international borders. Finally, we'll explore whether you can carry on CBD, place it in your checked luggage or if you need to ship your product to your final destination.
Rules for Travelling with CBD between U.S. States.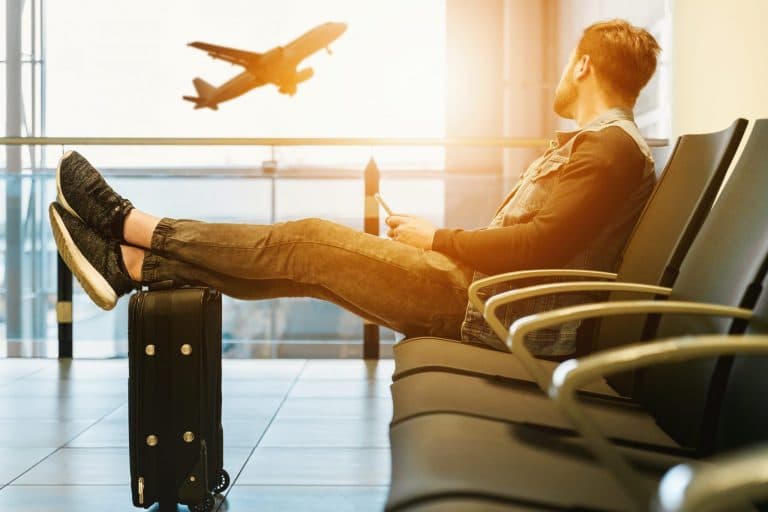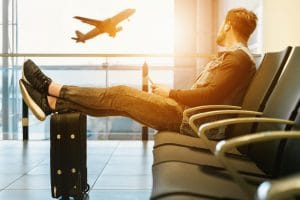 While CBD is federally legal, rules regarding its use vary at the state level. Plus, CBD is only allowed by federal law if it contains no more than 0.3% tetrahydrocannabinol (THC) by dry weight.
THC is an organic cannabis compound that makes you feel 'high'. As a result, you can only use CBD products extracted from hemp plants. (This plant is defined by legally containing less than 0.3% THC.)
Now, even with this threshold, CBD laws differ by state. For example, in Utah, you can legally use CBD oil with less than 0.3% THC. And you can travel with it, too. But you can't use edibles, except for gelatin cubes.
When traveling with CBD within the US, make sure you purchase a hemp-extracted product. Otherwise, you'll violate the Agricultural Improvement Act of 2018, which is the Farm Bill that allows you to cross state lines with hemp.
Traveling with CBD Internationally
International laws vary from one country to another. We'll explore the laws in several destinations.
Canada
This country legalized CBD in 2018 for recreational and medicinal purposes. By August 2018, authorized retailers or federally licensed medical companies got the green light to sell hemp products. But, if you're wondering, can I carry on CBD when flying to Canada, the answer is no. And that's because, as of  2020, you can't legally enter Canada with cannabis or cannabis-derived products of any kind. If you do, you must declare your products to the Canada Border Service Agency. Failure to do so is a serious criminal offense in Canada.
Asian Countries
Many Asian countries have strict laws banning CBD. These include Singapore, China and Japan. Still, some countries on the continent are CBD friendly. In India, you can travel with CBD oils. But in South Korea, you can only do so if you have a specific medical reason for doing so. And in Thailand? Well, you'll need a federal permit to enter the country with cannabidiol.
 Europe
Most European countries allow CBD, but with certain restrictions.  In the United Kingdom, your hemp products must be fully THC free.  Germany allows a product that contains less than 0.2% of THC. And in France CBD, if hemp extracts contain any trace of THC, they're labeled as narcotics. Hoping for a bit more leeway on the continent? Head to the Netherlands, where your CBD products can contain less than 0.05% of THC.
Africa
Here, CBD laws are confusing. Debate over hemp use continues in many countries. In fact, South Africa is the only African country that's clarified its position. As of May 2019, South Africa allows you to consume 20 milligrams of CBD per day. But your product must contain less than 0.001% THC and less than 0.0075% total CBD.
Australia
Australia's CBD laws differ, depending on which state you're traveling to. Fortunately, as of 2020, you can legally use medical CBD anywhere in the country. The only caveat? It must contain less than 2% of other cannabinoids. And you can only buy or possess CBD if you have a medical prescription.
Central and South America
Countries from this region don't have clearly stipulated CBD laws. In Colombia, you can legally use products with less than 1% THC by dry weight product. But in Costa Rica, regulations are far stricter. There, as in the US, legal hemp products may not contain more than 0.3% THC.
Based on the above descriptions, it is evident that legally traveling with CBD products is complicated. The decision you make will depend on the laws of the state or country where you're heading. So it's important to carefully research local regulations before you decide to carry on CBD when flying somewhere new.
Can I Carry on CBD When Flying or Put it in Checked Luggage?
You can bring your CBD as a carry-on in two cases. First, your product must meet the volume limits for carrying on liquids. And second, it must be legal in your final destination, as well as any stopovers you have along the way
If you want to place CBD in your checked luggage, you'll face a different set of rules. Here again, you'll have to understand the laws of state or country you're visiting. Another factor to consider? You may need a certificate, such as a third-party lab analysis, that proves the contents and concentration of your CBD. That way, if you're stopped for a search at the airport, the documents can prove that you're on the right side of the law.
In some cases, you may find it easier to ship your hemp products than to bring them on the plane, either on board or in your checked bags. But first, you need to consider the following factors before shipping CBD.
I) Type of CBD
Different countries accepted CBD products with certain conten.Example, many countries does not accept Marijuana and so you have to consider the content in CBD product you what to ship.
2) Country laws
As discussed above, different countries have different laws concerning CBD and so you have to ensure that you understand the laws of the country that you are shipping the product to.
3) Licence
For you to be safe when shipping CBD products, you need to have the licence. This licence will help to show where you acquired the product from and can help you when there are legal issues with the product.
In conclusion,some CBD products have been legalized in some countries while others haven't. Different countries have their reasons for their actions. From the above discussion, you will realize that some of CBD products have been legalized for medicinal purposes but with certain content. Another thing is that different countries have different laws that govern the movement of the products in or out of their country. The basis of this is that you have to understand the laws of certain country before traveling with this product to avoid harsh outcomes of being found in violation of the law .