Is CBD Legal in Utah? What You Need to Know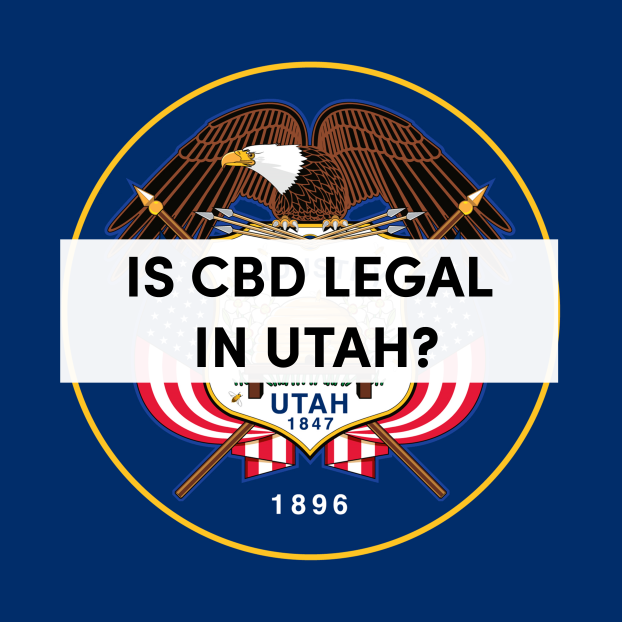 Posted on December 29th, 2020
The Utah Medical Cannabis Act, commonly known as the House Bill 3001, made the use of medical marijuana (for qualified medical conditions) and CBD oil with less than 0.3% THC (tetrahydrocannabinol) legal to use within the state.  THC is a psychoactive compound known to induce feelings of 'high' and, according to some, believed to be addictive in nature.  While one would be required to produce a written prescription and license to use medical marijuana, you don't need to have a doctor's approval to use CBD oil and CBD products.
The government also formulated and put in measures to ensure CBD oil and related products on the market aren't intoxicating and safe for all.  Thus, growers and processors have to abide by the various laws and regulations, especially in the production (growing) and processing stages.  However, foods and beverages containing CBD are illegal within the state. Bit confusing, right? This situation begs the question: Is CBD legal in Utah really?  Understanding what CBD is and the regulations governing its production might help you understand the complexities surrounding CBD oil.
What is CBD (Cannabidiol)?
CBD, also known as cannabidiol, is a non-intoxicating yet, potent cannabinoid that occurs naturally in the cannabis plant. CBD is considered to be the second most abundant cannabinoid in the cannabis plant, after THC (tetrahydrocannabinol). Hemp, a specific strain of cannabis, however, contains more CBD and very little THC. Hence, manufacturers favor it immensely for the production of CBD due to it helping them meet legal requirements regarding content.  Like THC, CBD packs some potentially therapeutic benefits for the human body. However, CBD does not give the famous 'high' THC is famous for, making it more suitable for people who seek therapeutic purposes. CBD seemingly works as an analgesic, anti-inflammatory, anti-anxiety, skincare, and anti-seizure treatment. The numerous purported benefits of CBD oil are the reason for its popularity in the wellness sector.
Why Is/Was CBD Sometimes Considered Illegal?
CBD is a compound derived from the cannabis plant. As mentioned earlier, it occurs naturally alongside THC and several other cannabinoids.  As said before, although THC might pack health benefits as well, it also has psychoactive properties that some consider harmful. This fact alone caused the federal government to categorize cannabis as a controlled substance under the 1970 Federal Controlled Substances Act. The ban was for all things cannabis and made no distinction between marijuana and hemp despite them being different variations of cannabis. Thus, unfortunately, hemp, the source of CBD, became illegal even though there was no reason to.
The Hemp Farming Act 2018, however, made the cultivation of hemp federally legal. This created a legal distinction between marijuana and hemp. Marijuana has a higher THC percentage than CBD, while hemp contains more CBD and less than 0.3% THC.  Hemp grown within the Federal and State regulations, and has less than 0.3% THC, is thus legal to grow and produce CBD oil. The significantly higher CBD concentration over THC makes it safe for human consumption and legal to use in most states, including Utah. However, do note that the government still prohibits the use of CBD in the production of foods and beverages. So, is CBD legal in Utah today? Yes, but there are some things to keep in mind.
Utah CBD Laws
The updated 2018 Farm Bill placed a number of 'special' protections and guidelines on industrial help research and production.  With hemp no longer a Schedule 1 controlled substance, CBD and hemp-derived products became legal. But only as long as they derived from industrial hemp.  However, only hemp extracts with less than 0.3% THC and no psychoactive compounds are actually legal in Utah.
The 2018 farm bill also made it legal for consumers to get hemp-derived extracts without a doctor's prescription.  However, the production of CBD has to follow strict guidelines. These guidelines meant to ensure the final product produced is safe and with very little to no THC levels. Anyone looking to have CBD with high THC levels would nevertheless need a Medical Marijuana (MMJ) card to get the same. There's, however, no acknowledged limit of how much CBD a person can have within his or her possession.
Utah's CBD Guidelines
The state of Utah has its very own set of guideline in place for manufacturers looking to produce CBD; they are as follows:
Licensing Requirements
Anyone looking to grow, process, and even distribute hemp has to seek licensing from The Utah Department of Agriculture and Food (UDAF). Farmers also need to provide detailed information about their farms, including location, hemp cultivar, and map of their facilities. This to ensure they comply with federal and state regulations on the same. Other qualifications and requirements for hemp growers and processors include:
Cannot grow hemp in structures previously or currently used for residential purposes.
Felony convicts (of less than ten years) cannot apply to grow or process hemp.
Must register Hemp products already available or produced for distribution with the Utah Department of Agriculture and Food.
Hemp-CBD products must include a COA (Certificate of Analysis) from 3rd party labs.
Testing Requirements
Authorities advise farmers to grow industrial hemp organically to avoid producing a contaminated product.  The purity of the hemp and CBD produced requires testing by either an in-house or third-party lab to ascertain the product's quality.  They must also attach the lab result as proof.  The industrial hemp produced thus requires to testing for:
Heavy metals.
Pesticide residue.
Dry weight Cannabinoid content.
Residual solvents.
Yeast, mold, and other microbial compounds.
In addition to these tests, the certificate of analysis (COA) must include details such as:
The date they received the sample.
The batch identification number.
The date they completed the test.
The analysis method used to test for all the elements mentioned above.
The Utah Department of Agriculture and Food may choose to randomly test and inspect the hemp produced to ascertain its purity and usability.  Hemp plants with a THC percentage of more than 0.3%, however, have to be destroyed, a process often overseen by the UDAF. A report of destruction also requires submitting to UDAF before actually disposing of the hemp material.
Labeling Requirements
All Hemp CBD products require correct labeling labeled according to the FDA's Code of Federal Regulations. The processor must also include a QR code to the specific certificate of analysis on each of their hemp products.  The labels of the product must also not include medical claims about CBD.   The processor must also include the amount of CBD per serving size, date of manufacture, and expiry date in their products' labels as well.
Why Is CBD Legal in Utah?
CBD seemingly packs many potent properties that could help a person manage some conditions. Anecdotal evidence mentions its effectiveness in managing arthritis, migraines, acne, multiple sclerosis, and memory loss.  They also say that CBD can also help regulate various physiological functions in the body, including:
Cognition.
Memory.
Smooth and radiant skin
Quality of sleep.
Anxiety and depression.
Appetite.
Insulin response.
Energy metabolism.
Motor functions.
Pain management in case of injuries or arthritis.
Although research continues to pinpoint the reason for CBD's effectiveness, enthusiasts are already convinced. Even the Food and Drug Administration already approved the first CBD-based drug, Epidiolex. This drug manages Dravet and Lennox-Gastaut syndrome, though it also appears to work for pain management for chronic arthritis patients. The fact that the FDA approved this drug was proof enough for various states to start looking into legalizing CBD.
CBD and THC have an almost similar molecular structure but are entirely different in how they interact with the body's endocannabinoid system (ECS). THC induces a euphoric effect, sometimes mind-altering, hence considered risky for some people.  On the other hand, CBD provides all the suggested 'good' stuff by interacting with the ECS to restore a state of homeostasis in the body.  CBD is also particularly good for insulin resistance and heart health. These are some of the reasons more and more governments began legalizing the use of CBD and products made from it.
Where to Buy CBD in Utah
CBD hemp oil is readily available over-the-counter for all people in Utah over the age of 21. You can, however, purchase high-quality CBD from an online supplier. However, make sure the supplier provides the best quality CBD and according to the regulations put in place by UDAF.  CBD is available in various forms, from oil to tinctures, gummies, capsules, lotion, pills, and concentrate.  You might also want to verify some other things with the supplier before making your order.  Some of the information to check on the product label before deciding on a product include:
Supplement fact panel and other ingredients used.
Net weight.
The distributor's name.
Amount of active CBD per serving.
Date and batch code.
Full-spectrum, isolate, and/or broad-spectrum.
You don't have to worry about breaking the law for making an order of or using CBD products.  CBD doesn't produce any harmful side effects as commonly experienced with most pharmaceutical drugs and marijuana. You can thus order your favorite CBD tinctures, capsules, lotion, balm, or CBD isolates online and have it delivered to you in no time.