What Makes Tanasi's Patent Pending CBD Formulation Special?
Posted on February 16th, 2023
There are lots of choices for consumers who want to try CBD (cannabidiol) and almost all of the companies that offer CBD products are selling hemp extracts that contain primarily CBD.  Tanasi is the only company that offers hemp extracts containing a patent-pending mixture of CBD and CBDa (cannabidiolic acid) along with other cannabinoids.  Our customers are thrilled with our products and you can check out their unsolicited reviews at www.tanasi.com.  So what makes Tanasi's patent-pending CBD formulation so special? 
Tanasi is committed to developing the best products backed by research and we have challenged a number of universities and contract research organizations (CROs) to develop the best CBD product possible.  Our research-driven product development started with a simple question. Why does CBD work?  And how can we make it work better for our customers? In this post, we'll walk you through some of what we found! 
Inside Tanasi's Patent Filing
Back in 202, our Tanasi™ brand,  filed for an international patent application under the Patent Cooperation Treaty (PCT), making us one of the first companies in the hemp industry to file for a PCT.
While we focused on filing this international patent application, we made an important move to protect Tanasi's inventions and products in a large number of countries. And that's a big deal, since in the few years since we filed that patent, we've rolled out a LOT of new products. 
You can see our full line of CBD + CBDA products here, but some of our favorite new roll-outs include our Sun Recovery Lotion, our Muscle Relief Rub and, most recently, our venture into the beauty product space with our Anti Aging Face Serums for day and night.
Tanasi Patent Pending Formulation: Why PTCs Matter
Why are we so protective of our products' secret sauce–that combination of CBD and CBDa? Well, the Tanasi brand is the first to provide a line of patent-pending formula, hemp-derived CBD products developed in a university setting. In fact, our products are so carefully researched, we were recently recognized as the best research-backed CBD by a national review. Plus, the Miami Herald ranked our CBD + CBDA tincture as the best they reviewed in 2022. We think those are efforts worth protecting, don't you? 
Now, we didn't earn those accolades accidentally. Instead, we asked a team of Ph.D.s at one of the world's leading plant-science university research labs to help develop Tanasi's products. That request was funded by a $2.5M research grant that started in 2016, and that continues to allow our team to explore plant-based scientific discovery.
As they work, we keep manufacturing new products from the highest quality hemp sourced in the USA. Why does it matter that we use US-grown plant sources? Well, the hemp plant absorbs a lot of the contents in its soil base. And, hemp plants grown in the United States are subject to higher standards. So you can feel confident that our product line is safe and effective. But we also don't expect you to take our word for it. And that's why all of our products are also third-party tested. 
Meet Our Full Product Line, Backed by a Patent-Pending Formulation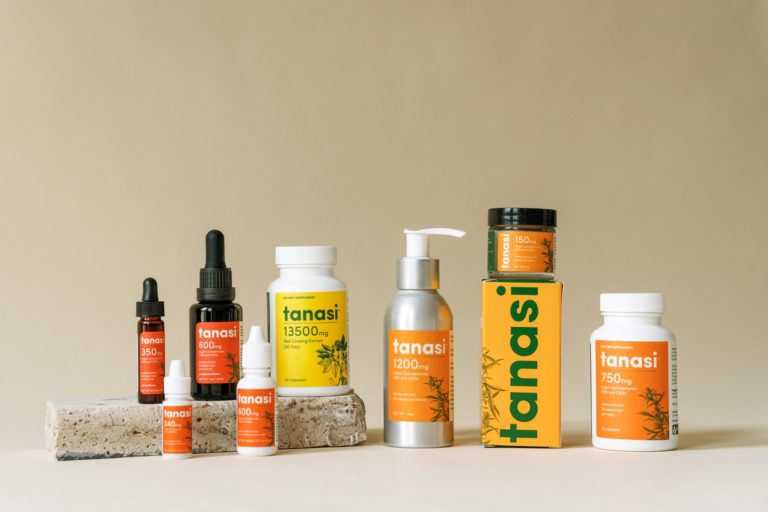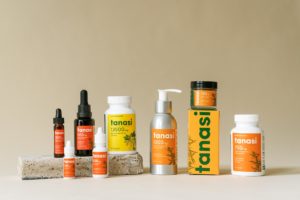 Tanasi's product line currently comprises a wide array of products, including hemp-derived  tinctures, capsules, lotions, salves, a water-soluble drink concentrate and topical face serums that combine CBD+CBDa with retinol and nano-technology to combat the visible signs of aging.
Every year, we keep working to develop new and exciting products to meet the needs of you, our customers. But one thing never changes in the midst of all that innovation. Because all of our Tanasi CBD products contain the patent-pending unique formulation of cannabidiol (CBD) and cannabidiolic acid (CBDA), the precursor to CBD. And they are all third-party lab tested, non-psychoactive, whole-hemp extracts. Best of all, our full-spectrum products contain the legal federal threshold of 0.3% THC or less. And our broad-spectrum products have removed all traces of THC, so you can relax and enjoy hemp-extracts without putting any THC in your body. 
How will you know exactly what's inside each of our Tanasi products? Well, we've taken the guess work out of the process by providing a third-party Certificate of Analysis (COA) for every batch run of hemp. In that COA, we show the quantity of cannabinoids in every Tanasi hemp extract product. It's accessible from a QR code on your product label, and is also available on Tanasi.com. All COAs are from third-party labs, and Tanasi products are tested from plant to finished product. 
More About the Tanasi™ Brand

Tanasi™ hemp-derived cannabinoid products were born out of scientific research and specially formulated using a patent-pending CBDA/CBD formula. The Tanasi brand, owned by GreenWay Herbal Products, LLC, is the first to provide a line of hemp extract CBD products developed by a team of Ph.D.s in a university setting. And we remain committed to creating the highest quality, scientifically-validated nutritional supplement products, trusted for you to incorporate into your healthy lifestyle.  
Of course, you could get excited by hearing our words. But you'll get a much better picture when you listen to Tanasi customers report that our  CBD:CBDa formulation works very well for them. 
Kristen W. says our tincture is "100% effective," noting, "I have taken several different brands of CBD and Tanasi is by far the only that has ever truly helped…I will certainly be purchasing this again. It is also a great-sized bottle for the price. 5 🌟 stars all around!" 
Again, you can see even more of our reviews at www.tanasi.com.  Or, you can get your own opinion involved in the mix by trying some of our CBD + CBDA products for yourself. And when you do, you can shop and experiment without any worries. Because we make sure you feel confident that if the Tanasi product you select doesn't work for you, we'll honor our 30day, no questions asked, satisfaction guarantee!