What is CBD with CBDa? Is CBD Right For Me? Start Here!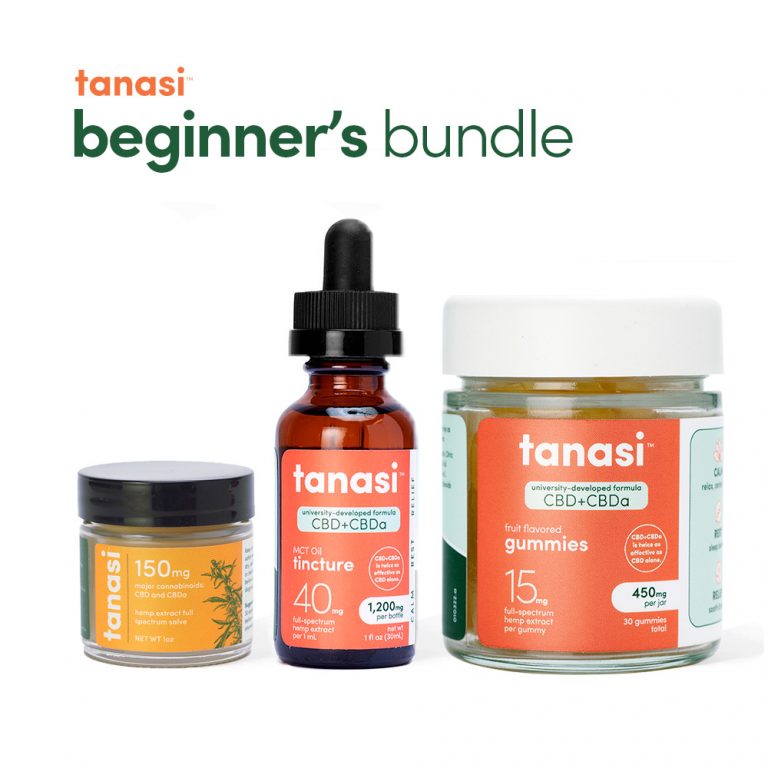 Posted on June 27th, 2023
What is CBD? Here in our Tanasi family, we've been studying, researching, buying, and using this compound for many years. In fact, as soon as federal rules allowed us to, we dove into everything related to cannabinoids (the name for chemical compounds in hemp), along with CBD and industrial hemp. (Just to clarify, industrial hemp is simply a variety of the Cannabis Sativa plant that's been cultivated for a low concentration of THC. And that's the psychoactive extract found in concentrations above 0.3% in marijuana plants.)
We know, however, that not everyone is equally familiar with this hemp extract. Sure, you've probably heard plenty of information in the news, or from friends, but until you buy it for your own use, you can't really understand its effect. Now, with that being said, we also understand that it can be hard to choose the brand or form of CBD with which to begin your cannabidiol journey. That's something we get, and it's why we've come up with your ultimate solution: Four of Tanasi's top patent-pending, 1:1 CBD + CBDa formulated products, bundled together for beginners like you to try. Let's dive in and take a look at what you get when you purchase this beginners' batch!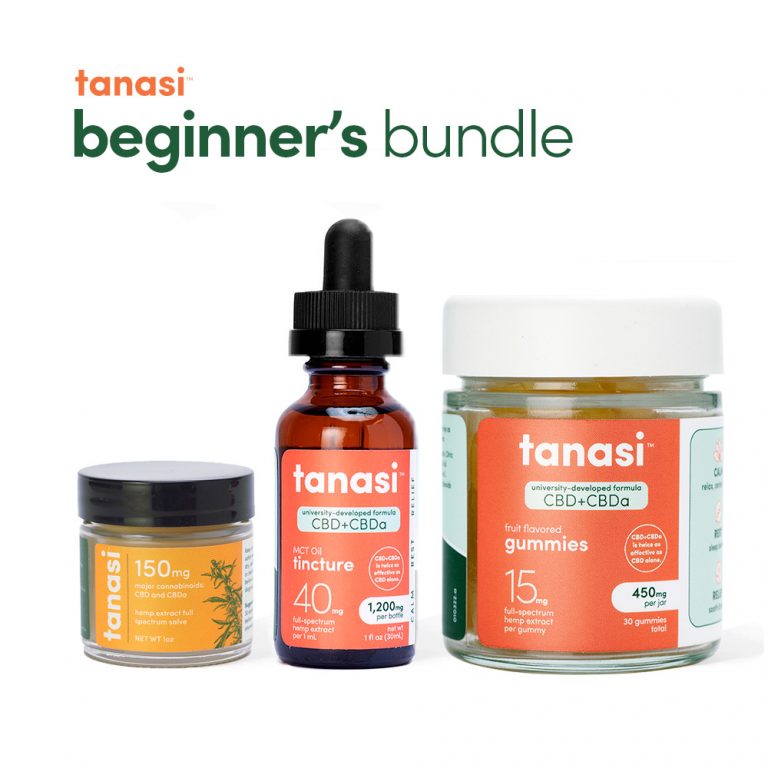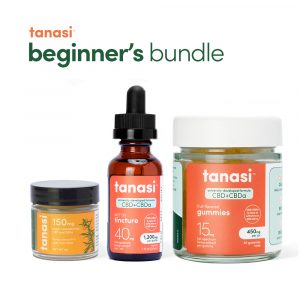 What's Included?
In our online store, we sell cannabidiol in many different forms. While they all include our Tanasi Hemp Extract Formulation, including a 1:1 ratio of CBD to CBDa that's proven to be 2X more effective than CBD alon, each is a little different. We carry water soluble CBD + CBDa; cannabidiol tinctures; beauty serums; other topicals like muscle rubs, sun relief lotions, salves and lotions; and digestible, including hemp-extract capsules and CBD + CBD gummies.
Now, for our beginner's bundle, we've included three of our most popular formulations: our 150 mg CBD + CBDa salve; our 1200mg CBD + CBDa tincture; and our 450mg CBD + CBDa gummies. But, we want you to get a better picture of a wider range of our products. So, for that reason, we'll highlight other products in this post as well, to give you an opportunity to discover which form of CBD + CBDa suits your personal preference.
If you're ready to dive right in and make that purchase…awesome! But if you need a bit more information, we've got you covered, don't worry. Keep reading for an in-depth explanation of what goes into each form or delivery method of our Tanasi Hemp Extract CBD Formula that we produce.
Water Soluble CBD Drink Concentrate
As you'd expect from the name, CBD oil in its original state doesn't mix well with water. That's just a basic rule of science! We know, however, that adding it to your morning coffee, water bottle or juice is a super convenient way to get your daily doses.
And there's something else we know, too—our bodies are mostly made of water. So, creating water-soluble CBD increases the bioavailability of the cannabinoid. (This just means your body can absorb more of the active ingredients in each dose. And it also means you use less of your product to get the same effect, which can translate to serious savings.)
Given all these facts, our Tanasi team (and partners) went to work on making our CBDa + CBD formulation water-soluble. At the point of their extraction from the Cannabis plant, molecules are isolated.  And the CBD to create our formula into a drink concentrate that easily dissolves in water starts out as CBDA. We end up with the Tanasi Hemp Extract Formula (CBDA and CBD in equal parts) suspended in propylene glycol (PG). Just add one or more drops (Note: the miligram per drop information is included on your product packaging along with suggested use info) of Water Soluble CBD to your favorite beverage and drink up!
CBD Oil Tinctures
This is another way we bring CBDa and CBD oil to you: in tincture form. Our full-spectrum oil tincture comes in a bottle, with a dosing dropper. Inside, you'll find our MCT oil, sunflower oil, and Tanasi's proprietary hemp-extract CBDA/CBD formula.
To get started with the Tanasi 1200mg CBDA/CBD tincture, you determine your optimal dose, based on your weight and desired effect: mild, moderate or strong. As beginners, we highly recommend starting with a low dose.  From there, you can gradually work your way up, until you achieve that desired effect.
Next, fill your dropper and place your desired amount beneath your tongue. Hold in place for two minutes before you swallow, and let your adventure with tinctures begin. One quick note on our Tanasi tincture: because our CBD is full-spectrum, it includes terpenes, which are like the Cannabis Sativa L. (hemp) plant's flavonoids (smell or taste). These lend a unique and natural scent and flavor to our oil tincture.
Topical CBD
What else do we recommend? The always-popular 150mg CBD salve. Using a spoon or other applicator, take one scoop and apply to areas that might feel achy, or just in need of some extra love.
Salves are simply topical balms, creams or ointments that are infused with active ingredients. We start our Salve with almond oil and a beeswax base. Then we infuse our Tanasi Hemp Extract Formula, a proprietary blend of CBDA/CBD into the salve so you can target your dose just where you want it!
Our patent-pending formula in our salve is super-popular with our customers, and science plays a big part in that. Studies suggest that topical applications of our CBDA/CBD formula work better than CBD alone. We encourage you to try it for yourself, and see if this form of it is right for you!
CBD Capsules
These handy little supplements—the Tanasi patent-pending formula hemp-extract soft gels—are another form of CBD that might work well for beginners. And we're thinking you'll love them. For many reasons, of course, but first and foremost because they're just so easy.
We've concentrated MCT oil, sunflower oil, and our proprietary blend of Tanasi Hemp Extract Formula of CBDA/CBD into a little vegetable capsule. So, all you have to do is swallow your the capsule, as you would any vitamin or supplement, and your journey with it has officially begun.
There you have it! Tanasi Hemp Extract Formula comes in many different forms; Drink Concentrate, Tincture, Salve and Capsule. Try them on your own, or try our salve, gummies and tincture together in our beginner's bundle! We hope this makes your entry into our world of CBD smooth and effective. Find your Tanasi way, and happy sampling!