Is CBD and CBDa Legal in Iowa? The Hawkeye State is Strict But Fair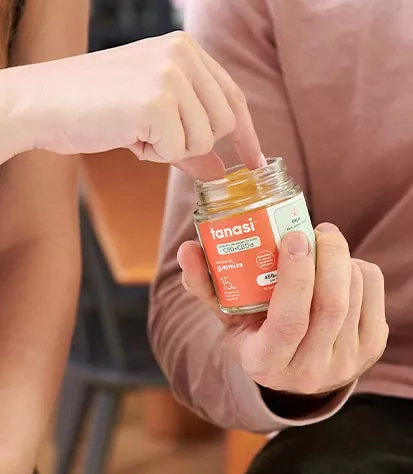 Posted on June 5th, 2023
The laws governing cannabis in the United States have slowly started changing. Marijuana is still illegal according to the federal government. But many states have legalized marijuana extracts for both medicinal and recreational use. And the federal government has changed the rules when it comes to one of these extracts, Cannabidiol (CBD). CBD has become increasingly popular in recent years. And, here at Tanasi, we add CBDa to all our CBD extracts in a 1:1 formulation, because our patent-pending research shows that this combination results in 2X the effects. 
However, depending on the state you live in, you might not know what is legal and what is not. As such, the focus here will be on answering the question, Is CBDa and CBD legal in Iowa?
Is CBD Legal in Iowa? What About CBDa?
The legality of CBD in Iowa is not entirely clear due to mixed signals from those in authority. If you follow the letter of the law, all CBD is technically not legal. But there are still legal options to get your hands on some.
The Iowa Department of Public Health allows for the use of medical CBD to only those issued with permits. However, even if you have a permit, you cannot simply head out to buy the product at any store. You can only do so by visiting one of the dispensaries that the state has approved.
Iowa law regulates the THC content of CBD products in stores. CBD products sold in the state should contain no more than 0.3 percent THC. (This is also the federal limit for legality.) Purchasing CBD oil with a higher THC content or without a permit is an unlawful action. It could lead to arrest and prosecution.
Confusion Surrounding CBD Sales
Confusion has surrounded the legality of CBD sales in Iowa since the passage of the Iowa Hemp Act in 2019. Fortunately, House File 2581 has been introduced. It is an attempt at clarifying the fact that stores in Iowa can be allowed to sell hemp products either produced in Iowa or out-of-state. They must comply with the Iowa Hemp Act as well as US Department of Agriculture regulations.
The sale of cannabis edibles such as CBDa + CBD gummies or tinctures will first have to undergo stricter scrutiny before they're allowed on shelves. Municipalities throughout Iowa have allowed CBD stores to open, but crackdowns by law enforcement officials have confused store owners.
Iowa Senator Brad Zaun acknowledged the fact that the original Iowa Hemp Act used language that was confusing to both law enforcement officials and businesses. While the bill was far from perfect, it was a step in the right direction. The bill was modeled after a similar one that was passed in Texas back in 2019.
Zaun praised the bill for clearly stating what can and cannot be sold in the state of Iowa with regards to CBD products, including ones like Tanasi's that include CBDa. Under the bill, CBD products can be sold in the state if the hemp used complies with either federal hemp law or the Iowa Hemp Act.
Iowa Attorney General Weighs In
The Iowa Attorney General also issued a statement in response to questions about CBD. The AG stated that since the Iowa Hemp Act is now in full effect, CBD products that contain 0.3 percent (or less) THC are not illegal substances. However, the  AG clarified that it does not automatically mean that all CBD products are legal.
Hemp products such as fiber, cordage, cloth, plastic, particle board, paper, paint, and fuel can be produced legally. Section 7 of the Iowa Hemp Act provides clarification that CBD derived from hemp can only be added to products intended for human consumption to an extent that's consistent with the applicable federal law.
Consumable CBD products can also be sold in the state. The hemp must be registered with the Iowa Department of Inspections and Appeals (DIA) and also comply with the state's packaging and labeling requirements. According to the bill, the DIA must first approve stores that sell consumable CBD. 
Guide to Buying CBD Products in Iowa
Although laws have made CBD legal in Iowa, that doesn't mean all CBD products are of the same quality. The guidelines regarding the legality of the sale and use of CBD products in Iowa are still not very clear, despite the attempts by the Senate and Attorney General to clear the confusion. However, one thing is clear, consumable hemp products from other states can be sold in Iowa if they follow the federal hemp law and pass testing requirements similar to those used in Iowa.
If you are an Iowa resident and wish to buy CBD products, but don't know whether you are committing an offense under the law due to the lack of clarity, you are in the right place. First, you need to know that the CBD industry in the USA is new and largely unregulated. So, to ensure that you always get quality CBD products every time, watch out for the following:
Third-Party Testing
If you want to be sure that you are buying premium CBD products, you need to ensure that third-party laboratories have tested them. The labs can tell you whether the CBD products contain any unwanted additives or dangerous chemicals. These labs can also tell you whether the advertised CBD content actually matches what's inside the bottle.
Extraction Methods
You can only get high-quality CBD from a high-quality source. CBD can be extracted from hemp using a variety of methods. Using Carbon Dioxide (CO2) is one of the safest, effective, and most efficient ways to extract CBD from hemp. It does not require any heat or additional solvents. This method ensures that your CBD oil is as pure and clean as possible.
When it comes to buying new products in any industry there will always be risks. However, if you watch out for the 3 things above, you can avoid companies attempting to make a quick buck from uninformed customers. Your best option is usually making your purchases online on websites such as Tanasi.com where you can easily verify the source of your CBD.
Why Purchase Online?
The answer to the question, 'Is CBD legal in Iowa?' is still not very clear. This is why making online purchases is a more preferable option to buying from a physical store in Iowa. Here are other advantages of making your CBD purchases online:
Variety
Online CBD stores usually have a wider variety of products to meet your CBD needs. Iowa CBD dispensaries are currently only allowed to sell CBD tinctures, creams, and capsules. If you make your purchases online, however, you will not only find these products but also others including wax, balms, vape juice, and pet products.
Save Time
The great thing about shopping online is that you can save a lot of time by instantly comparing hundreds of products at the click of a button. In contrast, comparing a similar number of products in person will take a lot more time. Online shopping means that you don't need to drive around your city comparing different products and prices.
So, Is CBD Legal In Iowa?
The laws governing cannabis and its compounds are still strict in Iowa. But there are still several options for getting your hands on your favorite health supplement. Iowa is slowly making progress with its cannabis laws. Soon you will be able to legally buy CBD with more than 0.3% THC.
If this all still seems confusing, just know this: CBD is federally legal in the US. It just has to have less than 0.3% THC content. Tanasi thoroughly tests all of its hemp extracts to make sure they follow all federal regulations. Everything is labeled clearly and gives you the peace of mind you want when trying something new. Extensive scientific research went into the formulas Tanasi uses. They will gladly ship any product you choose directly to your home in The Hawkeye State.