The CBD Balm Uses That Could Provide Relief For Your Skin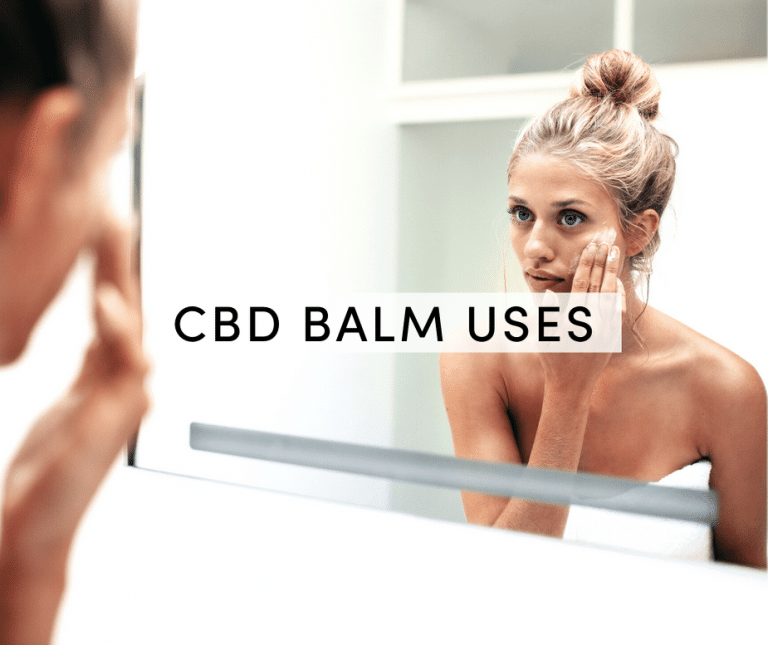 Posted on April 18th, 2021
If you are wondering about CBD balm uses, you have come to the right place. Topical CBD balms have become extremely popular these days due to their potential benefits. The latest studies show that CBD helps relieve pain and inflammation. Many people report that CBD balms are highly effective in relieving painful skin conditions by reducing inflammation. This article provides information on some of the many CBD balm uses and potential benefits.
What Are Balms Exactly?
Balms are solid oils that turn into liquid oil when applied to the skin. Balms are occlusive and nourishing and provide a protective layer to your skin. They differ from moisturizers because balms do not contain water. They are quite concentrated, and you have to use only a very small amount to achieve the desired results. Both balms and moisturizers are great for giving your skin that plumped complexion. In fact, balms are ideal for dry and flaky skin. They can take the place of your moisturizer when you are traveling. Also, balms are quite hydrating and can work as a cleanser on your skin. 
What Do We Use Balms For?
Balms have a wide variety of purposes. An analgesic balm can provide temporary relief of muscle and joint pain resulting from strains, arthritis, sprains, backaches, and bruising. Here are some of the most common uses of balms:
. Back pain
. Head and chest congestion
. Toenail fungus
. Arthritis and non-arthritis joint pains
. Headaches
. Minor burns
. Muscle aches, sprains, and strains
. Osteoarthritis
. Mosquito bites
. Shoulder and neck pain
. Stretch marks
. Toothaches
Common Skin Balms
A skin balm is a combination of oils, butter, and/or waxes. This is the base of the balm along with essential oils and other ingredients depending on the use of the product. Balms don't contain water like skin creams and oils. Certain bases are more suited to CBD balm uses than others. Some of the most common skin balms on the market today contain the following ingredients:
. Shea butter – Shea butter is extracted from the nut of the African shea tree (Vitellaria paradoxa). The raw butter is yellow in color and becomes white after refinement. Shea butter contains a large number of natural vitamins and fatty acids to nourish your skin.
. Calendula oil – Calendula oil is effective in promoting the regeneration of dry and damaged skin. It has antibacterial and anti-inflammatory properties for this purpose.
. Beeswax – Beeswax plays an important role in protecting the moisture in the skin by forming a protective barrier on the skin. Beeswax helps attract moisture to the skin and prevents dryness of the skin in the process.
. Jojoba oil – Jojoba oil has antibacterial properties and vitamin E. It also acts as an anti-inflammatory ingredient to soothe irritated skin and prevent acne breakouts.
. Sunflower oil – Sunflower oil has vitamins A, C, E, and D. It has antioxidant properties to protect your skin over time. 
What is CBD?
CBD or cannabidiol is the second most prevalent chemical compound in the cannabis plant after THC or 9-tetrahydrocannabinol. There are over 100 chemical compounds in the cannabis plant which are known as cannabinoids. THC is the compound that produces the high or stoned effect from the marijuana plant. CBD became extremely popular with people suffering from numerous health conditions due to the potential benefits of the compound. CBD doesn't cause a person to become high. Hence, CBD is federally legal as long as the product contains less than 0.3% THC. 
CBD is also legal in a majority of states across the United States as long as it contains less than 0.3% THC. The FDA has already approved one CBD product to treat seizures from Dravet syndrome (DS), Lennox Gastaut syndrome (LGS), or tuberous sclerosis complex (TSC) in children below two years of age. The FDA doesn't allow manufacturers to add CBD to food or label it as a dietary supplement.
Where Does CBD Come From?
CBD is a chemical compound present in the Cannabis Sativa plant. Cannabis Sativa has two main varieties of plants; industrial hemp and marijuana. CBD can come from both these varieties. But CBD products from marijuana typically have more than 0.3% THC and are illegal in most US states. CBD from industrial hemp has less than 0.3% THC and is legal federally and in almost all US states. The CBD oil has to be separated from the raw plant material. CO2 extraction is the most effective method. It yields the purest CBD with the highest potency.
Effects Of CBD
Studies show that CBD has numerous potential health benefits. It has become one of the most effective pain management ingredients in the alternative medicine industry. One perk of CBD is its ability to address different types of pain without making the patient high. CBD may be effective against some of the cruelest childhood epilepsy syndromes, arthritis pain, anxiety, and depression. CBD also prevents activity in the sebaceous glands to reduce sebum. Too much sebum can lead to acne breakouts.
How Does CBD Work?
The human body has an endocannabinoid system (ECS). CBD interacts with receptors in this system to provide its various benefits. There are ECS receptors throughout the body including the brain, skin, spinal cord, and organs. CBD will bind to these receptors and bring balance (homeostasis) to the body helping it function more efficiently. Cannabinoids in plants are phytocannabinoids while those the human body makes are called endocannabinoids. Both endocannabinoids and phytocannabinoids may help reduce inflammation, reduce the effects of stress, and boost your immune functions. 
What is CBD Balm?
CBD balm is a soothing emollient that typically infuses CBD into a blend of beeswax and essential oils. You can apply it to skin areas and thoroughly massage to get quick relief from various pains and aches. You need to apply only a very little CBD balm to the affected area because the balm is quite concentrated. The balm works in several ways when directly applied to the skin. The action of rubbing the balm helps stimulate nerve endings in the area to reduce the discomfort.
CBD Balm Uses
There are several CBD balm uses. CBD balm may help relieve pain and inflammation. It can also help with chronic pain by reducing inflammation in people who have painful skin conditions. CBD binds with CB2 receptors in the skin to reduce inflammation and ease the pain. It can be difficult to manage dry skin. Dry skin can lead to pain because it feels itchy and tough. CBD balm helps reduce dry skin conditions. Acne is a big problem for many people other than adolescents. Pimples develop as a result of clogged pores on the skin. CBD balm may help decrease the number of pimples and blackheads on the skin. It works by reducing the amount of sebum the skin produces and by reducing inflammation.
CBD Balm Uses for Pain/Inflammation
The American Academy of Dermatology reveals that CBD balm helps reduce inflammation on the skin and helps prevent acne, psoriasis, and eczema. CBD balm is a highly effective treatment for various pains and aches. It controls pain by reducing inflammation in the body. Recent research shows that CBD is a very effective anti-inflammatory substance.
CBD balm helps decrease pain associated with muscle, joint, and skin conditions by reducing inflammation in the affected area. CBD interacts with the high concentration of cannabinoid receptors in the skin. These receptors are part of the body's endocannabinoid system (ECS). The endocannabinoid or ECS system is responsible for maintaining homeostasis and other functions such as pain management.
CBD balm can also help ease burns/wounds and scars faster. It reduces pain and inflammation in the area to prevent severe scarring. 
Final Thoughts on CBD Balm Uses
Whether you are just looking to prevent dry skin or ease joint aches, CBD balm could be a good option. Tanasi makes high quality CBD topicals that accomplish many of the benefits that this article covers. Some of these benefits include pain relief, and reducing scarring and acne.