Where Is CBD Legal In The U.S.?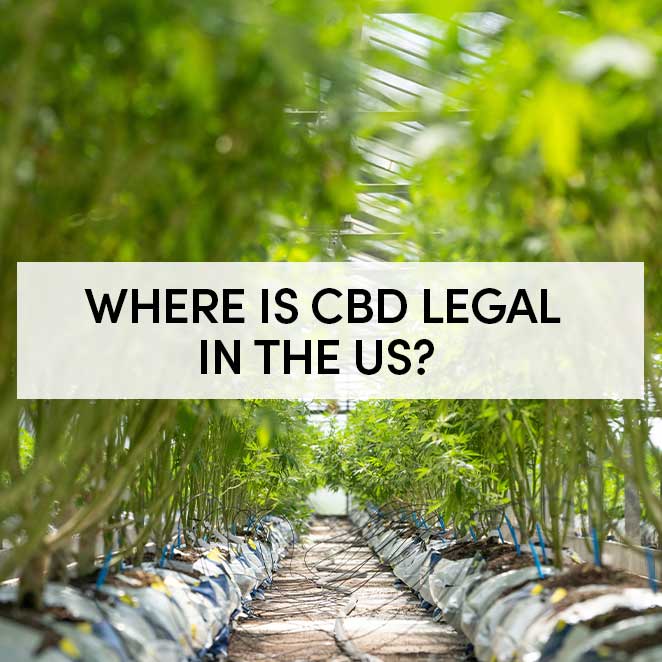 Posted on April 10th, 2021
There is a lot of mixed information online about the legality of CBD in the United States. If you are wondering where is CBD legal in the United States, you have come to the right place. There are ten states and Washington, D.C. where marijuana is legal both medicinally and recreationally. Unless you live in one of these ten states or D.C., there is a chance the local authorities might treat some CBD products like contraband. That is why you need to be aware of the legal status of CBD in your state before using the product. In this article, we will answer the question of where is CBD legal in the United States as of April 2021?
What Is CBD?
Cannabidiol or CBD is the second-most prevalent chemical compound found in the Cannabis Sativa plant. There are over 100 different cannabinoids found in the plant. CBD particularly has many medicinal benefits such as pain management, seizure control, anti-inflammatory, and anti-cancer properties. It is a safe and non-addictive substance, unlike THC, another cannabinoid that is responsible for causing the high that the cannabis plant is famous for.
Even though both CBD and THC do have therapeutic benefits, CBD has the advantage of not making a person intoxicated or stoned. That is because THC and CBD interact differently with the different cannabinoid receptors in the brain and body. CBD, research says, might lessen the psychoactive effects of THC depending on how much CBD and THC you take and when. A vast majority of states in the United States legalized CBD derived from industrial hemp for use as a supplement. But only as long as the product contains less than 0.3% THC.
What Are Cannabinoids?
Cannabinoids are naturally occurring chemical compounds found in the Cannabis Sativa plant. There are more than 480 compounds in the plant, and a little over 100 are cannabinoids. THC and CBD are the most common cannabinoids in the cannabis plant and account for more than 40% of the plant resin extract. Cannabinoids interact with specific cannabinoid receptors in human and animal bodies. These receptors located in different parts of the central nervous system. The two main cannabinoid receptors in the body are CB1 and CB2.
The cannabinoids in the cannabis plant differ depending on their degree of psychoactivity. In fact, CBD, CBG, and CBC are not psychoactive. Meanwhile, THC, CBN, and CBDL have varying degrees of psychoactivity. CBD is popular as a health supplement due to the non-psychoactive properties of the compound.
What Is Cannabis?
Cannabis is a group of plants that might have psychoactive qualities such as Cannabis Sativa, Cannabis Ruderalis, and Cannabis Indica. The flowers of these plants undergo harvesting and drying in order to make one of the most popular drugs in the world known as weed, pot, or marijuana. People mostly consume cannabis for the relaxing and calming effects it elicits. Cannabis is prescribed in the United States for many medical conditions, including chronic pain, poor appetite, anxiety, glaucoma, and seizures.
Cannabis is legal in some states for medical and recreational purposes, while some states have legalized it for medical use only. These days, more and more states are coming to understand the medicinal properties of cannabis. Thus, why more and more are opting to legalize it. Yet, marijuana, the main psychoactive variety, remains illegal under federal law in the United States. Yet, besides the psychoactivity, the plant has a wide range of short and long-term effects on your health and well-being.
What Is Hemp?
Industrial hemp is a variety of the Cannabis Sativa plant. Mankind has been using the plant for different purposes for over 10,000 years. Industrial hemp provides fiber from the stem of the plant, protein from the seeds, oil from the leaves, and smokable flowers. In fact, hemp fibers are common material to make paper, textiles, and clothing items. Hemp produces a wide range of cannabinoids as well, including CBD and THC. But it doesn't produce enough THC to create an intoxicating effect. The most important feature of industrial hemp is that CBD extracted from the plant contains less than 0.3% THC. Hence, hemp-extracted CBD is legal in almost all states of the country as long as it does contain less than 0.3% THC.
What Is Marijuana?
Marijuana is another variety of the Cannabis Sativa plant. The main chemical compound in the marijuana plant is THC. THC has psychoactive properties that could make a person high. When you vape or smoke marijuana or weed, the THC in the plant can get into your bloodstream quickly. Thus, make you high in seconds or minutes. Marijuana has a much higher concentration of THC compared to industrial hemp. So, CBD extracted from marijuana contains more than 0.3% THC and remains illegal in most states. In case you need to use medical marijuana for whatever reason in a state that allows it, you need to get a license first.
How Is Hemp Different from Marijuana?
Hemp and marijuana are two varieties of the same plant – Cannabis Sativa. From a legal standpoint, hemp is cannabis with less than 0.3% THC. Marijuana is legal cannabis with more than 0.3% THC. Manufacturers can extract CBD from both hemp and marijuana. Yet, the extract might be illegal when derived from marijuana because it will contain more than 0.3% THC that would require further processing to get rid of. On the other hand, hemp-extracted CBD is legal in most states as long as it has 0.3% or less THC. Cannabis with less than 0.3% THC can also go to create other kinds of products such as:
Animal feed.
Clothing.
Paper.
Plastic.
Textiles.
Food products.
If you are in the market to buy a CBD product, you should always look for hemp-extracted CBD to be on the safe side. Hemp-extracted CBD contains less than 0.3% THC and, thus, is legal in most states of the country.
Why Did They Ban Marijuana in The First Place?
The United States first outlawed marijuana in the early 1900s. One reason to ban marijuana in Western states of the country was the fear of Mexican immigrants using the plant. On the other hand, in the Eastern states, the fear of African Americans (jazz musicians) who used the drug supposedly to take advantage of white women made marijuana illegal. In fact, making marijuana illegal was a way to seemingly disempower immigrants and African Americans.
Why Did They Ban Hemp?
The Controlled Substances Act of 1970 banned the production of industrial hemp during the war on drugs in the country. The act made all cannabis cultivation illegal, including industrial hemp. The Drug Enforcement Administration or DEA refused to issue permits to cultivate industrial hemp. They argued that hemp came from the same species of plant as the banned marijuana. Despite industrial hemp having less than 0.3% THC, the authorities banned both marijuana and hemp under the Controlled Substances Act. The ultimate reason is that there was no legal distinction between the two plant varieties.
When Did CBD Become Legal?
The hemp industry in the U.S. received a boost with the 2014 Farm Bill coming into effect. The bill allowed institutions of higher education and state agricultural departments to cultivate industrial hemp under pilot programs. The bill defined industrial hemp by officially setting the THC content threshold in the plant at 0.3% on a dry-weight basis. The 2018 Farm Bill went several steps further to legalize the production of industrial hemp as an agricultural commodity. CBD extracted from hemp became federally legal in the country with the 2018 Farm Bill.
Is CBD Legal Across the United States?
No. Contrary to popular belief, CBD isn't legal in all 50 states – even when the product comes from industrial hemp. This is because every state has its own Controlled Substances Acts (CSA).
Legality Of CBD In 2021
Here is a list of the legal status of CBD in each state as of April 2021
Alabama – Restricted
Alaska – Fully Legal
Arizona – Fully Legal
Arkansas – Fully Legal
California – Fully Legal
Colorado – Fully Legal
Connecticut – Fully Legal
Delaware – Fully Legal
Florida  – Fully Legal
Georgia – Restricted
Hawaii – Fully Legal
Idaho – Fully Illegal
Illinois – Fully Legal
Indiana – Restricted
Iowa – Restricted
Maine – Fully Legal
Maryland – Fully Legal
Massachusetts – Fully Legal
Michigan – Fully Legal
New Hampshire – Fully Legal
Kansas – Restricted
New Jersey – Fully Legal
Kentucky – Restricted
New Mexico – Fully Legal
Louisiana – Fully Legal
New York – Fully Legal
Minnesota – Fully Legal
Mississippi – Restricted
Missouri – Fully Legal
Montana             – Fully Legal
Nebraska – Fully Illegal
Nevada – Fully Legal
North Carolina – Restricted
North Dakota – Fully Legal
Ohio – Fully Legal
Oklahoma – Fully Legal
Oregon – Fully Legal
Pennsylvania – Fully Legal
Rhode Island – Fully Legal
South Carolina – Restricted
South Dakota – Fully Illegal
Tennessee – Restricted
Texas – Restricted
Utah – Fully Legal
Vermont – Fully Legal
Virginia – Restricted
Washington – Fully Legal
West Virginia – Fully Legal
Wisconsin – Restricted
Wyoming – Restricted
Can I Carry Marijuana Where CBD Is Legal?
No. It is not safe to carry marijuana in a state where CBD is legal. Unless you have a license for medical marijuana or recreational marijuana is legal in that particular state, better no to. You need to be aware of the marijuana laws in the particular state before carrying the substance.
Where Is CBD Legal in The U.S.? – The Takeaway
CBD is legal in most of the U.S., yet, be mindful of the laws of the state wherever you are thinking of getting some CBD. Remember, the law might judge CBD with more than 0.3% THC, the same as marijuana in a state where the latter remains illegal.