Where Can I Buy CBD Oil?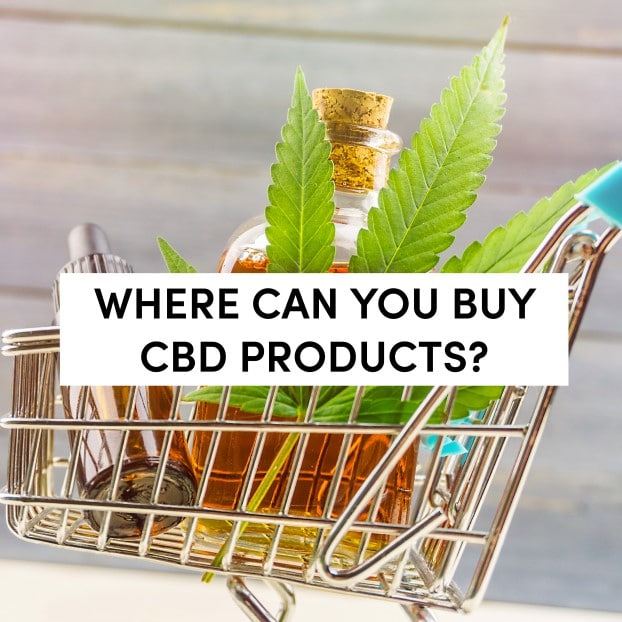 Posted on January 10th, 2022
Where can I buy CBD oil? And how can I ensure that I get a high-quality product? These are questions you have to ask, now that CBD oil products pop up in so many places. In fact, since we've learned of its many potential health benefits, including the chance to manage pain and anxiety, high-quality CBD is highly sought after.
But when you're shopping for CBD, issues that come with the territory of popularity include counterfeit products, low-quality oil, and countless companies claiming to have the best options around. So, if you want to know, where can I buy CBD oil that's pure or top-notch, the following information will lead you in the right direction.
Where Can I Buy CBD Oil? A Shopping Guide
While CBD oil is readily available in many places, this doesn't mean you should throw caution to the wind and buy products from any random place. If you want the best possible buying experience, you should head to one of these places:
Dispensaries
In states where cannabis is legal, you can find CBD oil at a local dispensary. The great thing about this option is that you don't need to worry about buying a low-quality or tainted product.
With a heavily regulated dispensary, you can guarantee the quality and concentration of your purchase.  But there is a downside: prices here are steep. And you may feel uncomfortable advertising your purchase by walking into a dispensary.
Convenience Stores
With this option, you can easily access CBD. And you can do so discreetly, without the whole world knowing why you walked into the store. Still, the CBD oil you find in convenience stores often fails to offer great value for your money. Even if you find a product that works well, you'll likely pay more than if you purchased at a different location. (Or if you choose to buy CBD online.)
Pharmacies
It can be tempting to grab CBD oil in a pharmacy. (Especially if it's one that you trust.) And that's fine. Just expect to pay higher prices than if you sourced your product elsewhere. Also, remember that finding CBD in a pharmacy doesn't guarantee the best quality.
Online
This is probably the best option when it comes to buying CBD oil. The main reasons are that you will be able to choose from a wide variety of products, the prices are typically quite competitive and you will be able to get what you need without compromising your discretion. Since you can discreetly purchase this on the Web, you do not have to worry about anyone seeing what you are buying.
Another reason that buying online is great? You can always read reviews and feedback from people who already bought the CBD you want to try! This can give you valuable insight on what items to buy and which should be left alone.
Where Can I Buy CBD oil? Finding High- Quality Product
Now that you have some knowledge about where to find what you are looking for, the next thing to focus on is how to tell that a product you want is as high-quality as the seller is claiming. Use the following tips to avoid buying something that is not worth the money.
Avoid Super Inexpensive Options
It is always nice when you can find something for a great bargain, well not when it comes to CBD oil. This is one of those times where you often get exactly what you pay for. You cannot expect to find something extremely cheap and believe that it will be top-notch. While you do not have to go for broke in order to obtain great products, you should expect to pay a reasonable amount. Besides, the cheaper the oil, the more likely it is to contain all types of substances that are not healthy for you.
Seek Out Products With Low THC
In most states, you cannot purchase THC legally, which means that trying to get your hands on a product that contains it can land you in legal hot water. The best thing to do if you want to stay out of trouble would be to look for products that contain hemp CBD. The federal government requires that hemp-based CBD contains less than 0.3% THC, which makes it legal in every state, so you can purchase it without any worries.
Also, since there is only a small amount of THC in hemp-based CBD oil, you will not have to worry about any THC-related side effects or getting into any trouble if you are randomly drug tested for work or school.
CO2 Extraction Is Key
Always look for CBD oil that is produced using the CO2 extraction method. While there are other ways that this oil can be produced, none of them is as safe as this one. During the process, CO2 is subjected to high pressure and temperatures. As a result, the end product will be clean and free of any pollutants. If you notice that the extraction method used is propane or butane, run for the hills. Oils produced in this manner tend to be filled with all kinds of dangerous solvents.
Look For Third-Party Lab Results
Any company that has high-quality CBD oil should have no problem showing consumers reports from third-party labs. When an independent lab tests products, they create reports that detail how much THC is actually in the oil, how much CBD it contains, and whether there is a host of impurities present. If you look for this type of information and you are unable to find it, you should be wary and look for oil someplace else.
Company Reputation and Customer Service
One thing that can give you an idea of whether a company is worth doing business with is by looking around to see what type of reputation they have on the Web. If you stumble across many former customers complaining about what they received, that is a clear sign that you shouldn't bother. On the flip side, if you see positive testimonials from numerous people, it is an indication that you have likely found a good seller.
In addition to reputation, you should also focus on customer service. Don't hand your money to someone who can't offer a knowledgeable, professional and positive customer service experience. This may seem like a small detail, but a manufacturer selling a quality product would never tolerate bad customer service.
We know this is a lot of information to digest while you're trying to find the best CBD oil, but it will all be worth it when you find the right product to buy. Some companies claim to have the very best oil around. Make sure that you do your due diligence and the dealer you choose to work with is as great as they report to be. The last thing you want is to waste time and money while possibly placing your health in jeopardy.