Here's What You Need To Know Before Buying a CBD Pen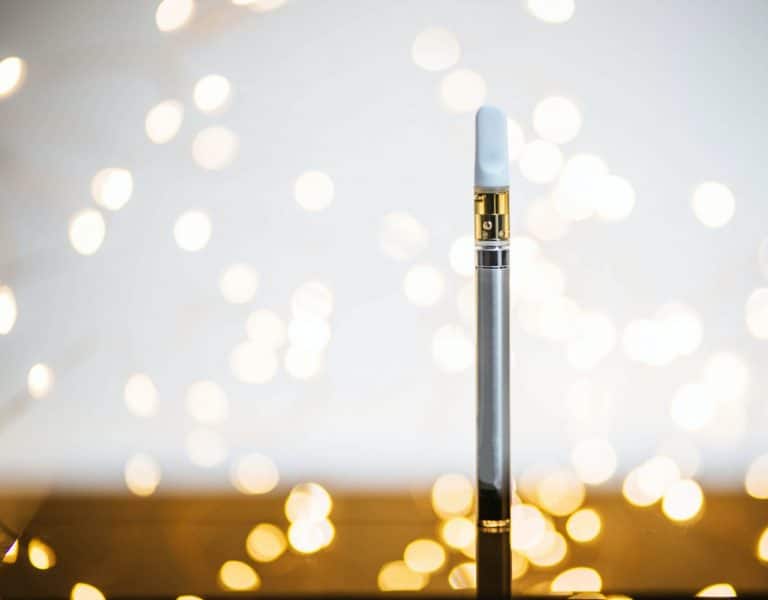 Posted on October 30th, 2021
What's a CBD pen and why would you use one? Well, when it comes to CBD, you can take it many ways:  orally, by smoking hemp flower, or sublingually. You can also vape cannabidiol, with some studies suggesting this could be the most effective CBD delivery method.
Why is that the case? It has to do with bioavailability, which refers to the amount of cannabidiol that enters your bloodstream. This is generally determined by the consumption method you use. Studies show that vaporized cannabidiol has a bioavailability of 34 to 46%. For comparison, sublingual cannabidiol's bioavailability is 20%. And that drops down to about 10% with CBD edibles.
However, for you to vape CBD, you need a vaping device. And your most common for this method is a CBD pen, also called a vape pen.
What's A CBD Pen?
These are pen-shaped devices that heat a liquid like CBD oil, creating an inhalable vapor. There are two types of CBD pens: disposable and refillable vape pens. Disposable vapes are a cheap and convenient option, great for  people who are new to vaping. Refillable vapes, on the other hand, are available in various styles and are generally more discreet.
What's a Disposable Cannabidiol Vape Pen?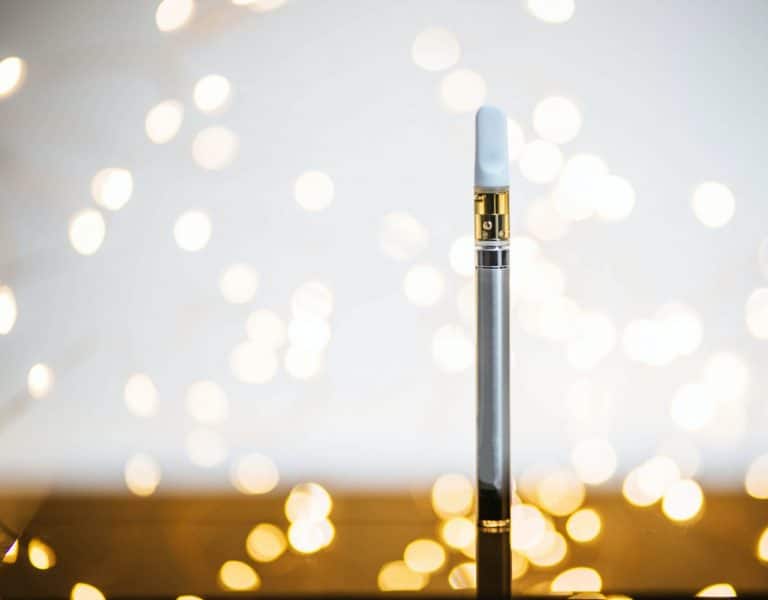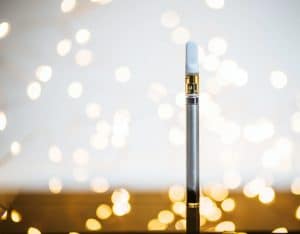 Disposable cannabidiol vape pens are vaporizers that contain an atomizer and a battery. They come pre-loaded with an e-juice containing CBD. The vape pens resemble cigarettes and are generally designed to provide several hundred puffs before they're depleted.
Disposable vapes are a practical alternative to CBD pods and cartridges, since you don't have to buy additional accessories such as compatible pod systems or batteries. Most disposable vape pens are draw-activated, meaning they only produce vapor when you puff them.
What's a Refillable Cannabidiol Vape Pen?
Refillable vape pens have a refillable design. Most have a tank attached to a rechargeable battery and are lighter and smaller than the average tank and mod combo. Using a refillable CBD pen may give you a tighter mouth-to-lung draw, or even the option for direct lung vaping.
Pros and Cons of Disposable CBD Pens
Disposable vape pens are the perfect option if you're new to vaping CBD. While disposable pens offer less variety than refillables, especially when it comes to CBD strengths and flavors, they're easier to use and relatively cheap. And since they come pre-filled with CBD e-liquids, you won't need to make any other investments. All you have to do is vape the pen and chuck it once you deplete the e-liquid is depleted.
Still, disposable vapes aren't as cost-effective, especially when you consider the amount of cannabidiol they contain versus how much they cost. They also limit you to cigarette-style drawing, a vaping style that's also known as mouth-to-lung. This delivery method, combined with the device's low output, means that you may have to vape more frequently to get your desired cannabidiol dosage.
Pros:
• Lightweight
• Relatively affordable
• Slim and discreet
• No maintenance required
Cons
• More limited selection
• Non-adjustable (airflow/power)
• Less cost-effective than refillable vape pens
• Small cloud production
• No direct lung options
Pros and Cons of Refillable CBD Pens
When it comes to refillable vape pens, you have to buy both the device and the e-liquid. Still, refillable vapes are generally more cost-effective over the long term. But, these vape pens are less discreet and convenient, since you need some technical knowledge to operate them properly.
Even so, there are benefits to using refillable vape pens. For instance, with refillable pens, you have more options, making it easier to create unique vaping experiences. Most pens even have adjustable airflow and power options so you can finetune your experience for tighter cigarette-style draws or direct lung vapes with bigger clouds.
Pros:
• Efficient delivery method
• Bigger cloud production
• More cost-effective
• Pen-style form factor
• Caters to different vaping styles
• Adjustable airflow options
Cons:
• Slight learning curve
• Less discreet
• Requires some maintenance
• Initial investment required
Things to Consider Before Buying a CBD Pen
Correct Vaping Temperature
When looking to buy a CBD pen, first consider the device's vaping temperature. A poorly built pen is more likely to overheat, which can ruin your CBD.
When cannabidiol oil becomes too hot, its thinning agents and other compounds start to sublimate. According to recent research, the ideal vaping temp for CBD is 410°F, with the typical range being anywhere between 356°F and 392°F. Before buying a CBD vape pen, check to see if it states its operating temperatures, or if it allows you to control the temperature.
CBD Vape Pen Cost
Most CBD vape pens are relatively inexpensive. But some will cost you quite a lot.  Prices range between $15 to $200. On the higher end of the spectrum, you will find reusable tank-style vapes that give you the ability to control voltage. Disposable or one-time use vape pens are generally the cheapest.
Vaping Discretion
Cannabidiol vape pens are generally very discreet since they look very similar to other e-cig vaporizers available in the market. If you are looking for an inconspicuous way to vape your CBD, then using a cannabidiol vape pen would be the way to go.
Ease of Use
Most CBD vape pens offer effortless operation, though it depends on the model you get. Some vape pens have a button that you push to create vapor when inhaling, while others require you to puff on the device like a cigarette for it to fire up its coil.
Some CBD vape pens (refillable pens) come with adjustable temperature and voltage settings, that add a bit of depth to how they function and have to be refilled every time the vape oil depletes.
However, if you do not want to go through the hassle of configuring your pen or are new to vaping, then a disposable vape pen might be your best option. The good thing about disposable pens is that they are ready to vape straight out of their package as they do not require any setup.
Cost-Effectiveness
So, between the refillable and disposable CBD vape pen, which is the most cost-effective? Well, generally speaking, refillable vapes are more cost-effective than disposable vapes. Replacing parts or buying CBD e-liquid and refilling your pen is a lot cheaper than buying one-time use/disposable vape pens. While refillable pens cost 2 to 3 times as much as their disposable counterparts, they are still less expensive to use in the long run.
Convenience
If convenience is something that matters to you, then a disposable CBD pen will work great for you. With a disposable vape pen, there is no need for changing settings, refilling, or charging. Everything is ready to use right from the box – all you need to do is pick up the CBD vape pen and start puffing.
What To Do When Buying a CBD Vape Pen
Considering that there are plenty of options to choose from, picking the right brand and flavor can prove to be a bit complicated. To make things simpler for you, here are a few things that you should consider doing to ensure that you pick the right CBD vape pen for your needs.
– Research. Before heading out and buying a CBD vape pen, spend some time doing google searches, read through message boards, and ask family and friends for recommendations.
– Find out how many hits the pen gets. If you are going for a disposable vape pen, make sure you follow up on the number of hits it gets. Remember, a disposable pen should give you not less than 100 hits.
– Test it before leaving the shop. Give your pen a go before leaving the shop to ensure that it works properly.
– Choose a brand that offers your favorite CBD strains.