What Makes Tanasi Hemp-Extract Unique with Lotion, Salve, and Capsules?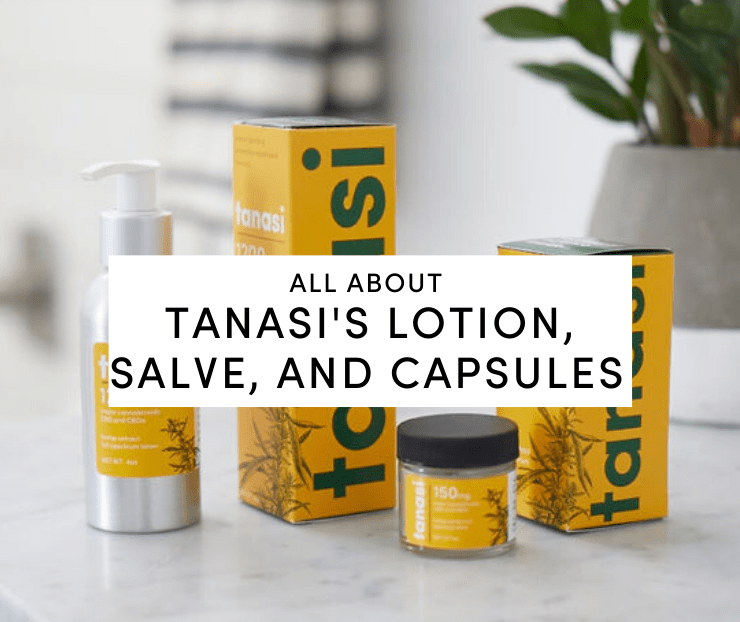 Posted on February 24th, 2020
At Tanasi, our range of skin topicals and capsules all contain our proprietary blend of terpenes, and our patent-pending University developed hemp extract formula.  A 1:1 CBD-CBDA ratio which is what makes the Tanasi Hemp-Extract unique. And we've discussed the benefits of those additions in an earlier blog post. So, today, we're going to devote some time to explaining the benefits of the unique ingredients contained in our products. 

What's Inside Tanasi Capsules?
Tanasi Hemp-Extract Capsules
Like all the products we create, we manufacture our capsules with a minimal number of natural ingredients. Our Tanasi hemp-extract capsules contain MCT oil, sunflower oil, our Tanasi Full Spectrum cannabinoid formula, and terpenes (all ingredients we've previously discussed). The only other ingredients we include in our Tanasi hemp extract capsules are the vegan HPMC capsule.  This is from vegetable cellulose. It is 100% natural and contains NO preservatives, NO irritants, NO gelatin, NO wheat, NO dairy, NO animal by-products, and NO soy or starch.
Tanasi Ginseng Extract Capsules
Our Ginseng extract capsules also have a short and simple ingredient list. We begin with pure concentrated Korean (which means it's a steamed root) Red Panax Ginseng, derived from a plant that is native to Asia. Our Ginseng contains 50% polysaccharides. Ginseng is also grown in Tennessee and there is an activity that has our interest at the university we work with has created the Ginseng Institute here. Ginseng has been associated with anti-inflammatory and anti-oxidant benefits for thousands of years. Aside from the ginseng, the ginseng capsule contains silicon dioxide a naturally occurring compound that helps prevent clumping inside the capsule. And the gelatin capsule, an animal-product casing designed to help your body quickly absorbs the powdered ginseng within. And that's the sum total of our Tanasi Ginseng ingredients.  We don't include anything found outside of nature, in these capsules, or in our salve and lotion.  We'll turn to both of those next.

What Goes Into Topical Tanasi Products?
Tanasi Hemp-Extract Salve
In our Tanasi salve, we only add almond oil and beeswax to our proprietary blend of hemp-extracted cannabinoids and terpenes. The almond oil acts as a carrier and natural way to hold the beneficial cannabinoid elements to your skin. Almond oil is an excellent moisturizer for both the skin and hair. And the beeswax mixes with the oil to create a moisture barrier on your skin, so you don't lose your natural hydration as well as structure to the salve. It also helps improve your ability to absorb the contents of the salve, as well as provide structure to the salve.
Tanasi Hemp-Extract Lotion
When it comes to our Tanasi hemp-extract lotion, we have quite a few more ingredients to explore.  This product delivers cannabinoid and cosmetic effects. We start off with a purified water-based lotion that also contains:
Polysorbate 20: this emulsifier helps keep our blend of ingredients together, while also providing the lotion with a delicate fragrance.
Cetearyl Alcohol: this fatty alcohol is in animals and plants products like coconut oil. It acts as a natural thickening agent for our lotion.
Glyceryl Stearate: this substance forms a natural reaction between glycerin and stearic acid, which is a natural source like palm oil. It helps form a protective moisture barrier to keep your skin hydrated.
Phenoxyethanol:

 

While commercially produced for beauty products like lotions, phenoxyethanol is a substance that also occurs naturally in sources like green tea. It is to keep bacteria out of water-based products like our lotion.
Carbomer: created from acrylic acids, this polymer is to keep insoluble ingredients from separating out of water-based solutions.
Potassium Sorbate: this tasteless and odorless salt, which can be found in certain berries, is another bacteria-fighting addition to our water-based lotion.
Sodium Hydroxide: also known as lye, this substance helps maintain the lotion's pH levels.
To create our Tanasi hemp-extract lotion, we simply mix this water-based lotion with our patent-pending University developed hemp extract of Full Spectrum profile of cannabidiol (CBD) and cannabidiolic acid (CBDA) and terpene blend.  And your Tanasi Lotion product is ready for purchase. The pump we use ensures 10mg per pump!
So, now you know everything that goes into the topical products and capsules we produce at Tanasi, and what makes Tanasi University developed patent-pending Hemp-Extract formula so unique. We feel good about choosing scientifically-backed, natural ingredients for our products.  We hope this in-depth understanding of our products will help you — our customers — feel equally comfortable.