Is There CBD Oil With THC?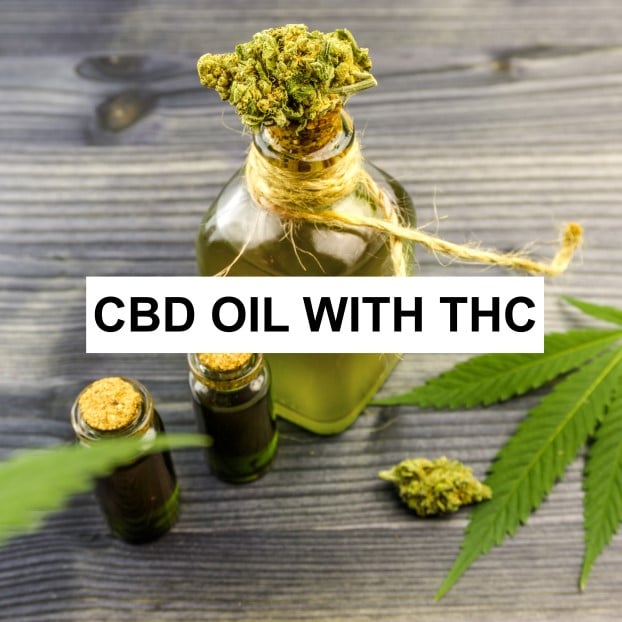 Posted on July 31st, 2021
CBD is one of the natural components, called cannabinoids, that you find in all forms of cannabis plants. You can extract CBD from marijuana or hemp varieties, but if you take oil from marijuana, its THC concentrations will be higher. And that can change your product's final legal status.
Now, even if you extract CBD oils from hemp, your product will still contain trace amounts of THC. So, you may wonder if that will get you high, or put you in legal trouble. For these obvious reasons, many people have concerns about using CBD oil with THC. So, in this guide, we'll cover everything you need to know about this product.
CBD Oil With THC: What You Need To Know
THC and CBD are both cannabinoids, which means they are active compounds present in the cannabis plant. They share many similarities. But they also come with key differences.
To begin with, THC, (short for tetrahydrocannabinol) is both intoxicating and psychoactive. This cannabinoid is the reason you get high from using marijuana. It also alters your mental state, often leaving you with euphoric feelings.
CBD, on the other hand, is non-intoxicating. And that means it won't get you high. But, actually, that's not the main difference between these cannabinoids. Even when it comes to CBD oil with THC. Because, unless your THC concentrations are very high, even this product won't be psychoactive.
What Are The Effects Of CBD With THC?
Remember, it's possible to buy CBD products that don't contain any THC. They're called "CBD isolates," or broad-spectrum CBD. They may be labeled as "THC-free", or "Zero THC." And CBD oils that contain THC are usually identified or labeled as "full-spectrum".
On the broader market, full spectrum products are more popular. Experts and scientists suggest that full-spectrum CBD oil products trigger what is known as the "entourage effect", which references the way cannabinoids seem to work in combination to produce an enhanced effect on both the mind and body. THC and CBD are very different when it comes to the way they interact once inside the body. These compounds both interact with what is known as the "endocannabinoid system", but each one works differently.
CBD promotes or encourages the different systems in the body to create more endocannabinoids. These are compounds that our bodies naturally produce on their own. THC, on the other hand, directly binds to the cannabinoid receptors, located in the central nervous system. This produces a variety of effects.
For example, THC directly binds to the CB1 receptors mainly found in the nervous system and brain, which triggers a perception of "causing a high". Trace amounts of THC, mainly found in full-spectrum CBD oils that contain THC, will not impact "perception" in relation to your central nervous system.
However, CBD oil with THC can often produce more favorable or enhanced results when compared to taking one of the CBD isolate products. This is one of the primary reasons why many consumers seem to prefer the full-spectrum products. In addition to this, most of the CBD products are Farm Bill compliant, which means they contain under 0.3% THC. This concentration is so low that it will not cause a high or any other psychoactive effect.
Do CBD Oils With THC Work Better?
As mentioned above, the "entourage effect" references a possibility that a CBD oil that contains THC, can offer an enhanced effect when compared to a CBD-only product. In general, cannabis researchers and experts seem to agree that the full-spectrum CBD oils that contain THC offer a wider range of benefits when compared to CBD-only products. However, a lot more research and studies are still required when it comes to this area.
To explain this further, every person has a different endocannabinoid system. This means that different products generally work differently for each individual. If you are not sure about using CBD products that contain THC, it may be in your best interests to try a bit of "trial-and-error" experimentation. For example, you could try a THC-free CBD product and then compare your experience or effects to one of the CBD oil products with THC. You may not know which product works best until you have decided to give each one a try.
If you work in an environment that requires drug testing on a regular basis, it might be best to choose a THC-free CBD product to give you peace of mind and to avoid the risk of a positive test.
What Does CBD Oil With THC Do?
At this stage, you may still be confused. You might still be a newbie when it comes to the world of CBD, and still be in the dark when it comes to what CBD should be doing, to begin with. Whether you decide to use CBD oils with THC or CBD isolate, the overall benefits associated with CBD are generally the same.
People use CBD products for many different reasons. With a bit of online searching, it is easy to find many different forums and websites where people discuss using CBD oil for a variety of reasons. The claims that people make are not always true or valid. Science and research still need to match or catch up to some of the claims made when it comes to the benefits that CBD can provide, and a lot more research and scientific evidence is required when it comes to what CBD with THC can and cannot do.
What is clear at this stage is that CBD seems to support or assist the ECS (endocannabinoid system). The ECS is highly involved when it comes to our general balance, wellness, and health. When we take CBD it might support an active, balanced, and healthy ECS.
Where To Purchase CBD With THC
Today, there are no shortages of products and brands that advertise CBD oils that contain THC. This means that you will find it an easy task to find CBD products that contain THC.
Regardless of the brand, you decide on, make sure that the product comes with a lab report. This will confirm what cannabinoids are present in the product. Also, make sure that any of the hemp-based products you are interested in, contains a THC content of 0.3% or less.
Final Thoughts
It makes sense that many people are still cautious when it comes to CBD oils or products that contain THC. These concerns date back to the time when marijuana was still classified as a drug. There is still a high level of misinformation surrounding this subject. When you combine this with hard-to-interpret labels and confusing descriptions of products, it makes sense that many consumers can get frustrated and confused quite easily.
In conclusion, CBD oils that contain a THC content of 0.3% or less can't cause you to experience a high. At the same time, full-spectrum CBD products are believed to provide enhanced benefits when compared to CBD isolates.