What Is CBD Isolate And Is It Better Than Full-Spectrum CBD?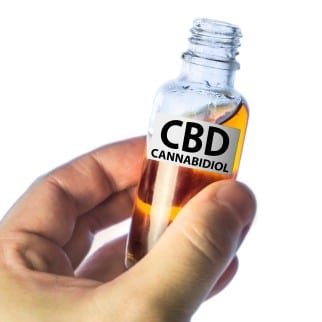 Posted on April 29th, 2022
What is CBD isolate? Are you in search of CBD in its purest form? If you were to purchase full-spectrum CBD, you would quickly find out your product likely contains as much as 0.3 percent THC or tetrahydrocannabinol. CBD isolate, on the other hand, is pure and contains no THC or any other compounds of the cannabis plant. Hemp-derived CBD isolate provides all the benefits without having to worry about psychoactive effects.
What Is CBD Isolate?
As we mentioned earlier, CBD isolate does not contain other cannabis plant extracts or compounds. Full-spectrum CBD products do contain terpenes, essential oils, and other cannabinoids. CBD isolate is typically available in crystal form. You might hear it referred to as CBD crystals.
In spite of the name, manufacturers grind these crystals. So you'll likely purchase CBD isolate as a powder. Now, while CBD isolate and full-spectrum CBD are two very different products, they share a similar extraction process.
And there are three extraction choices: Carbon dioxide extraction, solvent extraction, and lipid extraction. Steam distillation is also an important process when creating hemp-derived CBD.
Benefits
Stress is a part of everyone's life, but sometimes stress levels rise rapidly. Do you have anxiety? Are you depressed? Studies suggest that CBD products may help ease stress and anxiety. In fact, it may even help people with PTSD and depression.
Many people say that CBD products calm them. This turns social anxiety on its head, helping them manage worry and stress. But dosage matters. In one study patients took 400 mg CBD isolate for social anxiety, and symptoms improved. Plus, people often say their CBD products produce a calming effect.
Also, isolate may help relieve pain without THC's psychoactive effects of THC. Now, some people think you need a topical product to find relief. Yet you may enjoy CBD-induced pain topically or with an oral delivery method.
We also have evidence that suggests CBD products may relieve inflammation, arthritis and psoriasis. Again, you can ingest these products orally or apply them topically. So you may find relief in many forms.
Scientific Evidence
Some CBD isolate benefits lack sufficient scientific backing. Anecdotal evidence still exists, however, and professional studies are increasing. Still, at this time, we can't definitively say that CBD isolate works as an anti-nausea medication. However, we have plenty of anecdotal evidence that suggests this claim is true.
In fact, CBD isolates help many cancer patients with nausea and other treatment side effects. Scientists believe that this is because CBD interacts with the brain's serotonin receptors. But most studies involved rats and not humans.
While the scientific evidence is still in the making, the studies we do have are very promising. No doubt, CBD features neuroprotective properties. But are CBD products effective for managing neurological disorders?
Several studies suggest that patients with multiple sclerosis may benefit from CBD products. One of the main benefits patients report is fewer spasms. Much focus has also been placed on patients suffering from epilepsy.
CBD isolate may also help patients with diabetes, heart conditions, asthma, hypertension, addiction and dependency issues, and much more. But we'll need more research before treatments are developed.
MakingIsolates
Extraction processes for CBD isolate were mentioned earlier, but how exactly are the products made? Carbon dioxide extraction is one of the most frequently used processes. For CBD isolate to be in its purest form, the extraction process requires more than just the appropriate equipment.
You need winterization to remove other cannabinoids from CBD isolate. Truthfully, this process requires a lot of skill. This means you need to be paying close attention to whom you trust for providing you with CBD in its purest form. You want to make your purchase from a reputable company.
Carbon dioxide extraction is most often used because it is thought to be the most efficient way of procuring CBD isolate. Not only is it the most efficient extraction method, but it is thought to be the cleanest method as well. You do not want any residual chemicals.
After being blasted by the CO2, the raw flower produces a liquid. This liquid, however, does still contain other cannabinoids. An evaporation process is then implemented, but you are still left with full-spectrum CBD oil once this process is complete. Winterization must be performed in order to end up with CBD isolate.
During winterization, CBD oil is suspended within a solvent. Once the solvent is frozen, CBD isolate crystals separate from the rest of the solution. Many products can be produced from these crystals, which are turned into a powder. The powder is used to make topical ointments, edibles, and more.
What is CBD Isolate Vs Full Spectrum CBD
Some studies suggest that CBD benefits increase if you include other cannabinoids. Especially THC. So, does this mean that full-spectrum products offer better solutions? According to research, the answer is yes.
You have to remember, however, that all our research is early. Additionally, isolates still seem to offer effective ways to manage many unwanted symptoms. Moreover, many people want CBD without THC. Are you trying to avoid the other cannabinoids? If so, then you'll opt for an isolate.
While there is no entourage effect when taking CBD isolate, the pure products have people raving about their benefits and the exclusion of THC. The raw CBD isolate oil also has less of a taste, and it can be more suitable for people who have had negative reactions to other types of cannabinoids.
There are a variety of isolates available on the market. And with all of them, you don't need to worry about passing a drug test afterward. You have a zero chance of failing a drug test. So, what is CBD isolate? It's a form of legal hemp extract that eliminates exposure to psychoactive THC.
What Is CBD Isolate? – Final Thoughts
There is a chance that full-spectrum CBD products show up on a drug test. Some people do as mentioned react negatively to THC and other cannabinoids as well. It is true that broad-spectrum CBD (not full-spectrum CBD) does not show up on a drug test either, just like CBD isolate; however, CBD isolate is the best choice.
Whether you take CBD capsules, consume edibles, or use CBD oil or other topical ointments, it is time to discover the many health benefits of CBD isolate. Do pay attention to potency so that you are taking a recommended dosage intended to produce the desired benefits. Pure CBD can be integrated into your daily diet, and you will discover just why people are counting on these products to help them achieve better overall health.