Check out These CBD Dosage Best Practices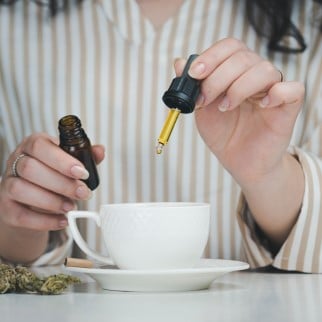 Posted on January 24th, 2022
CBD or "cannabidiol" is one of the best compounds found in the marijuana or hemp plant. It's a compound that oftentimes gets confused with THC. THC is the compound that you will find in the marijuana plant that can cause you to get high. The high sensation you get when you inhale THC isn't present when you take CBD. However, there are certain things that you want to be aware of when you are considering adding CBD to your routine. Here are some of the best dosage best practices to follow and some things you should know about CBD.
CBD Dosage Best Practices
Answering these questions will help you get the most out of your dose.
1. What Are You Taking It For?
The main thing you want to be concerned with when you are trying to figure out some of the CBD dosage best practices is what you're taking it for in the first place. If you are using it for something specific, you will want to speak with a doctor about the quantity used. If not, you'll want to stick to using the recommended dosage on the product you're taking.
2. What Type Of Delivery Method Are You Using?
You need to think about the delivery mechanism when you are looking at CBD dosage best practices. Dosing will be largely dependent on the type of delivery mechanism you are using. Gummies will typically come in smaller dosing quantities than some of the other products. Therefore, you may have to adjust the number of gummies you take based on how much CBD you need.
3. Start With Less
A good rule of thumb is to start with less and add more as needed. You want to avoid overdosing before you understand your tolerance and how your body and mind react to it. By starting slowly, you can give yourself some information about how much you need.
4. Do You Have Medical Conditions?
Do you have a medical condition that could make it dangerous to take CBD? Anyone that suffers from something like liver disease needs to avoid taking too much CBD as it could result in severe side effects. If you have a medical condition that you aren't sure about, you'll want to speak with a health care provider to ensure you aren't doing more harm than good.
5. Stick With CBD Products
When looking at the CBD dosage best practices, you want to stick with pre-made products. One of the best things about pre-made CBD products like gummies, capsules, and pills is that you know how much you are getting. By sticking to CBD products that have dosing measurements, you can be certain you aren't taking too much.
Things To Know to Inform CBD Dosage Best Practices
1. It's Legal
While CBD used to be in a grey area, it's now become legal. Since the Farm Bill was passed, it's become legal to buy and use CBD derived from hemp plants. Therefore, you don't have to worry about doing anything illegal when you take CBD. Likewise, you don't have to get a medical license to take it. This is true if the CBD comes from hemp plants. It's not true if it comes from cannabis plants and contains more than 0.3% THC. As long as the CBD contains less than the stated amount, it's good to take.
2. There Are Potential Benefits
You wouldn't take CBD if it didn't come with a host of benefits. CBD is well known to offer a lot of benefits that make it worth considering for those who experience health problems. Here are some of the well-known benefits that CBD can offer.
– Anxiety
One of the more researched benefits of CBD has to do with its positive impact on anxiety. You can take CBD to combat signs and symptoms of anxiety. Anxiety is a disorder that affects a lot of people. Over 40 million adults in the United States suffer from some kind of anxiety disorder [1]. Therefore, there is a high percentage chance that either you or someone you know suffers from anxiety. Anxiety can be debilitating. If you suffer from anxiety, CBD could be a good natural alternative that you can opt for over prescription drugs. All kinds of anxiety disorders could be affecting you including general anxiety disorder, social anxiety, and anxiety from PTSD.
– Pain
Another benefit that can come from taking CBD is helping with pain management. It's become one of the more effective pain management options available in the marketplace. You can experience benefits with it helping with pain management because it can reduce inflammation in the body which can help those suffering from joint pain and even back pain. Plenty of studies suggest that CBD has anti-inflammatory properties, making it a good option for those suffering from pain resulting from inflammation [2].
– Protect Your Heart
Another major benefit that may come from supplementing with CBD is improved heart health. Some research suggests that CBD can minimize symptoms of high blood pressure. Having high blood pressure is one of the precursors to a lot of larger problems including heart attacks and strokes. Thus, high blood pressure is something you want to monitor if you suffer from it. By taking CBD, you can reduce your blood pressure naturally. Plenty of research has shown that it can be effective by itself at reducing one's resting blood pressure [3]. While it's still recommended to reduce blood pressure with better lifestyle habits and dietary changes, it doesn't hurt to experience the benefits of taking CBD.
– Help With Substance Abuse
This is one of the most promising benefits that CBD offers. Unfortunately, a lot of people suffer from substance abuse. There is an epidemic that's ongoing that is killing thousands of people every year. In the United States alone, hundreds of thousands of people are dying yearly from hard drugs. One of the things to note about CBD is the impact that it can have on your substance abuse. If you suffer from substance abuse, some studies show that CBD can be an effective supplement to take to curb cravings and anxiety that leads to relapses [4].
– Sleep Disorder Help
Another benefit that can be gained from taking CBD has to do with the positive impact it can have on your sleep. If you are one of the many people that suffer from a variety of sleep-related disorders, you're likely well aware of how negative it can affect your wellbeing. Not getting enough quality sleep can hinder your general health. Thus, if you are suffering from any sort of sleep disorder that is causing you to get poor quality sleep, you'll want to take steps to address it. CBD has shown promising results in studies where people have noticed improvements in their sleep [5]. There is plenty more research to be done on this subject. However, it makes sense that CBD would positively impact your sleep. Not only does it reduce anxiety and stress-related symptoms, but it can help you relax more. Being able to relax at night while you are laying in bed can make it much easier to fall asleep.
CBD can be a good addition to your lifestyle if you are suffering from any health issue that you want to combat with a natural supplement. Contrary to popular belief, you will not get high from using CBD. It's a good option for those that want to avoid taking potentially harmful prescription drugs for help with sleep, their anxiety, or even pain management. If you're going to buy CBD, you'll want to get it from a reputable and reliable CBD supplier like Tanasi. Tanasi is a reputable brand that has been investing a lot in the CBD space. Buying from a brand like Tanasi makes it easy to know you are getting exactly what you're paying for.
References:
[1] https://www.nami.org/About-Mental-Illness/Mental-Health-Conditions/Anxiety-Disorders
[2] https://www.ncbi.nlm.nih.gov/pmc/articles/PMC4151231/
[3] https://www.ncbi.nlm.nih.gov/pmc/articles/PMC5470879/
[4] https://pubmed.ncbi.nlm.nih.gov/31109198/
[5] https://pubmed.ncbi.nlm.nih.gov/32603954/