These are the Top 13 CBG Strains Available Today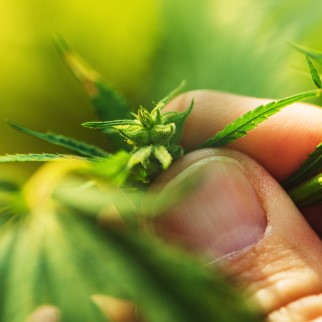 Posted on November 1st, 2021
Want to get the best CBG strains? Here's what you need to know. Cannabinoids are the active compounds in cannabis products. When you consume such products, they enter your bloodstream, get to your brain and activate your neurons, producing a wide array of effects. Cannabigerol, also known as CBG, is one of these naturally occurring, non-psychoactive cannabinoids that appear to have positive effects on the body. The CBG content in cannabis plants is lower than the CBD and the THC content. This is why CBG products are rare and more expensive than products derived from other cannabinoids. There are many CBG products available on the market, as well as many different options of CBG strains. Choosing the best one for you is a matter of patience and careful research.
This article takes a closer look into the different CBG strains available. Read it carefully, compare the different strains and make the best choice for your body and your health status. Only in-depth research and a close comparison can help you make the right decisions for your health and well-being.
Jack Frost CBG Strains
This is an indoor cultivated strain. These frosty buds with stimulating effects are available in three different packages. One of the things worth mentioning here is that the producer, Industrial Hemp Farms, is willing to provide a money-back guarantee on their bulk CBG flower.
White Whale
White Whale by Nu-X is one of the most popular CBG strains on the market. This frosty white strain has a pleasant citrus aroma and provides soothing effects. You can buy it in 3.5h sealed containers or as one-gram pre-rolls. The White Whale CBG flower is tested by third-party, independent labs.
White Widow
An American Shaman hemp-based product, the White Widow is available in 3.5g containers. It is a cross between a South Indian indica and a Brazilian sativa and it works by stimulating your creativity and by giving you an energy boost. The 13% CBG content, the smooth taste and the memorable flavor make this strain one of the most sought-after on the market.
John Snow
John Snow CBG is another American Shaman product that deserves a top spot on our list of the best CBG strains available. These plants grow in low light environments. The result is an unusually high CBG content that can even exceed 21%. This product is everything you need to possibly set the mood for high productivity, focus and creativity.
Frosted Cake
If you want a potent and uplifting product to help you unwind, you'll love the effects of Frosted Cake on your body. This CBG strain smells and tastes like cheese, with pine and cake notes. MJ Arete, the manufacturer of Frosted Cake, tests each and every batch through third-party laboratories, in order to ensure this product is always of the highest purity on the market. According to some users, this is one of the strongest CBG strains, with Valium-like effects.
Lemon Cream Diesel
If you need a highly cerebral CBG strain that may enhance your focus and promote your creativity, this plant is for you. Its flowers have a pale green color. The resulting buds are almost entirely white and they taste like lemon cake with a hint of gas. The total CBG content of Lemon Cream Diesel is around 16%.
Stardust CBG Strains
This plant with rose and wood undertones and with a strong pine scent is a CBG dominant strain with 12.5% Cannabigerol content. Grown indoors, this strain may promote wellness, thanks to its high Guianol content. As Stardust CBG may induce feelings of calm, balance and wellness, it can be the ideal product for those in need of relaxation.
Sour G
If you need a daytime strain that may make you more productive without inducing a feeling of anxiety, Sour G is the product to choose. This American Shaman strain has the capability to provide you with a boost of cerebral energy mixed with body relaxing effects. The diesel fuel flavor and the sweet, vanilla undertones make Sour G one of the best strains in its class.
Super Glue CBG
A product of the Black Tie Group, Super Glue boasts over 22% CBG content. This makes it one of the most powerful products, with mellow effects that don't affect your creativity and your ability to focus. Its frosty buds have an impressive look and a piney aroma with citrus and earth notes.
Plain Jane
Plain Jane is a South Oregon CBD producer that offers CBG flowers. Their buds featuring frosty, silver trichomes have a hoppy and citrusy aroma with pine and chamomile notes. It may have an anxiolytic and relaxing effect, thanks to its ability to induce a warm fuzzy feeling.
Secret Nature's CBG Flower
This strain contains over 17% CBG and 0% THC. It allows you to enjoy its health benefits without inducing any high feelings. Its frosty buds may help reduce inflammation in the body, which can also help with muscle relaxation.
CBG Shiatsu
CBG Shiatsu is a product of Whistler Medical Marijuana Corporation. The buds of this Indica-dominant strain are covered in big orange hairs and frosty trichomes. Thanks to its settling and calming effects, the Shiatsu CBG can help you feel better without experiencing intoxication effects. The floral, earthy taste isn't too much different from the taste of any other Indica strains. Nevertheless, the slight coriander note is what sets this strain apart from everything else on the market.
The Brothers Apothecary Artisan Hemp Flower
These CBG flowers are grown in the U.S. and tested for pesticides, mold, and heavy metals. They feature a sweet and mild taste, with floral, spice, and red grape notes. This strain contains a series of terpenes such as a-Pinene, a-Bisabolol, Limonene, Linalool, Myrcene, and Beta-Caryophyllene. This flower promotes functional relaxation and wellness, without inducing a high effect. Each batch is tested for purity, so you can rest assured you're always going to enjoy the same effects, every time you make a new purchase.
As you can see, there are lots of strains to choose from. This is why you should spend some time studying each of these products, in order to understand their effects on the body, their benefits and their drawbacks. Also, you have to consider the main reason why you need to use CBG products. If you're an artist or a writer seeking more focus and a creativity boost, you'll want a strain that makes you more energetic and sets you in the mood for hard work. If, on the contrary, you want soothing effects, relaxation and calmness, you'll want to buy a different strain of CBG.
The time of day when you want to use the CBG product can also make a huge difference. Taking something that provides you with a boost of energy late at night might prevent you from falling asleep. Similarly, taking a product that induces deep relaxation by midday might prevent you from performing at your work.
Another thing to keep in mind is that CBG products aren't meant to replace your current medication, but rather to complement and enhance its effects. As a general rule, if you suffer from a medical condition that requires you to take drugs, you should seek for advice from your doctor prior to taking anything that might interact with your medication.
Last but not least, always seek to buy your CBG products either from the manufacturer's website or from trustworthy sources, in order to ensure you're going to enjoy the benefits of a pure, genuine product.