The CBD Extraction Equipment That's Right for the Job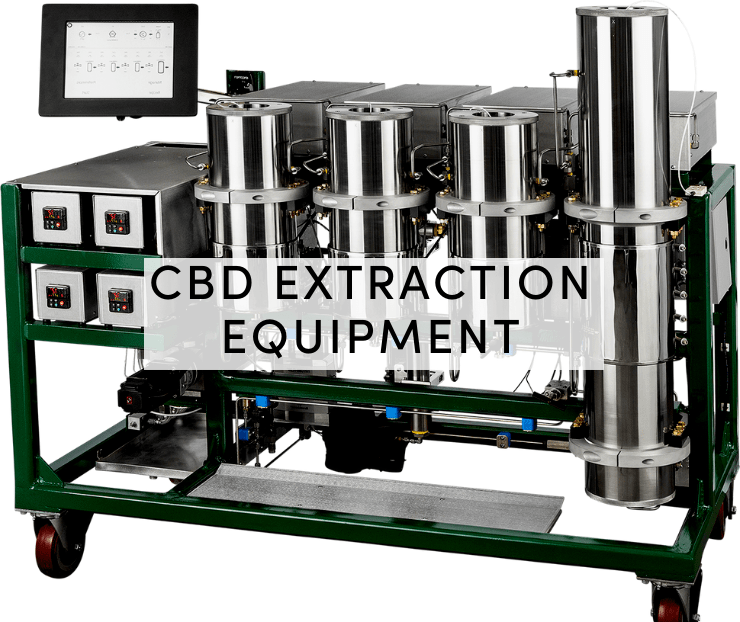 Posted on February 1st, 2021
CBD has gained much popularity over the last few decades. It is a direct result of its many exceptional applications. While CBD continues to expand in market share, it's slowly instilling cannabis acceptance and normalization. The methods for making the best CBD oil are complicated and demand specialized tools and processes. There are many different pieces of CBD extraction equipment that separate the cannabinoids from the plant matter. 
You can find many extraction machines for sale. Therefore, choosing which is best means considering many variables. If you're curious about the extraction process, read on to learn all of the details of each method. 
CBD Extraction Equipment
Whether you need to extract a lot or a little material will determine which method and tools you need. The market offers you a variety of options. Some of these machines will use alcohol during the extraction process, and others will use CO2. Nonetheless, each of them has its pros and cons. 
Therefore, to identify the most suitable machine, you need to know how the extraction process works. Here are some of the various methods to extract CBD.
Solvent Extraction
It's one of the fastest, easiest, and cheapest extraction methods. The process involves solvents such as alcohol, ethanol, butane, or propane, to obtain the desired CBD compound. The solvents are useful in dissolving the plant waxes, thus, extracting both the cannabinoids and the chlorophyll
The process begins by cutting the flowers and plant into tiny trimmings before putting them into a container. Next, you add the solvent to these trimmings to strip them off cannabinoids. Then, this follows an evaporation process, which leaves the extracts in oil form. 
Apart from being cheap, fast, and easy, this method is also quite dangerous. It's because of the highly flammable solvents used. If the solvent residual is not eliminated in the evaporation process, it can be harmful.
C02 Extraction
With the increase in demand for premium CBD products, the extraction process has become more sophisticated. Apart from being the most advanced, the CO2 extraction method is the most recommended. It's an ideal method, but very expensive and complicated. When done properly, the process generates a safe and potent extraction that's free of chlorophyll. It doesn't also remove any of the other beneficial compounds like other methods do.
This extraction procedure typically involves the use of a "closed-loop extractor." This piece of CBD extraction equipment comprises three chambers. Typically, the first chamber consists of compressed, solid CO2 or dry ice. The CO2 is passed via the second chamber in a supercritical CO2 form. 
The second chamber comprises dried hemp plant material. Once the supercritical CO2 passes this second section, it isolates the extracts from the plant material. Then, the final product is pumped into the third section.
The final chamber is used for the isolation of the final product. The C02 then rises and leaves the cannabinoids in the chamber's bottom.
Parts of CBD Extraction Equipment
Most of the top-quality extraction machines have many common components, including:
Screen Monitor
An automatic screen monitor is essential for any quality CBD oil extractor. The screen allows it to be user-friendly. The display might be touch-enabled, which allows even more comfortable usability. In most machines, the screen monitors are automated, which makes them easy to use by the operator. With this screen, the operator can monitor the machine's real-time operation. 
Air-filled Loading Lids
These are cylinder caps that use compressed air to keep them tight and stable. Once you put the plant material into the extractor, the caps cover the cylinders tightly. You can either fit them automatically or manually depending on the machine's operational mode. Even when manually doing it, the process is easy and doesn't require any auxiliary parts such as spanners, bolts, or nuts.
Combined Extraction Cylinders System
It consists of several cylinders merged into a single unit. It helps to create a more substantial volume for extensive range extraction.
Customized CO2 Gas Booster
It's effective in converting the gaseous CO2 into a liquid state. The liquefied gas is often utilized in the extraction or kept temporarily for future use. The boosters are not only highly effective, but they also need minimal maintenance.
Heat Exchangers
These components of the extraction machine are usually made of stainless steel material. The material's primary role is to minimize the probability of corrosion from C02 gas.
Reactors
They comprise highly pressurized vessels that are built of the best stainless steel. Furthermore, the material is sterilizable and comes in a wide range of volumes, including 5L, 20L, or 100L.
CO2 Cylinder System
Cylinders that store CO2 gas applied in the procedure of CBD extraction. It helps to guarantee that there's always sufficient gas for the process.
CO2 Pumps
Pumps made specifically for cannabis extraction. They're hydraulic and work under extremely high pressures of approximately 4,900 psi.
Before you choose the CBD extraction equipment you need, you should understand your larger goals with the project. Apart from whether you'll grow your hemp or purchase it from a third-party farmer, there are several critical questions to ask before starting a new CBD operation. These include:
Final Product and Consumer?
If you think "CBD" is the product, you should think again! It is merely the compound you are targeting as the primary active component in the final product you will sell. Below is a list of examples of products you can make in your extraction lab using the oil that comes out of CBD Extraction Equipment:
– Crude oil (directly from the plant without refinement)
– Isolate
– Distillate
– E-liquid
– Crystals or sheets
– Wax
You could then choose to create products under your brand and sell them. Or, you could sell the CBD in substantial amounts to other companies who might use it to manufacture their products. The products can take various forms, such as:
– Capsules
– Creams and gels
– Sublingual sprays
– Vapors
– Transdermal patches
– Food and beverages
Another crucial factor to consider is who is your customer? Although CBD is commonly applied in general "wellness" products, it's also used to treat severe ailments. A health enthusiast who is looking to supplement energy or mood optimization or sleep quality is one type of customer. However, a parent who needs something to help their kid suffering from epilepsy is entirely different.
What's Your Budget?
All of the factors mentioned will determine what sort of investment is needed to get your facility in working order. Be warned: it will be expensive. Generally speaking, a complete extraction lab may easily need more than $300k to establish. That is not including a grow facility like a hemp greenhouse or farm.
What Are Your Local Laws?
Technically, the 2018 Farm Bill legalizes hemp in all 50 U.S. states. However, there is still much ambiguity surrounding how the law will be enacted and individual states will have different legalization landscapes. For instance, in Idaho, hemp is still illegal and they are arresting people for carrying it regardless if it adheres to the Farm Bill's requirements. Needless to say, federal USDA regulations are not quite ubiquitous around the country.. 
In some states, the 2018 Farm Bill is the first kind of cannabis legalization they have experienced. On the other hand, others have an already existing recreational or medical market in place. Ensure that you weigh the rewards and risks of both. 
You should find out how crowded that space is for the kind of business you need to begin. The factor can work for you or against you. With a more crowded space, there's more competition but more established rules surrounding the operation. 
Scale and Growth?
Undoubtedly, cannabis is among the fastest-growing industries in this world. In fact, it is predicted to expand at a rate of around 25-35% per year. There are many benefits – if you can keep up. In general, any new cannabis business requires to be prepared to grow from the first day. You want to get in fast but smart. In case super-fast growth is not a thing you are interested in, you would better make up for this when it comes to efficiency. That way, you can maintain competitive prices as more players enter this market. Undoubtedly, they will enter!
Takeaway: CBD Extraction Equipment
As you've learned, there are many ways you could approach your extraction endeavors. Investing in quality CBD extraction equipment is essential when it comes to CBD extraction. Surely, creativity will be rewarded in this field more than ever since the rules are not set. Hopefully, this guide helps you to craft your vision for a hemp business that is best for you.
Of course, if all of this information has confused you or deterred your industrious motivation, there's another path. You could trust that companies like Tanasi have already done all of the painstaking research and investment and let them provide you with quality hemp extracts. Doing things yourself can certainly be rewarding, but if the process gets stressful, grab a Tanasi tincture to calm those nerves before proceeding.