No More Knee Pain! 8 Tips for Avoiding Injury During At-Home Workouts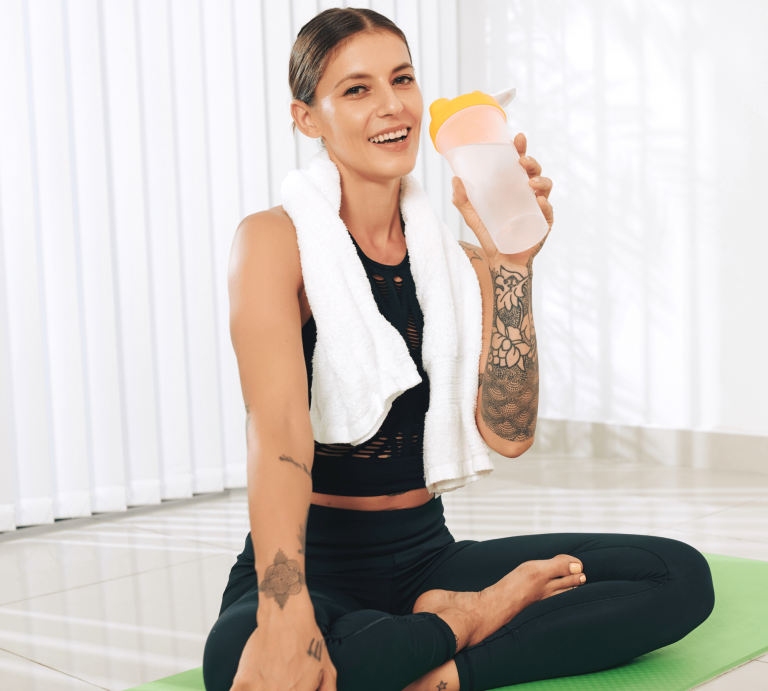 Posted on June 29th, 2023
Alright, guys, let's tell it like it is: physical fitness can be challenging. And, during the pandemic, many of us lost the habit of hitting the gym. But friends: movement is critical. So, what's the solution? Give home workouts a chance. Of course, we want you to do this safely, so we've scored tips from top fitness trainers to get you started. Today, we'll share their advice for avoiding home-workout injuries. Plus, some of our best CBD product recs in case things don't go as planned. Ready to get moving? Join us in the studio!
Tip One: Successfully Set up Your Home Gym 
According to Myrna Brady, a certified fitness trainer and founder of MyrnaBrady.com, an online Fitness, Arts and Motivation company, finding the right room with ample space is one of the biggest home-workout challenges. To be safe, "Make sure you have a space that's free of obstruction," she says. That means moving things like tables and chairs out of the way. Crunched for square footage? No worries, says Brady. You don't need too much room—"A 6×6 space is fine."
Found your spot and ready to get going? Great! Next up? Tuning in to your own body.
Tip Two: Score Some Medical Advice
If you're a veteran gym rat, you can probably jump right into a home workout. But if you're new to exercise, be warned: you must seek medical advice before starting a new fitness routine.
Got ailments like knee pain or joint pain? Not to worry, says Brady, you can still work out, you just need to make modifications. If you're taking an instructor-led fitness class, she suggests telling your teacher about your trouble spots—before class begins. And if you're trying a self-led routine? "Be sure to adapt so you can meet your needs," and avoid any discomfort or injury. If necessary, seek medical advice on what those adaptations must look like. Then, it's time to pick the perfect workout.
Tip Three: Pick Your Level
When you work with a trainer or catch a gym class, you get guidance on difficulty levels. At home, however, it's not easy to tell what kind of challenge you're facing. So, Brady says, "When you're new to home workouts, it's best to start basic. Begin with a bodyweight workout, or a barre or yoga class. Ease into your new routine."
Already working out regularly? It's o.k. to push a bit harder now, says Brady. "Try a Tabata or boot camp class," she says. "They'll really push you and be a little bit more intense."
And for the former Crossfitters out there? "H.I.I.T. (high-intensity interval training) workouts are good advanced level classes." But these aren't for beginners—to work out at this level, you should already be exercising four to six times a week. Otherwise? Stay away, or you'll risk a real injury, not to mention additional knee pain, or new or worsened joint pain.
Tip 4: Warm Up (And Cool Down)
When you're working out IRL, your instructor will likely lead you through a basic warm-up to get your juices going. But home videos or even live-streaming classes may skip this part due to time limits. And, according to Kari Johns, a New York-based group fitness instructor who currently offers Zoom workouts to her quarantined clients, that's a  mistake. Her biggest tip for avoiding home workout injuries? "Make sure that your warm-up is relevant to the workout you'll be performing at home, to get those muscles prepped and ready to go. And when you're finished, don't skip the cooldown or stretching! Your body needs to stretch just as much as it needed the exercise. If you stop short, you've missed the full benefit," leaving yourself more vulnerable to discomfort or injury.
Tip 5: Fuel Your Burn (The Right Way)
Let's face it: you can get a great workout in your house. But it still ain't no gym. And, as Brady points out, that means you'll be training with less than optimal ventilation. The good news? This will likely translate to more sweat. The bad? You'll dehydrate faster.
Now, don't use this as an excuse to skip your workout. Just be smart, says Brady, "And have things around you to accommodate the change in your body temperature." This should include plenty of liquids—Brady loves adding a splash of lemon or citrus to her water bottle, to help take in some additional nutrients. (Or go with our personal fave, a few drops of Tanasi's water-soluble, CBD + CBDa hemp-extract drink concentrate. We'll tell you why in just a bit.)
Next, make sure you're hydrating all throughout your workout, says Brady. And when you're done? "Have a post-workout meal with some protein, good fats, and carbohydrates."
Tip 6: Watch that Form
Your living room may not be a studio, but that doesn't mean you can't bring in a mirror to watch your work. In fact, says Johns, this could be crucial to staying safe! "Being by yourself at home is great if you can motivate yourself into a workout. But try using a mirror to view your body, even if you are following an online Instructor. A little tweak in form goes a long way. Alignment is key to exercising properly and for longevity, so practice good form at home!"
Tip 7: Engage in Moderation
Are you the type of person who goes hard on fitness and wants to work out. All. Day. Long? Props to you for the motivation, but let's dial it back a bit, shall we? According to Johns, "When you're taking classes in the gym or working out, the Instructor or Trainer most likely has a regimen in mind that let's certain body parts rest and recover." If you overdo the solo workouts, you'll lose that crucial rest time, leaving you more susceptible to pesky knee pain and the like. Worse, Johns explains, "You won't see the benefit you're looking for from your body…only extra fatigue and lack of performance."
Tip 8: Heal the Hurt (Injury Related or Otherwise)
Alright, let's say you followed all these great tips. And you still hurt. First off, don't sweat it—as long as it's just a little knee pain or something similar, you've probably avoided major damage (but seek medical advice for sharp pain, especially if you also notice swelling, changes in skin color, or other major signs of damage.) Barring a sprain or fracture, you could pop some pain relievers, to take the edge off your immediate discomfort.
But if you're just dealing with a little muscle ache, the kind that comes from pushing your body in all the right ways?  Consider one of our newer Tanasi topicals our CBD + CBDa muscle relief rub. Like all of our other hemp-extracts, our muscle relief rub is crafted with our patent-pending, 1:1 CBD to CBDa formulation. After years of university-based research, we've learned that this formulation is 2X more effective than CBD alone. So, while you're working twice as hard to build up the sweat at home, grab a Tanasi product that goes just as hard as you do!