Is CBD Legal in Wyoming? – The Cowboy State's CBD Laws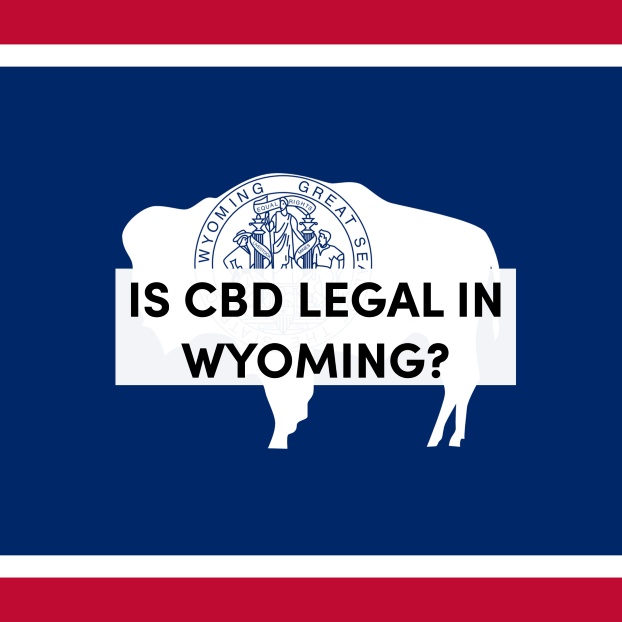 Posted on January 12th, 2021
People interested in trying out the alleged benefits of CBD better get a clearer idea of its legal status before thinking about buying some. This is especially true in states such as Wyoming, which historically had some of the strictest marijuana laws. The laws surrounding cannabis, hemp, and CBD have constantly been evolving, which is why it is essential to keep up-to-date with these laws.
This article breaks down all the relevant laws surrounding cannabis and CBD products in the state of Wyoming.
Is CBD Legal in Wyoming Today?
Yes, curious people and enthusiastic consumers can legally purchase and consume hemp-derived CBD products in Wyoming. But only as long as they contain less than 0.3% THC within it. The state recently relaxed its previously strict laws on CBD use by patients with certain medical conditions. They did so with the passage of House Bill 171.
Basically, there are now two types of CBD; hemp-derived CBD and marijuana-derived CBD. Hemp and marijuana are two varieties of the cannabis plant, and they contain different chemical profiles. CBD oil derived from marijuana is rich in THC. On the other hand, hemp-derived CBD oil is rich in CBD and only has trace amounts of THC. Why is this distinction so important? Well, THC is the compound responsible for you feeling 'high' after consuming cannabis. Thus, CBD products having so little of it means they won't get you high at all.
Those are great news since, in the eyes of the law, marijuana-derived CBD oil is the same as regular marijuana. Which, by the way, remains illegal in the state of Wyoming. Thus, marijuana-derived CBD is also illegal in Wyoming.
What is the Difference Between Medical Marijuana and Cannabidiol Oil?
There is a lot of confusion when it comes to medical marijuana and CBD oil. While some people assume that CBD oil is some form of medical marijuana, that is not the case. CBD oil primarily comes from the hemp variety of the cannabis plant, which contains less than 0.3% THC. On the other hand, medical marijuana contains high levels of THC and little CBD.
Essentially, medical marijuana is the same as recreational marijuana, only that it goes towards medical purposes. The possession of medical marijuana is illegal in the state of Wyoming and carries various penalties.
Wyoming's CBD Laws
In order to answer the question, 'is CBD legal in Wyoming?' we need to first take a look at the laws surrounding CBD in Wyoming. The following laws detail the legal history of CBD in the state.
House Bill 32
In July 2015, House Bill 32 became law. This law allowed the use of CBD to treat seizures. Specifically, it dealt with the possession and use of medical CBD oil products that contain very low THC content (less than 0.3%) and sufficiently high CBD content (at least 5%). Thus, it exempted registered users with intractable epilepsy from prosecution for possessing it.
Under this law, qualified individuals had to apply for hemp extract registration cards from the Wyoming Department of Health. The cards cost $150 and required renewal annually.
In order to qualify for it, you had to meet the following requirements:
Be at least 18 years of age
Reside in Wyoming
Provide a statement from a neurologist specifying you were suffering from intractable epilepsy and seizure disorders that could benefit from hemp extract treatment.
Pay a fee to the department
Submit an application form with your name, address, photo, and other information.
Also, the law did allow for the use of CBD oil for minors with intractable epilepsy under the strict supervision of a parent or a legal guardian. The parent or legal guardian needed to apply for the hemp extract registration card on behalf of the minor.
This law did make legal the possession and use of hemp extracts by qualified patients. Yet, it didn't make any allowances for how they could obtain hemp extracts in-state. It didn't allow them to grow their own industrial hemp.
However, it stipulated that any extracts in possession of a qualified patient should have a certificate of analysis or other proof confirming that the extract contains allowed THC and CBD levels. As a result, patients had to obtain their medicine out-of-state.
House Bill 171
Understandably, the past bill's requirements made it difficult to legally access and use CBD products.
Fortunately, on March 6, 2019, Republican Governor Mark Gordon signed House Bill 171 into law. The law excluded hemp and hemp-derived CBD from Wyoming's Controlled Substances Act. This essentially legalized the use and possession of hemp and hemp products.
Additionally, the bill clarified that hemp or hemp products include all parts, derivatives, seeds, and varieties of cannabis sativa L plants containing less than 0.3% THC concentration on a dry weight basis.
These plants need to undergo post-carboxylation or other similarly reliable testing techniques to verify their THC concentration.
In addition, the law permitted the cultivation and production of hemp in the state. It gave the Wyoming Department of Agriculture (DOA) the rulemaking authority production and regulation of hemp. But you should keep in mind that the Food and Drug Administration (FDA) maintains regulatory authority in cases of hemp-derived CBD products sold across state lines.
The 2018 Farm Bill allowed for the cultivation of industrial hemp throughout the United States. However, all states need to first submit their plan for enacting laws and regulating hemp to the United States Department of Agriculture. The state of Wyoming submitted its plan in January 2020, which they approved after a few weeks.
Wyoming's Hemp Licensing Requirements
Thanks to Wyoming DOA's Industrial Hemp Program, people in the state can apply for licenses to legally produce and process hemp. The Wyoming DOA provides license application forms for download on their website.
In addition to submitting a complete and signed copy of their applications, applicants also need to submit:
A Government-issued photo ID.
An official criminal history report dated within 60 days prior to submitting the application.
Maps or aerial photographs of the licensed area where the hemp will grow.
Description of hemp products that the applicant intends to process.
A statement of the intended end-purpose of the hemp materials that are to be processed.
Qualifying applicants must adhere to the provisions of House Bill 171; otherwise, they will be subject to disciplinary action. The Wyoming DOA carries out inspections and chemical analyses of licensees' hemp samples to determine whether it complies with the legal limits the article stipulates.
Persons who deliberately violate the provisions of the article will face misdemeanor charges carrying a six-month prison sentence and/or a $750 fine. People who violate the provisions of the article more than three times within a period of 5 years might lose their license. They might also become ineligible to have their licenses reinstated for five years' time.
Is CBD Legal in Wyoming? – CBD Possession Limits in Wyoming
Previously, the possession, sale, or use of CBD oil containing more than 0.3% THC classifies as a felony in the state of Wyoming. However, with the passage of House Bill 171, the state relaxed penalties for the possession of unapproved CBD oil.
The possession of CBD oil containing more than 0.3% THC content is the same as the possession of marijuana. If they find you in possession of up to 0.3 grams of liquid concentrate containing more than 0.3% THC, you will face charges.
They will charge you with a misdemeanor carrying a maximum 1-year prison sentence and/or a $1,000 fine. If they find you in possession of more than 0.3 grams of liquid concentrate containing more than 0.3% THC, you will be charged with a felony offense carrying a maximum 5-year prison sentence and/or a $10,000 fine.
Purchasing CBD Legally in Wyoming
Thanks to the passage of House Bill 171, there has been an increase in the number of stores selling CBD oil. Lots of health stores, grocery stores, convenience stores, and CBD-specific retailers that deal with CBD products opened up in the state.
Also, in the month of June 2019, the US Postal Service announced that carriers could legally deliver hemp-based CBD products via mail. Thus, you also have the option to purchase CBD online
When buying, it's important to check whether the brand you are choosing provides third-party test results or the product's certificate of analysis. This will help you find out the product's potency and exact chemical composition. The most important thing to look up there is that its THC levels are compliant with the legal levels. If online, do a background check on the supplier by reading past users' reviews. That will give you an idea if they are as good as they seem.
Is CBD Legal in Wyoming? – The Takeaway
Yes, through the passage of House Bill 171 in March 2019, the sale, possession, and use of CBD oil products are legal in the state of Wyoming, provided that they contain less than 0.3% THC and at least 5% CBD.
However, you should keep in mind that the state currently doesn't have a comprehensive medical marijuana program. The possession of any amount of marijuana will lead to appropriate fines for felonies and misdemeanors.