Is CBD Legal in Wisconsin?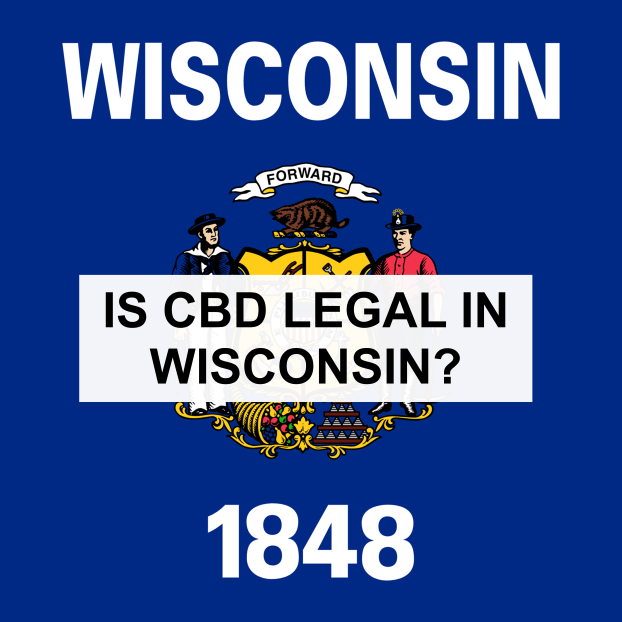 Posted on January 7th, 2021
CBD has been a trending topic in recently. That is thanks to its potential ability to address and manage the symptoms of a wide range of conditions. Those may include inflammation, pain, epilepsy, neurodegenerative disorders, and many more. Thanks to the 2018 Farm Bill, hemp became legal on a federal level. That meant that people could now legally buy and use hemp-derived CBD oil as well as other CBD products. However, the 2018 Farm Bill also gave individual states the power to regulate and put their own limits on CBD.
That led to a lot of inconsistencies and confusion amongst users since different states have their own laws regarding CBD. Some of these laws align with the federal laws, while others do indeed differ from it significantly. If you are looking to purchase CBD products in the state of Wisconsin, you need to be aware of all the relevant laws regarding CBD in the state. This way, you will avoid getting in trouble with law enforcement.
This article aims at helping you understand all the applying state laws on CBD, both past and present. It also provides a guide on the best way to buy CBD oil in Wisconsin.
Is CBD Legal in Wisconsin Today?
The legality of CBD in Wisconsin is dependent on its source and users. It is important to note that manufacturers can derive CBD from both the hemp and marijuana varieties of the cannabis plant. These two plants have different chemical profiles. Marijuana has a high concentration of THC and a low to a high concentration of CBD. On the other hand, hemp has a high concentration of CBD and little to no concentration of THC. This means that you can't get high from using hemp-derived CBD.
THC, particularly, is the psychoactive ingredient responsible for producing the euphoric effects of Marijuana. Hence, it is the reason why people get high from it and why the substance became a concern for law enforcement.In the state of Wisconsin, you can legally possess and consume CBD if you have a specific medical condition but only if it comes from hemp. To legally obtain CBD in Wisconsin, you need a doctor's prescription stating their recommendation of CBD oil to help treat that condition. This means that while CBD products with less than 0.3% THC are legal, not everyone can legally access CBD products.This is one of the areas where Wisconsin laws differ from the 2018 Farm Bill. The act legalized the production and cultivation of industrial hemp, provided that it doesn't exceed 0.3% THC.
However, federal laws do not specify that only people with particular medical conditions can legally possess and consume hemp products.
Is CBD Legal in Wisconsin?  The Wisconsin CBD Laws
The following laws detail the history of the legal status of CBD in Wisconsin.
In April 2014, the state passed Wisconsin Act 267, also referred to as Lydia's Law. The act legalized CBD oil but with strict medical regulations. Only patients suffering from seizure disorders were legible to use CBD oil in order to manage their condition. The legislation authorized licensed physicians to prescribe CBD to qualifying patients.
In 2017, Wisconsin passed Assembly Bill 49. This bill aimed at expanding the range of medical conditions that qualified for a CBD prescription besides seizure disorders.
That same year, Senate Bill 10 became law. This bill made it legal for licensed physicians and pharmacists to dispense hemp-derived CBD to patients with certain medical conditions. The bill also made it clear that only people with a prescription or written certificate from a licensed physician could use hemp-derived CBD oil in any form.
In 2019, Wisconsin made amendments to its CBD laws to align with the 2018 US Farm Bill.
The state launched an industrial hemp pilot program following the passing of Senate Bill 188. This program permitted the cultivation, processing, selling, consumption of hemp-derived products such as CBD oil.
The program was to expire on October 31, 2020. But thanks to Section 122 of the Continuing Appropriations Act, the industrial hemp program further extended on October 1, 2020.
Latest Developments
Assembly Bill 206 became a proposal in 2019 to exclude non-psychoactive hemp-derived CBD oil from the list of Schedule 1 controlled substances. This meant that any person could possess and consume hemp-derived oil without a medical prescription. Additionally, the bill proposed that people could legally possess CBD products with no more than 0.7% THC above the allowed THC limit. But only as long as there is no reason to believe that the said product has an above limit THC content.
As beneficial as this bill would be to interested consumers, on April 1, 2020, it failed to pass the Senate Joint Resolution.
So, is CBD legal in Wisconsin? As it stands, only people that have a doctor's approval can possess and consume hemp-derived CBD products in Wisconsin.
Legal Status of Marijuana-Derived CBD Oil in Wisconsin
Under Wisconsin State Law, the possession of Marijuana is illegal. At the moment, the state doesn't have a medical marijuana program. Under Wisconsin Act 267, marijuana-derived CBD oil is only for alleviating seizure disorders. Medical cannabis and other forms of Marijuana remain illegal.
The unlawful possession of marijuana-derived CBD oil is punishable by law. A first-time offense classifies as a misdemeanor that carries a maximum prison sentence of six months or a $1000 fine.
A repeat offense classifies as a Class 1 felony that carries harsher penalties, including a $10,000 fine and a three-year jail sentence.
It is also important to note that there are penalties for the possession of drug paraphernalia. It results in the addition of another 30 days to your jail-term, and $500 to your fine.
The cultivation of Marijuana is also a Class 1 felony, and it carries the same penalties. That also applies to the sale of Marijuana.
CBD Possession Limits in Wisconsin
Under Wisconsin Statute 961.32(2m) (b), one can possess non-psychoactive hemp-derived CBD if they have a medical certificate to manage a covered condition. The law doesn't put a limit on how much an individual can possess. So, as long as you are at least 18 years of age and have a prescription for CBD, you can legally possess any amount of CBD.
What are the CBD Licensing Requirements in Wisconsin?
Farmers and processors of industrial hemp need to obtain a one-time license from the Wisconsin Department of Agriculture, Trade, and Consumer Protection (DATC) and register each year to continue to harvest the plant.
Applicants must pass certain background checks in order to obtain the licenses. Additionally, they have to pay license and annual registration fees as well as submit certain forms and agreements.
It is worth noting that the CBD license requirements only apply to farmers and processors. For retailers, they can operate without a license from the DATC provided that they only sell legally-produced hemp-derived CBD products.
Buying CBD Legally in Wisconsin
There are plenty of stores all over Wisconsin that sell CBD and hemp-based products. Remember, you need to be at least 18 years old and also have a medical certificate to legally buy hemp-derived CBD in Wisconsin.
However, consumers need to be cautious of claims without proof. There are certain important things that you need to look out for when deciding which CBD products to purchase.
Verify CBD content with third-party lab reports
Considering that there is still not proper regulation set for the CBD industry, there is a lot of false advertising going around. You need to make sure that the company you are buying from tests its products in third-party labs. This way, you can be sure that what is on the label is actually what you are getting. Third-party lab tests help reveal the cannabinoid concentration of a product. They point out the presence of harmful chemicals such as microbial contaminants, pesticides, and heavy metals.
Cheap CBD oils are not always the best choice
The production of high-quality CBD products often requires the use of high-end equipment and trained staff. The CO2 extraction method, for instance, is used in the production of some of the best CBD products available in the market today. It doesn't involve the use of any additional solvents and chemicals, which helps to keep the CBD extracts safe and clean. As a result, these products tend to be more pricey.
In most cases, you will find that the cheaper CBD products have harmful foreign substances such as pesticides or solvent residue.
Legally Allowed Concentration of THC
It is always important to find out where the CBD oil you are purchasing comes from. In Wisconsin, the legally allowed amount of THC in CBD is less than 0.3%. Being found in possession of CBD that contains higher THC amounts than what is federally allowed can lead to legal penalties.
Is CBD Legal in Wisconsin? – The Takeaway
If you are interested in CBD and CBD products in Wisconsin, you might have asked, is CBD legal in Wisconsin in the first place? Hopefully, this article cleared the matter and has helped you understand the legal status of CBD in the state.
What you need to keep in mind to stay safe is that you need to be at least 18 years old, have a medical certificate for a qualifying condition, and the CBD you purchase should contain less than 0.3% THC content.