Is CBD Legal In Rhode Island?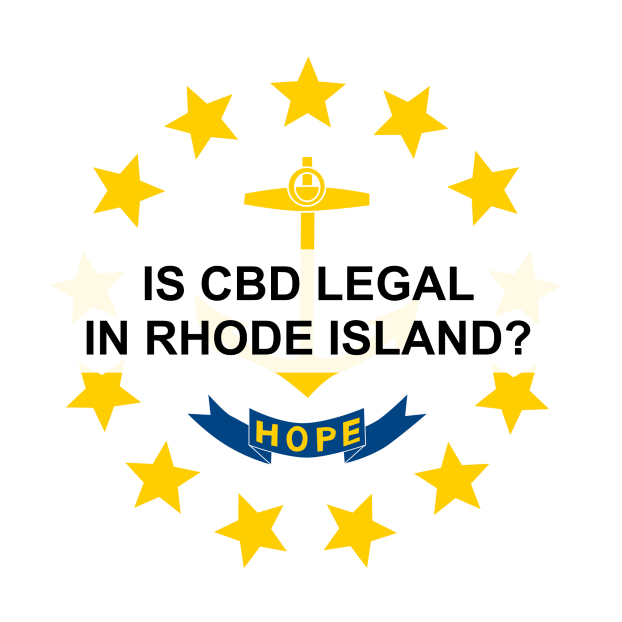 Posted on January 3rd, 2021
In Rhode Island, producing and processing industrial hemp became legal on January 1, 2017. But only for medical and commercial purposes. In July 2019, The Industrial Hemp Growth Act received an update to explicitly permit the commercial production and retail of hemp-derived consumable CBD products. That, only as long as they clearly outline that those products contain 0.3% THC or less. The variety of CBD products available include extracts, concentrates, and much more.
CBD products derived from hemp can be commercially traded and sold in retail. The new law requires that distributors, handlers, and retailers acquire licenses for the same. It also prohibits the sale of consumable CBD products to people under the age of 21.
In Rhode Island, CBD derived from marijuana is legal only for eligible patients under the medical marijuana program since 2006. This made Rhode Island the 11th state to do so. Thus, the answer to the question 'is CBD legal in Rhode Island?' is a resounding 'yes.' Yet, as with any law, there are a couple of caveats you should know about.
Why is CBD Illegal Sometimes?
All forms of cannabis, including CBD and hemp strains that don't have enough THC to cause intoxication, were all deemed illegal in 1970 under the Federal Controlled Substances Act. The Act categorized all forms of cannabis under Schedule I substances. This defined the plant as a highly addictive substance with great potential for abuse with no accepted medical use.
How Is CBD Legal In Rhode Island? The 2018 Farm Bill
In 2018, the Hemp Farming Act became law. It re-classified hemp as an agricultural commodity that made its cultivation legal at a federal level. Moreover, the Act removed some forms of cannabis from the Schedule I classification by creating a legal distinction between marijuana and hemp. Marijuana refers to cannabis with more than 0.3% THC, while hemp refers to cannabis with less than 0.3% THC. This legal distinction effectively legalized CBD derived from hemp or cannabis, so long as it has less than 0.3% THC content. It's also necessary for manufacturers to conduct their cultivation according to state and federal regulations.
The Hemp Farming Bill of 2018 doesn't mean that CBD derived from hemp is universally legal throughout the U.S. In fact, the Farm Bill gives the FDA the power to regulate product labeling on all CBD products. This includes the inclusion of therapeutic claims on labels and advertising and the use of CBD as a food additive.
As of now, the FDA already maintains that manufacturers should not advertise foods and beverages with added CBD derived from hemp. Nor it allows to market it as a dietary supplement. While the FDA has started re-evaluating some of these stipulations, the organization is yet to revise regulations. The FDA is very strict when it comes to labeling that the public could perceive as a medical claim about the CBD product.
Besides federal regulation, the Farm Bill also allowed states to prohibit and regulate the cultivation and sale of CBD products. States can independently regulate CBD in beverages, food, dietary supplements, and even cosmetic products. This even before the FDA stipulates its policies.
Is CBD Legal In Rhode Island? – Current Rhode Island CBD Laws
Just as with many other states, Rhode Island came up with a hemp production pilot program in the wake of the Farm Bill of 2014. As mentioned earlier, the Hemp Growth Act of 2017 distinguished hemp from marijuana by the THC content.
By July 2019, CBD had been Legal In Rhode Island for quite some time, and the state has since expanded its hemp program. It authorized of the commercialization of CBD products derived from hemp. These include extracts, concentrates, and CBD infused foods. CBD products extracted from hemp can be sold commercially and in retail, in licensed stores. The law requires that the distributors, handlers, and retailers be licensed. Also, they should avoid the sale of CBD consumables to persons under the age of 21.
There are also additional specific requirements outlined by the Rhode Island Department of Business Regulation (DBR). All edible products derived from hemp must be handled and distributed as per the local and state food regulations. Currently, the DBR is creating further regulations for retailers.
Generally speaking, all CBD products require food-safe packaging. This includes the seed-to-sale tracking information and a warning when it's not FDA-approved. The labels also need to explain the extraction method, the solvents used, the quantity of THC. Additionally, it also must specify the product weight and any other compounds present based on test results.
CBD products derived from marijuana are legal only for eligible medical marijuana patients.
Licensing Requirements For CBD
The DBR is generally responsible for overseeing the licensing of the growers, handlers, distributors, and retailers of hemp products. The agency is also responsible for regulating the seed certification methods and implementing a seed-to-sale system. The application for a license typically entails performing a background check on the applicant. Anyone can apply for a license directly through the DBR website under the Industrial Hemp section.
Unlike many other states, Rhode Island issues dual licenses for handlers and growers instead of requiring a separate license for each role. This legislation also requires the DBR to inspect and test hemp crops. Any crops that test above 0.3% THC require disposing of at the expense of the licensee. Not doing so would mean disciplinary actions or even having their license revoked.
Can Doctors Prescribe CBD Oil in Rhode Island?
Of course! Rhode Island residents with a valid ID to prove their residence status can apply for a medical marijuana card. The state introduced the medical marijuana program in 2005, though it took a couple of years to get it in place. The following are the eligibility conditions for a medical marijuana card:
Autism
Agitation associated with Alzheimer's disease
Cachexia
Cancer
Hepatitis C
Severe or chronic pain
HIV/AIDS
Glaucoma
Severe nausea
Seizures
Persistent and severe muscle spasms
Any other condition which the Rhode Island Department of Health recommends medical marijuana for
Rhode Island Possession Limits for CBD
Currently, there are no possession limits for CBD products derived from hemp in Rhode Island.
However, qualified medical marijuana patients are allowed two and a half ounces of usable marijuana every 15 days. There are no penalties outlined for possession of CBD products derived from marijuana.
However, people not registered with the medical marijuana program of Rhode Island found in possession of less than an ounce of marijuana are incurring in a civil violation. They could also face a fine not exceeding $150.
Persons found with an ounce to one kilogram of marijuana can be charged with a misdemeanor and risk receiving up to one year in prison with a fine not exceeding $500.
Possessing more than one kilogram of marijuana is an intent to sell and is usually classifies as a felony. It's punishable by a fine of $100,000 and a prison sentence not exceeding 30 years.
Where to Buy CBD Legally in Rhode Island?
There are several CBD specific storefronts in Rhode Island where you can buy hemp-derived CBD. Local grocers, pharmacies, and health food stores can get a license to sell CBD products.
However, keep in mind that CBD extracted from marijuana will only be available from dispensaries licensed by the state.
You can also shop for a great variety of CBD products online. Online shopping allows you to collect detailed information about a specific product. You can read consumer reviews, compare different products and types, find the best prices, and even have it shipped to your home! Many CBD brands usually have their own eCommerce shops.
How to Read CBD Packaging and Labels
As a buyer, you must exercise great caution when buying CBD products. Reputable CBD manufacturers will include the following information on their CBD product labeling:
Net weight
Amount of active CBD per serving
Isolate, full-spectrum, or broad-spectrum
Supplement fact sheet, including other ingredients
Date or batch code
Suggested use
Distributor or manufacturer name
One of the critical things you want to pay attention to is whether the product is an isolate, broad-spectrum, or full spectrum.
Full-spectrum means that the CBD extract got all the plant compounds manufacturers usually remove for the more conventional varieties. That includes the likes of terpenes and other cannabinoids, along with the last trace amounts of THC it had. Thanks to the entourage effect, full-spectrum CBD might be more capable of delivering stronger effects.
Broad-spectrum means that the product contains CBD and terpenes but has gone through additional processing to get rid of any THC.
Isolates usually undergo further processing to remove all other plant compounds, leaving only CBD. Consuming isolates might feel different than broad-spectrum and full-spectrum. These products simply do not yield the much-talked-about entourage effect.
Is CBD Legal In Rhode Island? – The Takeaway
Yes. In fact, Rhode Island is one good place to be if you're looking for high-quality CBD products. If you already have a medical marijuana card, best consult with a specialist at a dispensary.
If you don't have the card, don't stress. You can still purchase CBD derived from industrial quality hemp in physical stores and online. As long as the CBD product has 0.3% or less THC content, you are in the clear for any potential issue with the law.