Is CBD Legal in Oklahoma?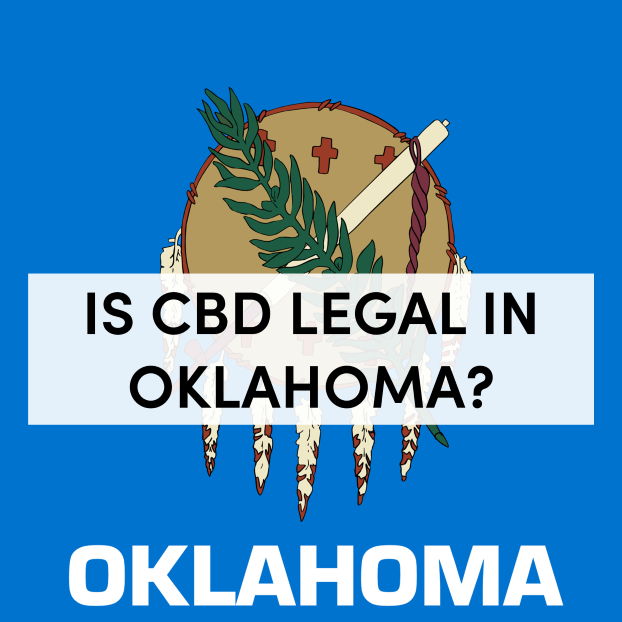 Posted on December 27th, 2020
One of the major issues in the CBD market today is the severe lack of clarity regarding whether where in the country CBD is legal or not. CBD derives from two different plants, the marijuana and hemp plants. For this reason, there are a lot of questions in regards to the legality of CBD oil. People looking to buy some CBD in the state of Oklahoma, for example, would be wise to ask themselves, 'is CBD legal in Oklahoma.' Before we can answer the legal questions, it would be ideal for us to first find out some history of CBD and what is legal vs. what isn't legal.
Is CBD Legal in Oklahoma? – A Brief History of CBD Laws in Oklahoma
Outlawed in Oklahoma in 1933, the state of Oklahoma felt that CBD too closely resembled a drug. The ingestion of hemp seed-derived CBD is legal in all of the United States under Federal Law. However, this is subject to interpretation by individual states. The state of Oklahoma determined that the only time to use it was for the clinical trials for children under the age of 18 who had epilepsy.
Clinical Trials and Later Changes
In the year 2015, only minors under the age of 18 were eligible to use CBD oil for medical reasons in the state of Oklahoma per Governor Fallin's direction. Governor Falling signed a law called 'Katie and Cayman's Law.' This law allowed doctors in the state of Oklahoma to place said children on a clinical trial using high-level CBD Cannabis oil. The experiment looked to reduce their epilepsy conditions through the effects of the compound. They began administering CBD oil and monitored closely to ensure the clinical trials' integrity through various protocols.
However, the bill that the Governor signed made no allowances for the production, cultivation, or processing of the CBD. Initially, under this bill, patients in the state of Oklahoma had to be under the age of 18 and suffering from some form of epilepsy. These were the only conditions wherein the use of CBD oil was legal in the State of Oklahoma.
Do note that recreational use of the drug marijuana is illegal in the state of Oklahoma. With the legalization of marijuana in many states, the state of Oklahoma had to revisit the use of medical marijuana and CBD oil in both children and adults. In 2018, thanks in part to the Farm Bill, the Federal Government in the State of Oklahoma changed how it classified hemp. Hemp now went on to become an industrial farm category. In 2018 the state changed its laws and legalized medical marijuana and CBD oil use. However, the CBD oil had to necessarily come from hemp seeds. Thus, hemp was now legally grown in the state. Later, over the next several years, the laws regarding CBD usage became progressively laxer. They would take on several forms allowing for hemp seed-derived CBD legal in the State of Oklahoma.
What Is CBD, How Does It Work?
Understanding CBD is often a tricky task. CBD or cannabidiol is a compound found in hemp as well as marijuana. While hemp and marijuana are variations of the cannabis plant, they are two distinct plants for the most part. For hundreds of years, hemp has been part of many of mankind's manufacturing activities. Clothing, shoes, tents, rope, hammocks, military beds, and more, humanity has a long relationship with hemp most are not even aware of. In fact, there was a significant loss of quality when cotton, instead of hemp, became the norm in manufacturing. For a long time, authorities considered CBD to be a drug, and it wound up included in the ban of marijuana.
Marijuana Vs Hemp
Marijuana has THC in it, which is the reason why you get that 'high' or euphoric feeling when you ingest it. Hemp has very little THC in its composition, so there is no risk at all of it getting you high. The state of Oklahoma states that the level of THC must be below 0.3% in ratio to the levels of CBD for CBD products to be legal.
Cannabidiol, or CBD as it's more commonly referred to, binds to the cannabinoid receptors in your body. These are part of a complex network that may enhance the brain's ability to fight pain, anxiety, seizures, and other medical conditions. Up until 1926, in many Southern States, doctors prescribed CBD derived from marijuana and hemp, sometimes both, for pain management. They also used them to treat anxiety as well as insomnia, nausea, bipolar, a variety of mental illness conditions, and seizures. Back then, there were no rules as to where the manufacturer should source the CBD from. At the time, there was a very poor understanding of CBD. There were different beliefs on the topic, and its use was somewhat controversial.
Technically, there are 12 different varieties of CBD. There are different strengths as well as varying levels of CBD to THC ratio. Some may produce a euphoric sensation for those who are struggling with PTSD, Parkinson's, and epilepsy. Different varieties give out different effects. CBD derived from cannabis Indica can make a person feel more relaxed. Meanwhile, CBD derived from cannabis Sativa can make a person feel much more energetic and, in some cases, more creative. Yet, the question remains, is CBD legal in Oklahoma today?
Legalities Regarding CBD in Oklahoma
At the University of Oklahoma, they've conducted a lot of research and experimentation to raise CBD levels and reduce the levels of THC. All in the hope of making it more palatable to the body. The THC is what causes the euphoric high that many find when using marijuana-derived CBD oil. Hemp seed oil derived CBD has virtually no THC and is the only form of CBD that is legal in the State of Oklahoma.
It's crucial to ensure that the CBD has low levels of THC to remain compliant with the law in the State of Oklahoma. The legal amount of THC in CBD oil required by the state of Oklahoma is 0.3%. It is also possible to purchase pure CBD Isolate in a powder form. There is also broad-spectrum hemp oil that has trace amounts of THC as well as other plant components.
It's also important to understand that the CBD oil must come from the hemp seed for it to be legal. For this reason, marijuana-derived versions of CBD are not legal at all in the eyes of the law in Oklahoma. Of course, that doesn't stop most people from selecting their own preferred version of CBD oil to use.
In fact, the State of Oklahoma still punishes those who use marijuana with jail time unless they have a medicinal marijuana card. Thus, CBD users in the state of Oklahoma better make sure they use only hemp seed-derived CBD oil and products.
Is It Legal to Send CBD To the State of Oklahoma?
It is entirely legal to send any type of hemp product via the postal service or in a package. However, it's important to note that this only applies to hemp seed-based CBD oil products or other hemp products. CBD that has over 0.3% THC levels is illegal to ship to the state of Oklahoma and can be punishable by prison time.
CBD derived from hemp seed oil is completely legal. You won't require any specific permit to buy CBD oil in Oklahoma as long as it's derived from hemp. If, however, the CBD comes from marijuana, it still is illegal in the state of Oklahoma.
What Forms of Hemp Seed CBD Oil is Available Legally in Oklahoma?
Hemp seed oil derived CBD is available in a variety of forms, including topicals, oils and tinctures, edibles, and, depending on where you're at, vaping pens. Many prefer a topical ointment for their pain and will gently massage it into the affected area in hopes of finding relief.
CBD oil derived from hemp seed can is buyable outside of the state of Oklahoma and brought into the state legally. There are many great hemp-derived CBD oil products on the market today, both in the State of Oklahoma and in other nearby areas.
As long as the products are compliant with the state regulations, they are legal. This includes all THC levels under the amount of 0.3% in specific ratios to the levels of CBD oil per product.
Is CBD Legal in Oklahoma? – The Takeaway
Previous to the law changes in 2018, all CBD products were illegal in the State of Oklahoma. As of July 2020, Governor Kevin Stitt signed another bill, SB238, into effect. This new law completely decriminalized all hemp-derived CBD products that were formerly only allowed if a person was on the medical marijuana program. With the enhancement of this bill, the State of Oklahoma no longer regulated CBD products.
There are many living in the State of Oklahoma that greatly benefit from the legalization of CBD oil products. No longer is it a crime to use CBD to treat a Veteran with PTSD, an adult with epilepsy or Parkinson's Disease, or a myriad of other medical conditions in the State of Oklahoma. Today, it's now a legal product that can be readily available either online or in a variety of brick-and-mortar stores.