Is CBD Legal In New York?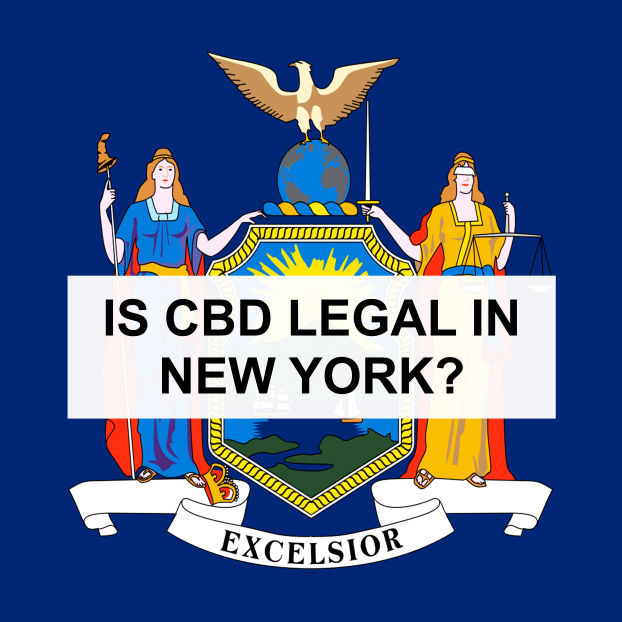 Posted on January 8th, 2021
Although CBD extracted from hemp is readily available in the state of New York, it is subject to stringent regulations. For instance, the New York Department of Agriculture and Markets forbids the addition of CBD to either foods or beverages. However, manufacturers can produce and sell CBD as a dietary supplement as long as it features no therapeutic claims. Furthermore, in the state of New York, suppliers can sell hemp-derived CBD as a balm, salve, or lotion legally.
In June 2019, an all-inclusive regulatory framework covering the licensing, production, sale, and application of CBD and hemp entered the New York State Legislature. At the moment of this writing, it awaits signing from the state's Governor, Andrew Cuomo.
Generally, only people who have a valid Medical Marijuana Program card for New York State can legally access cannabis-derived CBD. If you live in New York, you might already know that medical cannabis has been legal since 2014. Cannabis is still illegal for recreational use in this state, but marijuana possession underwent decriminalization to a certain degree in August 2019. The penalties for possessing small quantities of marijuana have are now minimal. Thus, people with existing possession convictions might get their convictions expunged.
Is CBD Legal In New York? The State Laws & Regulations
Based on the 2018 Farm Bill, there are now more opportunities available for hemp cultivation throughout the United States. That means that there are currently many CBD products available for sale in the state of New York. But only as long as they derive from hemp, be compliant with the Farm Bill's regulations, and consist of less than 0.3% THC content.
Many New York businesses started selling CBD products way before the 2018 Farm Bill was a thing. Besides, coffee shops have been making CBD-infused lattes for a long time (this is New York, after all). Meanwhile, bars have also been adding a CBD twist on their classic cocktails.
CBD edibles are also readily accessible nowadays – this includes CBD gummies, infused drinks and foods, and more. Although not all New York residents can find these on shelves around the state, ordering online from a high-quality brand is an option.
However, if you get CBD products in CBD stores, there is no guarantee that it features "true", high-quality CBD. As a result, most New York-based users are in a bit of a dilemma.
Is CBD Legal In New York? Regulations on Food & Beverages
It's worth noting that there are many forms of CBD available on the market. Therefore, what is 'normal' and what is 'illegal' vary in relation to the appropriate relief it might offer patients.
CBD is currently illegal in cosmetics, foods, and beverages because marijuana-based CBD contains more THC than hemp. New York has many regulations when it comes to marijuana-based CBD. The status of adding CBD to drinks and food also remains an unresolved issue.
A particular federal drug administration advisory didn't resolve the question of CBD's addition in foods and beverages. Although the bill would have allowed about 20 ml of CBD in beverages, the bill didn't approve CBD in gummies. What's more, the state law forbids CBD manufacturers from labeling any CBD product, preventing manufacturers from adding health claims on the bottle.
Governor Andrew Cuomo signed a new law in December 2019 that enabled the hemp industry to label and test their products. Generally, this informs consumers more regarding the drug they're purchasing. According to state law, CBD retailers need to have a license to sell their products in New York.
What Are the Licensing Requirements for CBD?
If you want to grow hemp, you need to be part of the New York Industrial Hemp Agricultural Research Pilot Program. That's currently the only legitimate way to do this in the state of New York today. The interested people should apply to the New York Department of Agriculture and Markets, which usually costs $500. The regulatory body issues a Research Partner Agreement to approved applicants.
Licensing for retailers, extractors, manufacturers, and hemp growers will change with the 2019 Hemp Bill. Although the bill is pending passing, it outlines specific guidelines for extractors, manufacturers, and industrial hemp growers. Furthermore, applicants will undergo background checks to verify they have good moral character, competence, and experience to farm hemp.
The applicants should begin by acquiring a license via the New York Department of Agriculture and Markets. Generally speaking, the cannabinoid extractors' license is the most comprehensive. Licenses will typically require renewal bi-annually, while licensed premises will be subject to random inspections.
Growers and manufacturers should contract an independent laboratory validated by the commissioner for routine testing. The testing reports should be made available to the Department.
Are There New York CBD Possession Limits?
Presently, there are no possession limits when it comes to hemp-extracted CBD products in New York. Furthermore, medical marijuana patients may have a third-day supply of non-edible, non-smokable, cannabis-based CBD products.
The state of New York decriminalized cannabis to a certain extent. However, people found possessing cannabis-based CBD products might be subject to penalties.
Industrial Hemp In New York
Based on the US Farm Bill (2014 version), New York introduced a hemp research program focused on the cultivation of the crop together with educational institutions. Yet, there are still restrictions since they haven't yet started a broader hemp cultivation program in response to the 2018 Farm Bill.
NY residents are still finding an abundance of hemp-derived CBD products for sale, such as foods, drinks, CBD-infused sweets, and more. Although this is good news at first, consumers should be aware that not all products are always of the best quality. Trying to find the one product that fills your specific requirements might prove to be time-consuming.
Is CBD Legal In New York? How Can I Buy It?
It's pretty easy to buy CBD in this state. Quite frankly, it's everywhere. But, if you are searching for variety and the best quality, you better buy online. Purchasing CBD online generally offers an exceptional advantage over in-store purchasing.
The fact of the matter is that online retailers generally have a much wider selection of products available than brick and mortar stores. What's more, you can take as much time as you like to look into the product and the manufacturer itself to ascertain their quality. CBD products almost always undergo 3rd party testing to ascertain their chemical composition before becoming available to sell. The high-quality manufacturers will proudly display the results from that test on the label of their product. They also make them available on their online store website. If you are looking at a CBD product, whether online or in-person, and you can't easily find the test results, better start looking for another brand.
Another aspect that might be attractive is that, of course, online suppliers do send the CBD directly to your doorstep. It is a great option for people who are not so into driving around or strolling city block after city block to find something. Potential users who suffer from some debilitating conditions their CBD might help alleviate are very grateful for this.
Finally, one thing that online sellers can brag about is that they do, in fact, can offer cheaper prices than brick-and-mortar stores. Why? Because their operations involve much less overhead than what an actual retail store does. They don't need to pay storefront and likely employ much less staff for their operations. Two things they love to reflect on their prices to the delight of their clientele.
How Do You Read CBD Labels & Packaging?
Based on the 2018 Farm Bill, the US Food and Drug Administration (FDA) assumed the regulation of hemp and hemp-extracted products. As of now, the FDA doesn't allow the selling of CBD-infused drinks, dietary supplements, and foods. It also has not yet set specified regulations for hemp-based CBD products.
What's more, the agency still claims that regulations require companies to make honest claims on their labels. Nevertheless, buyers should approach CBD products with much caution. Typically, most trusted CBD producers include the following details on their CBD product labels:
Supplement Fact panel and other ingredients.
Amount of active CBD for every serving.
Manufacturer or distributor name.
Net weight.
Batch or date code.
Broad-spectrum, full-spectrum, or isolate
Recommended use.
Is CBD Legal In New York? – The Takeaway
The state's stance on CBD might seem a bit confusing. Although a wide range of CBD products is readily available in New York, not everything you find out there for sale will be worth your money. If you want a truly authentic, top-quality product, it would be best to buy CBD online in New York.
The laws surrounding CBD in New York enable tourists and residents to use CBD for their recreational purposes. Buying CBD in New York is entirely legal, provided you are using it as a dietary supplement and not your medication.
By keenly researching a suitable brand for your products, you could improve your life quality by incorporating CBD into your lifestyle.