Is CBD Legal In New Mexico?  All There's to Know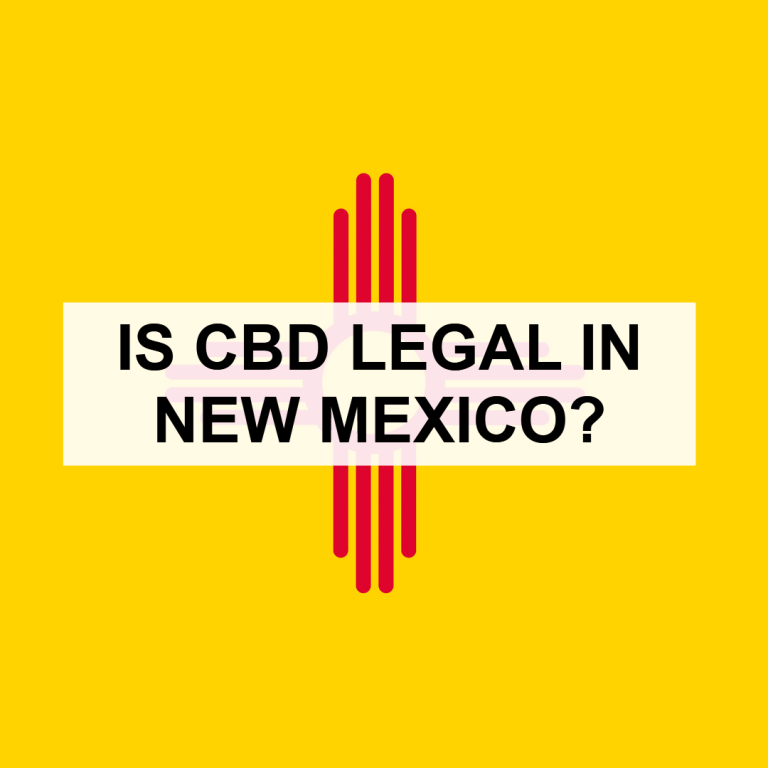 Posted on January 1st, 2021
CBD oil is a legal product within the state of New Mexico. The product only became a legal product after the 2018 Farm Bill that made the cultivation of industrial Hemp legal in the US.  Before that, it was previously a controlled substance and, therefore, illegal. New Mexico, however, only allows CBD products manufactured locally by licensed CBD businesses. Anyone looking to produce or sell CBD products is, thus, required to obtain an updated permit from the New Mexico Environment Department. The manufacturers, too, are under the obligation of only using industrial Hemp from growers that, likewise, have a license from the same department.
CBD being a product coming from Hemp, itself a variety of cannabis, was a reason for concern over its safety, purity, and THC concentration. The latter compound is the responsible psychoactive agent that gives those that makes people that ingest cannabis 'get high.' The potential impairment caused by that high was understandably concerning for the authorities.
It is because of that reason that the state requires CBD to come exclusively from the hemp plant. Hemp and marijuana are both different varieties of cannabis. Their fundamental difference is that marijuana has a high THC content while Hemp, luckily, does not. Thus, manufacturers source CBD from Hemp instead of marijuana. This way, it's easier for them to produce CBD with less than 0.3% THC content, the legal limit beholden by the state's law. CBD is also legal to use in New Mexico without a Medical Marijuana (MMJ) card. However, the law considers CBD products with more than 0.3% THC content the same as marijuana. Thus, it automatically becomes a Schedule 1 controlled substance and, hence, illegal to use or possess in New Mexico. In the following read, we'll tell you all about how is CBD legal in New Mexico today.
What Is CBD Oil
CBD (cannabidiol) is a naturally occurring compound within the cannabis plant as its THC. THC (Tetrahydrocannabinol) triggers psychoactive effects, and some consider it to be psychologically addictive. Those are the reasons marijuana the law treats marijuana as a controlled substance.  However, CBD extracted from industrial hemp packs has higher concentrations of CBD and negligible amounts of THC. It will not get you high. Hemp-derived CBD products are thus legal in New Mexico under Federal law.
One of the reasons why medical marijuana and CBD are legal in New Mexico is because they seem able to to help manage some conditions. Studies show that CBD and medical marijuana might be effective in improving symptoms of:
Amyotrophic Lateral Sclerosis (ALS)
Cancer
Alzheimer's Disease
Crohn's Disease
Glaucoma
Multiple Sclerosis
Parkinson's disease
PTSD (Post Traumatic Stress Disorder)
Chronic pain
Ulcerative Colitis
Spinal Muscle Atrophy
Arthritis
Now, in the state of New Mexico, you can get CBD without an MMJ card as long as it's derived from Hemp. Marijuana-derived CBD, which is particularly useful for patients with more aggressive conditions, requires an MMJ card. This due to it technically being the same as marijuana because of its higher THC content.
Medical Marijuana and CBD Laws In New Mexico
The 'Lynn and Erin Compassionate Use Act' or the Senate Bill 523 (2007) made it possible for people with chronic and debilitating conditions to use medical marijuana.  However, this bill only allowed for citizens of New Mexico with said conditions and over 18 years old to use it. Citizens with the MMJ card can only have a maximum of 8-ounces of CBD derived from cannabis.  Anyone without the medical marijuana card would, thus, be breaking the law. That had the potential of landing you a $50 to $100 fine for a misdemeanor if found with CBD.
Governor Michelle Lujan signed Senate Bill 139 in February 2020, limiting the use of medical marijuana cards to only New Mexico citizens. This means visitors from other states couldn't use their out-of-state MMJ cards to access it.  The law also forbids dispensaries from selling medical marijuana to them as well.
The House Bill 581, signed on April 1st, 2019, by Governor Lujan, brought in new laws to help regulate the production and manufacture of CBD. These now coincide much more with the Federal government regulations.  The bill legalized local cultivation and production of Hemp for producing CBD and CBD-related products.
It only allows raw materials with 0.3% THC or less in dry weight for this purpose. Due to this, farmers require to use specially approved cultivars to produce industrial Hemp with less than 0.3% THC content.  The law also allows qualified patients to cultivate up to 16 marijuana plants, 12 immature and four mature, for personal use. However, they require approval, and you would need a Personal Production License (PPL) to do this.
Laws Regarding Hemp Production In New Mexico
Although legal, the production of industrial Hemp for CBD is a regulated process. The interested farmer would first have to acquire licensing from the New Mexico Department of Agriculture (NMDA).
They would need to pay a minimum of $800 annually for the production and $6 per acre. As stipulated by House Bill 581, the farmer would have to choose the specific hemp cultivar. They also need to choose between starting crops from clones or seeds. The production process from seedling to harvest requires careful monitoring to ensure the plant produces 0.3% THC or less.  The plants also require testing to ensure they meet the set requirements stated in the guidelines. If the product shows have more than 0.3% THC, the law demands the product destroyed and a certification the grower did so. The cost of destroying the crop befalls the licensee.
How Is CBD Legal In New Mexico? – Requirements
Manufacturers are to follow a set of guidelines to the letter in order to make sure their products are compliant with the law.
1. CBD Licensing Requirements
Licensed hemp farmers in New Mexico require by law to submit a Certificate of Analysis (COA) from a state-approved laboratory. They must do so before harvesting their produce. The certificate indicates the crop's quality, alongside THC levels, among other factors. It's also worth noting that suppliers and retailers don't need a special permit to sell pre-packaged CBD. But only as long as it's a product from a licensed local manufacturer in New Mexico.
Also, there's no need for a certificate for transporting small amounts of hemp products for testing.  The transporter must, however, be a representative of a licensed hemp facility. They should provide critical information, including
Item description
Batch identification
Origin and destination
Total volume
Net weight
2. CBD Testing Requirements For CBD
The CBD hemp produced must undergo testing at a state-approved lab and get a Certificate of Analysis (COA). The certificate must contain, among other things, the method of analysis, testing date, batch code, and an authorized signature. After having the Certificate of Analysis, CBD retailers and Distributors can purchase and distribute the product legally. All industrial Hemp produced in New Mexico requires testing for:
Pesticide residue
THC concentration and percentage
CBD dry weight content
Residual solvents
Heavy metals
Microbial organisms, mold, and yeast.
3. Hemp CBD Product Labeling Requirements
Processors must follow the FDA's Code of Federal regulations to the letter and avoid misleading their consumers. They also must not make unproven claims about their products or what CBD can do. In addition to this, the manufacturer must include:
The date of manufacture
Expiry date
CBD content
A QR code to the COA on their products
All CBD products sold in New Mexica must be from a local manufacturer or company.
Is CBD Legal In New Mexico? – Where and How to Buy Legally
CBD comes in many presentations. Hence, can choose between CBD topicals, CBD oils, CBD tinctures, CBD concentrates, and CBD gummies, among others. You also need to check to ensure the CBD product is from a local manufacturer and has less than 0.3% THC. Buying anything not locally produced or with higher THC levels could land you on the wrong side of the law. You can thus buy your supply of CBD from a local dispensary or an online supplier. Shopping online also allows you to check where the manufacturer is from, their COA, as well as their license status.  You might, however, need to provide proof of age and residence before purchasing CBD online. In the state of New Mexico, only residents can buy CBD products from dispensaries and online as well.
Is CBD Legal in New Mexico – The Takeaway
The short answer here is, Yes. Any legal resident over 18 years old can buy and use CBD products in New Mexico without breaking the law. You, however, need to be careful with where and how you get these CBD products from. Only CBD products from industrial Hemp and less than 0.3% THC are legal within the state. You might need an MMJ card to use marijuana-derived CBD with more than 0.3% THC.
The 2018 Farm Bill might have made medical marijuana and Hemp CBD legal to use in the United States. Yet, you still need to abide by the local laws and regulations before buying CBD products in New Mexico. Buying from a reputable and licensed supplier is one of the best ways to stay on the right side of the law.