Is CBD Legal in New Jersey?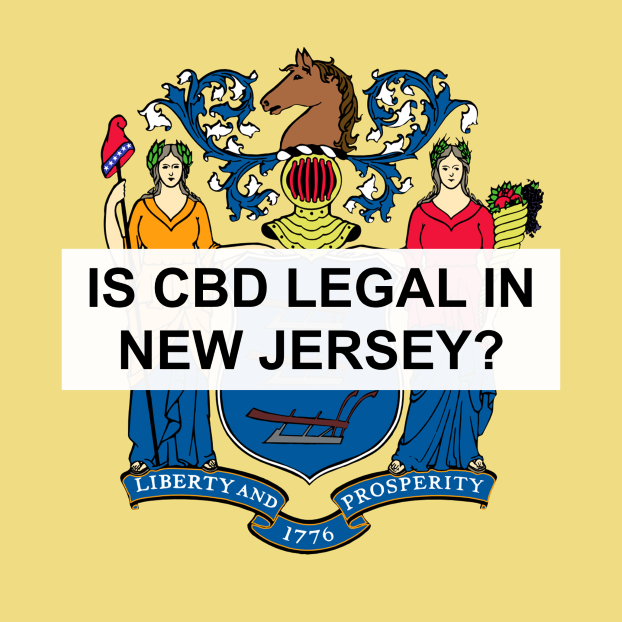 Posted on January 8th, 2021
If you are on the lookout for a reliable source of CBD in New Jersey, you have got to read this article first. As you know, CBD is relatively new, and, as such, there's some understandable confusion regarding what the regulations surrounding it are. This includes both the federal and local laws. Knowing them will allow you to buy the right kind of CBD in order to avoid potential trouble with the law.
The state of New Jersey, like many other states, has not been exactly easy on cannabis. Even though hemp-derived CBD grown outside the state is legal, marijuana CBD oil consumption is only available for approved medical patients. The state of New Jersey has a limited number of stores with high-quality CBD products. Thus, enthusiasts prefer to buy from trustworthy online stores. However, you can also find good products locally with a little bit of work.
But first, let's take a look at what is CBD and the regulations surrounding it.
What is CBD (Cannabidiol)?
CBD is one of the over one hundred compounds called cannabinoids found within the cannabis plant. It is actually the second most prevalent cannabinoid, after tetrahydrocannabinol, or THC. Like THC, it seems to have some potentially therapeutic benefits, including analgesic, anti-seizure, anti-inflammatory, and anti-anxiety properties. The cannabinoid can come from both hemp and marijuana plants. And, unlike THC, it does not give out the psychoactive effects associated with weed consumption.
So, Is CBD Legal in New Jersey?
CBD's legal status in the state of New Jersey boils down to the source of it. As implied earlier, manufacturers can extract CBD from both marijuana and hemp. Although both plants are from the Cannabis sativa L. family, they have varying chemical properties.
Marijuana has a substantial amount of THC, and so, CBD products made from this variety could provide many health benefits. On the other hand, hemp has a considerable amount of CBD and negligible amounts of THC. CBD products from industrial hemp cannot get you high, and therefore, the state's laws treat them differently than marijuana.
That said, here is something you must know regarding CBD's legality from non-hemp sources:
Is CBD Legal in New Jersey? What About Marijuana-based CBD?
Formerly, marijuana was illegal in the state of New Jersey for recreational use. Having fewer than 2 ounces of it was a disorderly person offense and could result in 6 months in jail and a fine of up to $1000. If you got caught with over 2 ounces of marijuana, you could've spent 18 months in jail, in addition to a fine of $25,000 as the state considered that a felony.
However, a limited number of people could legally buy marijuana-derived CBD. The state legalized marijuana under 2010's Compassionate Use Medical Marijuana Act. This bill made it legal for registered individuals with severe medical conditions to buy marijuana. They just needed to pick it up through one of New Jersey's alternative treatment centers.
Those who qualified needed to have one of the following conditions:
Glaucoma
Cancer
Amyotrophic Lateral Sclerosis (ALS)
HIV/AIDS
Crohn's disease
Muscle spasms
Seizure disorders
Muscular dystrophy
Inflammatory bowel disease
In 2018, Governor Phil Murphy decided to add chronic pain, Tourette's syndrome, migraines, and anxiety to that list.
All that changed now, however. New Jersey Public Question 1 was the name of a measure that appeared in the New Jersey general election of 2020 ballot. The measure sought to legalize marijuana in the state. The measure passed with 67% of the vote, the largest margin recorded for a cannabis legalization measure. Thus, making the recreational use of it legal in the state starting January 1, 2021. Yet, at the time of this writing, ratification of the measure into law is still pending by the governor. He cited concern with the lack of penalties for underage consumption. So, expect some changes to the final form of the measure.
How to Apply for Medical Marijuana in the State
If you wish to apply for a medical marijuana card in the state, there are a few steps you'll need to take. For starters, you have to meet the following conditions:
Be a resident of New Jersey with an ID proving residency.
Be diagnosed with one of the conditions mentioned above.
Have medical records from a qualified and licensed doctor that describes your condition.
Have a history with your doctor and that they provide good word on your behalf.
Once certified, you have to register with the medical marijuana program to get protection under the state's law. If you have any questions or aren't sure if you're eligible for medical marijuana, refer to your general practitioner.
After fulfilling that, you are free to go to one of the several New Jersey's alternative treatment centers. Also, keep in mind that if approved for the program, you will need to get re-evaluated by your physician every 90 days to maintain your certification. If a newly introduced proposition becomes law, you might only have to do this only once a year. Fingers crossed!
Is CBD Legal in New Jersey? Hemp-derived CBD and the Cannabis Laws
Despite the harsh marijuana laws in the state, you can legally buy hemp-derived CBD products in New Jersey. Hemp usually contains no more than 0.3% THC. Thus, products made from this form of cannabis cannot get you high. With them, you can enjoy the many health benefits they hold without any impairment.
In 2018, following the Farm Bill implementation, hemp was no longer on the list of controlled substances. It re-labeled it as an agricultural product. Farmers are now allowed to grow, process, and sell hemp for any purpose, including fuel, clothing, and health supplements like CBD extracts.
How to Buy High-Quality CBD In New Jersey
Whether you decide to get CBD locally in the state or online, it is important to do your homework. In the following section, we share several tips to help you save both time and money.
Before placing an order on any CBD product, you need to know how to rule out sketchy manufacturers and mediocre dealers. Remember, the CBD industry is still relatively new and highly unregulated. Thus, there are many companies out there selling bad CBD products, some not tested for heavy metals and pesticides. Here are a few steps to protect yourself:
Only Buy CBD Products That Underwent Testing in A 3rd Party Lab
Third-party labs analyze the cannabidiol content in the extract and look for undesirable additives and potential contaminants. The standards for referring to a product as CBD are very low right now due to a lack of regulations. As such, a Certificate of Analysis (COA) from an independent laboratory is one proof to identify a legit product. Never trust a manufacturer that does not provide lab results.
Choose Full-Spectrum CBD Products
Full-spectrum means that the product makes use of the entire plant. This process includes additional useful compounds, including other flavonoids, terpenes, and cannabinoids. These compounds help the body process cannabidiol more efficiently.
Go for CO2 Extracted CBD
This form of extraction is the best when it comes to making CBD products. It does not require any additional solvents and heat, and so, the resulting extracts are always clean with consistent CBD concentrations.
Look for the 'Low THC' Stamp
The state of New Jersey has harsh cannabis laws, and, at the time of this writing, only hemp-derived products are legal. Thus, you want to make sure your CBD does not come from marijuana by double-checking the THC content. Anything above the 0.3% limit is automatically marijuana in the eyes of the law.
Beware of Manufacturers That Make Health Claims About CBD
Companies claiming CBD to be a miracle drug are always scammers. CBD is an excellent health supplement that might alleviate some symptoms from many conditions. However, it is not going to cure cancer overnight. Avoid anyone claiming similarly.
Choose Organic Hemp
These plants are bio-accumulators. That means they absorb every substance from the surroundings, thus, the importance of its organic cultivation. Hemp needs to grow without pesticides and in nutrient-rich soil.
If you follow the steps above, you shouldn't have an issue tracking down a reliable CBD supplier.
Where to Buy CBD In New Jersey?
If you need to see the CBD product for yourself, then it's best to visit a local store. There are many stores in the state that have a decent selection of CBD products. However, if you want the biggest selection available and get the best deals, online buying is the way to go. There are many other benefits to buying online. For starters, you get to instantly compare many products with a few clicks without having to drive around town. It is also easier to research the potential dealer online thanks to lab reports, online rankings, user reviews, etc.
Is CBD Legal in New Jersey? – The Takeaway
The state of New Jersey has undoubtedly made some progressive steps to improve its cannabis laws. Currently, there are over 20,000 registered patients in New Jersey's medical marijuana program. If you do not have a medical marijuana card, there are many places where you can buy CBD in the state. However, said CBD must always come from industrial hemp.
If you are on the hunt for the best deals, better to find a trusted CBD seller online. The state of New Jersey has several good stores here and there. Yet, none can match the pricing and diversity provided by online suppliers.
Regardless of how you choose to shop for CBD products, make sure you do your homework. This industry is relatively new, so it's better to be careful. Avoid dealing with sketchy dealers who aim to take advantage of the lack of regulations.