Is CBD Legal in Missouri?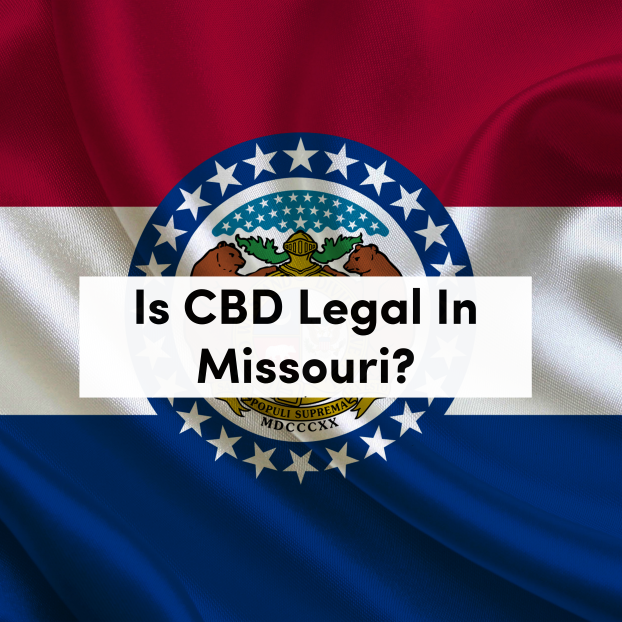 Posted on December 21st, 2020
Has, for whatever reason, the question 'Is CBD legal in Missouri?' ever popped in your head. Well, the answer is: yes. Despite the strict marijuana rules enforced in the state, you can purchase CBD legally. Yet, there are some exceptions regarding possession and use of CBD in Missouri. In fact, only CBD products sourced from industrial hemp are legal in the state for medical purposes. CBD that derives from marijuana is still very much illegal. Missouri's law treats this type of CBD the same as if they caught you smoking marijuana. That's why it's better you know what exactly is legal and what is illegal before you buy CBD products in Missouri. Here is what you need to know if you are wondering, is CBD legal in Missouri.
What Is CBD?
Cannabidiol or CBD is a chemical compound found in the Cannabis Sativa plant. There are hundreds of such compounds within it, CBD and THC are the most abundant. Out of those two, THC or tetrahydrocannabinol is the most prevalent compound in marijuana, a type of cannabis plant. It has psychoactive properties that can make you high. On the other hand, CBD is the second-most prevalent compound in the plant and doesn't feature that effect at all.
Marijuana and hemp are two varieties of cannabis. The former has a higher THC content and, currently, most people use it for recreational purposes. Meanwhile, the latter much less THC and, thus, is ideal for potentially therapeutic purposes. In fact, hemp-derived CBD products contain less than 0.3% THC, the legally allowed limit in most states. Any product with a THC content of more than 0.3% is illegal in most states of the country. You need to be extra cautious when buying CBD products so that you get the ones with a lower THC content. Avoid unnecessary problems with law enforcement in Missouri.
Benefits Of CBD?
There are numerous potential health benefits to CBD. The human body even produces its own cannabinoids; these go by the name of endocannabinoids. The endocannabinoid system (ECS) is responsible for regulating multiple essential functions of the body. The main function of this system is to maintain homeostasis.
Disease disturbs the homeostasis of the body. That's where plant cannabinoids such as CBD may come in handy. It might help in pain management as well as help managing the mood of the individual. It potentially helps with anxiety, depression, emotional issues, inflammation, pain, insomnia, and other symptoms. In fact, according to a mountain of anecdotal evidence, the product already seems to be highly effective in addressing a wide range of conditions without unwanted side effects. The most important thing is to buy high-quality CBD products in Missouri.
Is CBD Legal In Missouri? What the Law Says
Hemp growing in Missouri dates back to the early 1830s where the state became the second-largest hemp producer in the country. But during this period, the cultivation of hemp was labor-intensive and had much less profit compared to other crops. Slave labor diminished by the end of the Civil War and created a labor shortage for the cultivation of hemp.
Hence, the cultivation of the crop dropped significantly. In the 1930s, the state government began a campaign demonizing cannabis that lasted for many decades. But nearly the end of the 20th century, most states, including Missouri, started to defy federal law by legalizing the medicinal use of. That's where things began to change for Missouri.
Recent Efforts
Missouri started the Missouri Hemp Extract Registration Program (MHERP) in 2014 to legalize the use of low-THC hemp extract to treat intractable epilepsy. This program allowed patients to purchase hemp extract low on THC from centers regulated by the state.
They called these "Cannabidiol Oil Care Centers." The U.S. Government also enacted legislation at the end of 2014 to allow state universities to implement pilot programs to study the cultivation and processing of industrial hemp for medical purposes. The legislature passed an act to remove hemp from the legal definition of marijuana in 2018.
The federal government legalized the commercial cultivation and sale of hemp at the end of 2018. A bill was signed into law in July 2019 in Missouri to legalize medical marijuana – making it the 32nd state to do it. The state also plans to legalize marijuana as well. The MHERP should approve one to participate as a patient in the medical marijuana program. Only patients diagnosed with intractable epilepsy can buy medical marijuana in Missouri.
In August 2019, the state started accepting licensed dispensary facility applications. This empowers licensed caregivers to legally buy and possess cannabis. Minor patients should have the consent of a parent or guardian to apply for the registration card. It should be certified by the minor's physician too. In Missouri, law enforcement has no interest in indicting individuals in possession of hemp-driven CBD products. This because there are hundreds of shops selling hemp-based CBD products regardless of the gray areas of CBD laws in Missouri.
The use of marijuana for recreational purposes is illegal in the state under all circumstances. Unlike the fact of if is CBD legal in Missouri, the state does not seem to be legalizing recreational marijuana anytime soon.
How to Buy CBD In Missouri?
The most important thing is to look into the background of CBD companies in the state. It will save you time and money in the long run. Here are some of the most important factors to consider when purchasing CBD products in Missouri:
Buy CBD Extracted Using the CO2 method
This method preserves the effectiveness of CBD because it doesn't involve additional heat or solvents to extract it. Any company using this method to extract the CBD is more likely to take its business seriously. The equipment needed to perform CO2 extraction is very expensive. Hence, you can expect a quality product from any company using this method.
Get CBD Products Tested in A Third-Party Laboratory in Missouri
Don't waste your hard-earned money on untested CBD products. The test results will show the percentages of CBD, THC, and other compounds in the product. Make sure the THC levels are below 0.3%, this is what makes the product legal in Missouri. Buying from a reliable supplier will ensure the CBD content of the product matches the figures written on the packaging.
Don't Forget to Double-Check the THC Content of The Product
CBD with a high THC content is illegal in Missouri. Possessing marijuana-derived CBD will make you liable for charges in the state. Industrial hemp contains less than 0.3% THC and offers the same health benefits.
Full-Spectrum CBD Products Offer the Most Benefits Out of All Other CBD Forms
Full-spectrum CBD is more difficult to extract and there's a wealth of additional compounds, including flavonoids and terpenes, in it. Hence, buying a full-spectrum product means you get a quality product from a company committed to upholding high-quality and effective CBD products.
Buying CBD Products Online
Cost and convenience are two of the most important benefits of shopping for CBD online. Online retailers offer a better selection of CBD products. On the other hand, the local store will stock products depending mostly on demand.
This limits your choice to some extent. But online stores always have a wide variety of products for you to choose from. They can ship the product at any time and get it right to your doorstep. There's also little risk of wasting your money or exposing your data when buying from a good manufacturer. When shopping online these days, you can rest easy knowing that your personal data is safe.
The products sold online are a bit less expensive compared to CBD products in your local store. That's because an online shop doesn't have as many overheads to maintain compared to your local brick-and-mortar shop. For example, the local CBD shop has to pay rent, employee salaries, and other fees to maintain the store. But an online store doesn't have such charges. They will pass on the benefit to the customers and offer inexpensive CBD products as a result.
Even if you run out of the product at midnight, you can order online and get the product delivered to your doorstep. You can do your homework by comparing different CBD suppliers online before buying from the best. Online review sites will help you with this. There are many independent review sites to help you see what real users are saying about the products they been using so far. That's why it is so much better to buy CBD products online, you'll save time and money in the process.
Is CBD Legal in Missouri? – The Takeaway
If you were ever wondering, "Is CBD legal in Missouri?", now you know the answer. CBD derived from industrial hemp is legal in Missouri as long as the product features less than 0.3% THC, and their use is solely for medicinal purposes. CBD derived from marijuana or any CBD product with more than 0.3% THC is illegal in the state. It would help if you were cautious when buying CBD products in Missouri. Make sure you buy a high-quality product from a trusted CBD vendor online to see if all indications given here check out. Good Luck.