Is CBD Legal in Mississippi?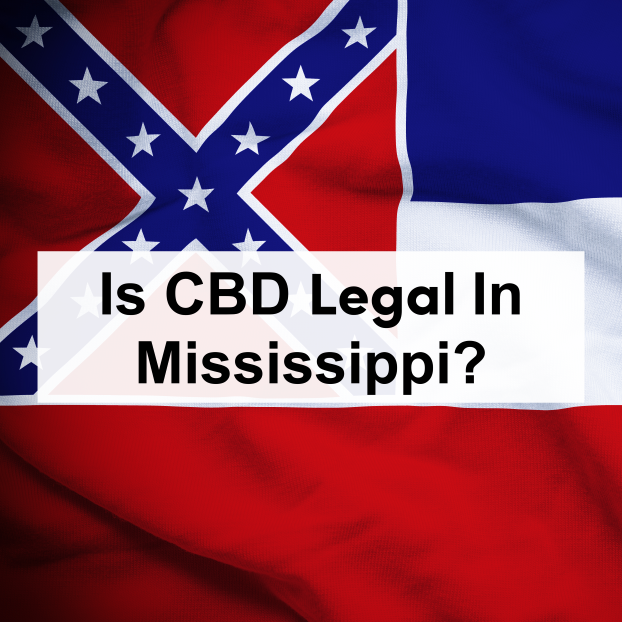 Posted on December 25th, 2020
Cannabidiol or CBD is without a shadow of a doubt one of the most popular supplements in the world today. It is full of potential therapeutic effects, and it does not get you high in the least. If you are among the many currently looking forward to using CBD, you might be wondering where to get it in Mississippi and even is CBD legal in Mississippi? Even though this is not the most marijuana-friendly state, it still offers many ways for CBD enthusiast to enjoy the product.
People that use CBD claim it helps manage many different symptoms, including pain, inflammation, anxiety, etc. Yet, not all CBD products are the same, and the legal status of a particular product depends on how they manufactured it. In this read, we are going to answer the question of 'is CBD legal ln Mississippi?' and recommend you how to buy it.
What is CBD? Why Is It So Popular?
CBD is an acronym for cannabidiol, a naturally occurring cannabinoid compound found inside the cannabis plant. It's one of the many cannabinoids found in hemp plants and, together with THC, the most popular cannabinoid. Unlike THC, CBD does have any psychoactive effects; thus, you will not get high from it at all.
Extracted from the hemp plant's buds and flowers, cannabidiol has become an oil used by people all over the world who want to manage many conditions. For example, it appears to be as potent as some non-steroidal anti-inflammatory drugs, but more research is needed.
The Benefits of CBD
Since the Chinese first used marijuana for medicinal purposes back in 2900BC, many civilizations followed suit. Users claim to sue CBD for treating the same ailments as they did back then; these include:
Pain alleviation.
Treating depression and anxiety.
Treating epilepsy.
Helping with sleeping disorders.
Acne.
Nausea & vomiting.
So, Is CBD Legal in Mississippi?
Whether or not a CBD is legal in the state of Mississippi depends on its source. Cannabidiol can come from both marijuana and hemp. These plants belong to the same Cannabis Sativa L. family, but they differ when it comes to their chemical composition.
Marijuana is primarily made up of THC, meaning it has a psychoactive effect in addition to the numerous health benefits it has to offer. On the other hand, hemp has a higher concentration of cannabidiol, and only trace amounts of THC, usually 0.3 percent or less. In the section below, we're going to look at how the law in Mississippi treats both forms:
Marijuana-Derived CBD in Mississippi
As of this writing, marijuana is illegal for recreational use in the state. However, the state did decriminalize the possession of small amounts of the product. This means that you will not go to jail if they catch you with a small amount of marijuana, given it is your first offense. However, you are subject to a fine of up to $250. If you have a criminal record and get caught with marijuana, you are subject to a fine between $250 and $500 as well as a minimum of 5 days and a maximum of 60 in jail.
Any amount more than 30 grams is punishable with up to 1 year in jail and a $1000 fine. Penalties for concentrates are even more severe. If you get caught with more than 0.1 gram of hashish, you are subject to a sentence of 2 years in jail.
Is CBD Legal in Mississippi for Medical Marijuana Patients?
The answer is yes, but under certain conditions. There's no medical marijuana program in the state. Only individuals suffering from intractable epilepsy or catastrophic seizure disorder can buy marijuana-derived cannabidiol products. If you qualify, you have to make an appointment with your practitioner so that they can recommend CBD as your treatment. Also, the state government does not support any other conditions, and only CBD products containing no more than 0.5% THC and at least 15% CBD are allowed.
Hemp-Derived CBD in Mississippi
Unlike marijuana-derived CBD, the hemp kind is legal in the state of Mississippi. Back in 2018, the Farm Bill or Agricultural Act of 2018 got an amendment. It essentially removed hemp from the list of controlled substances. On that day, hemp became legal on a federal level, and farmers became able to cultivate hemp and sell it for various purposes. These include fuel, paper, food, clothing, and health supplements like CBD oil.
Individual states can challenge or accept federal law, implementing their own restrictions on the availability and labeling of cannabidiol. Fortunately, Mississippi has not introduced any laws that would regulate the product in the state; it doesn't seem like it will happen in the future.
With the confusion surrounding the varying sources of cannabidiol and the laws concerning them, here are some important considerations you need to make before purchasing CBD in Mississippi.
How to Purchase CBD Products in Mississippi
The cannabidiol market, for the most part, lacks regulation. Many manufacturers introduce fake products that could contain no CBD at all. Some even come with undesirable additives and toxic chemicals like solvent residue and pesticides.
To save time, money, and ascertain your well-being, it's essential to do your homework on the manufacturer and the quality of standards for their CBD products. Here are some tips to follow and ensure you get high-quality CBD oil with every purchase:
Only Buy from Manufacturers Whose Extracts an Independent Lab Evaluated
Third-party laboratories check the amount of cannabidiol in the product and can tell you whether it contains any unwanted chemicals or additives. It is the only way to verify what is inside without trying the product on your own.
Make sure you check for the 'low-THC stamp.' In Mississippi, where cannabis laws are stringent, the last thing you want is to purchase a mislabeled product. It might have enough tetrahydrocannabinol content to breach the federally allowed limits and land you trouble.
Never Purchase from Brands That Make Outrageous Claims Regarding Their Products
Cannabidiol is a versatile supplement that can help manage a wide array of symptoms. However, it definitively is not going to cure cancer or arthritis. Do not trust any manufacturer claiming that CBD is some sort of miracle drug capable of curing any ailment for good.
Go for Co2-Extracted Cannabidiol
This form of extraction is by far the safest way to remove CBD and other beneficial cannabinoids from the source plant. It does not need any additional solvents or heat, thus giving out clean and potent products.
Choose Full-Spectrum CBD
This is generally better compared to isolates, which use the entire plant to make them. This means it will also take all the other beneficial compounds, including flavonoids, terpenes, and cannabinoids. CBD isolates only contain pure CBD, which is not as effective as the full-spectrum kind.
Where to Purchase CBD in Mississippi?
The state of Mississippi is quite behind when it comes to policies surrounding marijuana. That's why local cannabis markets are not as developed as in Colorado or California. So, if you want to buy top of the line CBD products legally, look for a reputable online seller. In this section, we're going to look at why it is better to shop for CBD online, particularly in Mississippi.
The Advantages of Purchasing CBD Online
Online dealers provide a bigger selection of varying CBD formats and better prices compared to brick-and-mortar vendors. CBD comes in different presentations, including edibles, topicals, capsules, lotions, and tinctures, all of which you can easily find online.
If you are searching for cannabidiol products online, the dealer should be able to deliver the package to your doorstep in a matter of days. You do not have to drive around the town just to compare different CBD products. You can do everything in the comfort of your home and in your own privacy.
Shopping online also helps you quickly get more details about the manufacturer, which can be hard to do if you shop in-store. Ideally, buying CBD products online lets you read third-party laboratory reports, check the manufacturer's reputation, and browse forums and social media groups to get advice from experienced users.
Last but not least, buying online is the least costly way to get high-quality CBD products in the state. Online stores do not have to deal with the operational costs that come with opening a conventional brick and mortar store. This allows them to give special offers and discount prices, which are hard to find in most hemp stores in Mississippi.
Is CBD Legal in Mississippi? – The Takeaway
The state of Mississippi has pretty stringent laws when it comes to marijuana. If you wish to buy marijuana-derived CBD legally, you need to have an intractable form of epilepsy. Or otherwise, they will consider your marijuana consumption recreational and, therefore, illegal.
However, this does not mean the state banned every kind of cannabis. If your cannabidiol derives from hemp and contains no more than 0.3% THC, you can legally purchase it without a prescription. CBD products are widely available in both brick & mortar and online stores. In the latter, you'll find the best deals on top-of-the-line ingredients.