Is CBD Legal in Minnesota? – The North Star State's CBD Laws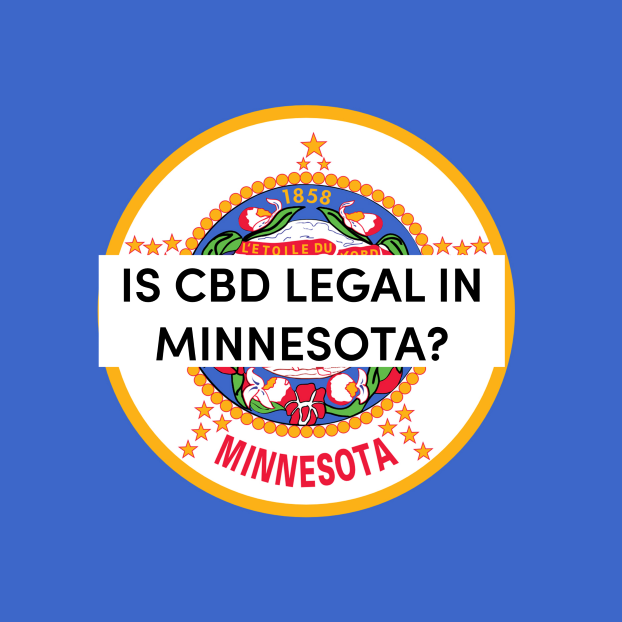 Posted on January 10th, 2021
Recently, there has been a lot of media coverage and news surrounding CBD and its potential health benefits. All of a sudden, it became a very sought-after supplement in Minnesota and across the Pacific Northwest region. In fact, projections do say that the CBD industry will be hit a $20+ billion market cap by 2024. This can be due to the increasing consumer interest and the number of businesses capitalizing on that demand.
Many residents in Minnesota are very interested in this particular new offer from the Health and Wellness sector. Due to the purported health benefits associated with CBD, it's not surprising to see more and more Minnesota residents looking for it. So, if you reside in Minnesota and want to start your personal CBD journey, you better know a couple of things first.
If you are looking to buy CBD for the first time, the question: 'Is CBD legal in Minnesota?' probably crossed your mind a few times. As a newly anointed agricultural commodity, hemp, from which CBD derives, had long been illegal. Why? Because hemp is a variety of the cannabis plant just like marijuana is.
Here's what you need to know about the legal status of Hemp, Cannabis, and CBD in Minnesota.
Hemp and Marijuana – What's the Difference?
Is CBD Legal in Minnesota? The lawfulness of hemp-based CBD products in Minnesota applies to a federal degree. In the past, marijuana, hemp, and other cannabis variations classified as Schedule I drugs following the 1970 Federal Controlled Substances Act. Schedule I narcotics were defined by the law as chemicals, drugs, or substances that have no acceptable medical treatment application. It also defined them as likely to be addictive and lacked any accepted safety measures for their use under medical observation.
Minnesota law's treatment of marijuana took after the federal law, which affected cannabis as a whole. With time, Congress made amendments to remove hemp, a variety of cannabis, cannabis from the list of Schedule I drugs. Congress passed a bill to legalize hemp cultivation called the Hemp Farming Act of 2018. It made a legal distinction between hemp and marijuana, defining hemp as cannabis containing not more than 0.3% THC concentration by dry weight.
See, CBD and THC are the most famous cannabinoids, chemical compounds found inside cannabis. They are both present in hemp and marijuana. However, hemp has high concentrations of CBD and very low THC. On the other hand, marijuana has much more THC, which is a problem since THC is psychoactive. It is because of THC that people get 'high' when consuming cannabis. Luckily, having only trace amounts of the compound means that hemp-derived CBD will never make you high. Thus, you can enjoy its alleged therapeutic benefits without fearing impairment as a result.
Legal History of Hemp, Cannabis, and CBD
The Hemp Farming Act of 2018 became incorporated into the 2018 Farm Bill, which became law in December 2018.
With the amendments, CBD extracted from hemp plants came off the list of Schedule I drugs. However, marijuana-derived CBD is still federally illegal because of the high THC concentration. Thus, the law treats it the same as marijuana. Hemp growers can formally produce and sell the commodity under stipulated federal conditions that Congress has yet to finalize. Additionally, the 2018 Farm Bill, which then-president Donald Trump signed, allowed the FDA to oversee CBD.
According to the FDA, companies can't advertise CBD products as nutritional supplements or as a cure for any ailment. The FDA had to issue letters in the past warning companies making unfounded claims about CBD. Currently, businesses in the CBD sector include disclaimers clarifying that CBD isn't medicine.
Minnesota CBD Laws
In the yesteryears, CBD in Minnesota was only permissible to medical marijuana patients. That changed in 2020 due to new laws that legalized hemp-derived CBD for Minnesota residents. Right up until 2020, the sale of CBD oil was illegal under both state and federal law. The only exception was an FDA-approved drug known as Epidiolex intended for kids with intractable epilepsy. So, it begs the question if CBD oil was illegal, why were a lot of stores selling CBD products?
The federal government passed a farm bill in 2014 allowing states to form pilot programs solely intended to research the cultivation, growth, and marketing of hemp. Technically, the bill didn't legalize CBD oil. But the law's gray areas gave marketers the jolt they needed to get started. It wasn't long before Minnesota took advantage of the chance.
In 2015, the Minnesota Industrial Hemp Development Act (IHDA) became law. It allowed the Minnesota Department of Agriculture to start an Industrial Hemp Pilot Program. Participants of the program required to present reports to the MDA. They had to report: strains planted, distribution, processing, agronomics, and sales of CBD and hemp products. All in order to acquire sufficient data that would be useful to future hemp growers in Minnesota.
The Growth of Minnesota's Hemp Cultivation
There were only six growers in the Minnesota hemp pilot program by the end of 2016. An estimated 40 acres of hemp harvested. In 2017, the number of registered pilot participants grew to 38. Before the end of 2018, the number was 51. In 2019, that number surged to 540 growers as hemp farmers planted 8,000 acres of hemp in the open air and 400,000 feet of indoor spaces.
The MDA reported that by the end of 2019, three-quarters of hemp grown went explicitly to produce CBD oil. This was all just the preliminary stage. New hemp regulations bumped Minnesota up from the pilot program stage and into the commercial stage of hemp production. Expectations are that hemp cultivation continues to grow exponentially in Minnesota.
So, can I buy CBD in Minnesota? And is CBD legal in Minnesota? The answer to both questions is yes! But there's a catch. The CBD you buy must be compliant with the Agriculture Improvement Act of 2018. Minnesota Statutes describe industrial hemp as all constituents of Cannabis plants, including its extracts and derivatives, that don't exceed 0.3% THC concentration.
Is CBD Legal in Minnesota Today?
CBD oil in Minnesota and other CBD extracts and derivatives officially became lawful on January 1st, 2020. In the past, only medical cannabis was lawful and only for medical marijuana patients. These days, Minnesota residents can fully enjoy CBD oil without worrying about breaking the law.
Minnesota Medical Cannabis Program
In 2014, the Minnesota Department of Health created the Office of Medical Cannabis to pass new regulations on medical cannabis. This program enabled people to register as medical cannabis patients. Said patients can buy and be in possession of cannabis-derived CBD at the recommendation of a physician.
Licensing Requirements For CBD
Businesses and individuals seeking to grow and distribute hemp in Minnesota need to apply for licenses under the Minnesota Hemp Program. The MDA Pilot Program will be effective until the USDA sanctions a new state plan. If you are a first-time applicant, you'll need to submit an application. Then, you undergo state and federal criminal background checks and will need to pay the program fees. If you have a controlled substance-related conviction in the past ten years, they will disqualify you automatically. Returning applicants also need to submit a new application and pay the program fees again. Every license issued expires on December 31st. It's important to note that licensed hemp growers need to submit samples to MDA inspectors for testing within 30 days of harvest. Plants found to contain more than 0.3% THC concentration require immediate disposing of.
Minnesota CBD Possession Limits
Residents in Minnesota can possess an unlimited amount of hemp-derived CBD products. That is unlike medical marijuana patients who can only hold a 30-day supply.
Under the 2019 Minnesota Statutes, non-eligible persons found in possession of less than 42.5 grams of cannabis-derived products will face consequences. They may be subject to fines and charges up to $200 and may need to enroll in a drug education program.
Can I Purchase CBD Online?
Yes, you can! You can legally buy CBD oil online in Minnesota and have the product delivered to your doorstep. So long as it comes from hemp, it's perfectly legal. One of the major advantages of buying CBD oil online is that you'll have a wider selection of products available. Shopping online provides you with the ability to acquire detailed information concerning every product.
You can also do a background check on the supplier and read the reviews of past users. High-quality suppliers almost always showcase the test results of their products on their website. If you can't find them, that's a red flag; better go check another supplier. Also, did you know that online suppliers usually sell cheaper? Yes! This is because they have less overhead than brick-and-mortar stores, which they like to reflect on their prices.
Is CBD Legal in Minnesota? – The Takeaway
When it comes to CBD, Minnesota is among the most progressive states in the U.S. The state embraced the many opportunities the industrial hemp market offered. It acknowledged that the CBD sector is growing rapidly and took advantage of it. Many studies do hint at CBD being a potential treatment option for some conditions. Still, it would be better if first-time users consult with their doctor first before trying.