Is CBD Legal in Illinois – The Prairie State's CBD Laws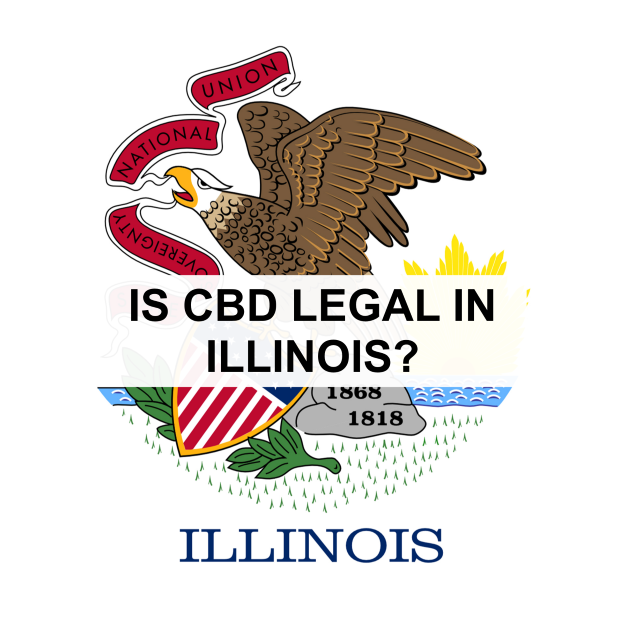 Posted on January 12th, 2021
Illinois is popularly known as the 'Land of Lincoln' since the most celebrated President of the United States was elected while a Chicago resident. Additionally, two more Presidents, Ulysses S. Grant, and Barack Obama, were residents of the state. Illinois divides into three major geographic regions, the Mid Section of Illinois, called Central Illinois, Northern Illinois, which is everything in The Chicago Metro Area, and Southern Illinois, which consists of everything south of Route 50.
Illinois has a population of 12.7 million residents who are pretty progressive and active. Most people are interested in how they can improve their Health and Wellness. Illinois is also the 25th biggest state by landmass, with around 80% of it being farmland, which provides a perfect avenue to grow CBD.
CBD is a natural chemical compound found in the cannabis plant. CBD isn't the other most famous cannabinoid, THC, which is the responsible agent for the high people gets from cannabis. However, unlike the psychoactivity associated with THC, CBD will not get you high or cause any impairments. Over recent years, CBD has increasingly grown traction because of its potential health benefits. CBD products even come in various presentations, from creams and edibles to tinctures and oils.
With the 2018 Agriculture Improvement Act in full swing, many Illinoisans are asking, "Is CBD Legal in Illinois?" Here's a guide to familiarize you with the legal status of Hemp, Cannabis, and CBD in the state of Illinois.
A Brief History of CBD in Illinois
To answer the question, "Is CBD Legal in Illinois?" you first need to know the history of CBD in the Land of Lincoln. Like the rest of the States in the U.S., Cannabis usage in Illinois became illegal in 1937 under the Marijuana Tax Act.
This law saw a reversal in 1969, and it wasn't until 1970 that the Controlled Substances Act classified cannabis, including its derivatives and extracts, as a Schedule I drug. For around four decades, not much else occurred in terms of CBD legislation in Illinois.
In 2013, all that changed when lawmakers legalized cannabis for medicinal purposes. CBD oil and cannabis derivatives fell under the Illinois Compassionate Use of Medical Cannabis Pilot Program. The Act permitted registered medical cannabis patients to buy no more than 2.5 ounces every 14 days. What's more, a state-licensed dispensary would be responsible for selling CBD and other cannabis products.
The Hemp Legislations
In 2016, the state launched a pilot industrial hemp program that allowed the Illinois Department of Agriculture (IDOA) to grow hemp for research. The program gave the same privilege to universities, colleges, and other institutes providing higher education in the state. All parties cultivating hemp had to give annual reports regarding their findings to the IDOA.
In 2018, the Illinois General Assembly passed Bill SB2772. That law made the sale and use of CBD oil legal, but only if it had not more than 0.3% THC levels. Under the 'Low THC Hemp Extract Act,' sellers and CBD distributors are now able to conduct retail and commercial sales as long as they have a valid certificate of analysis (COA). The certificate is simply a test result showing their products have no more than 0.3% THC content by dry weight. A 3rd party lab conducts this kind of test.
Under the Cannabis Regulation and Tax Act passed in 2019, any Illinois resident aged 21 and over is able to buy both THC-rich and CBD products. The retail sales of marijuana for adult use began on January 1, 2019. On December 1, 2019, cultivation centers became able to grow products for sale. The state intends to award more licenses to grow cannabis by July 1, 2021.
Is CBD Legal in Illinois Today?
As per Illinois CBD statutes, the answer to that question is yes. Hemp-derived CBD products are legal in the Land of Lincoln. CBD legislation in Illinois is among the most considerate in the U.S. But there are a few regulations that limit the type of CBD a person can be in possession of.
In May 2019, the Illinois Cannabis Regulation and Tax Act passed and came into law. Illinois became the 11th state to legalize cannabis for recreational purposes. In the process, the Land of Lincoln became the pioneering state in America to come up with a regulatory framework. The result of it would help create the regulations for the cultivation, testing, transportation, and sale of cannabis products. In October of the same year, Illinois lawmakers passed a bill mandating all CBD tinctures, oils, and other associated products available for sale to meet testing conditions stipulated by the IDOA.
Medical marijuana usage became legal in Illinois when the Compassionate Use of Medical Cannabis Pilot Program passed in 2013. The program allowed individuals to use cannabis for arthritis, irritable bowel syndrome, chronic pain, and autism, among others.
Illinois used to limit hemp cultivation to research only. But lawmakers in the Land of Lincoln took a more progressive approach for hemp and its products. The state passed Senate Bill 2298 (Industrial Hemp Act) by August 2018, lifting the limitations on industrial hemp and made it legal for commercial cultivation.
Illinois CBD Laws
Is CBD legal in Illinois? To answer this question, you need to be aware of the current Illinois CBD laws. Legislation of CBD in Illinois has recently undergone a massive shift, with major alterations affecting almost all cannabis products. Even if Illinois was the 11th state to legalize adult-usage of cannabis, the state has long been suffering from regressive CBD legislation.
The 2018 Farm Bill caused a major change in CBD laws throughout the United States, including Illinois. These changes have made it easier for hemp fanatics in the state to get CBD in different presentations. Any sort of amendment to CBD legislations at the federal level will bring with it changes at the state level. So, it's understandable if you ask, "Is CBD Legal in Illinois?"
The Industrial Hemp Act mandates all CBD products extracted from hemp to undergo processing in the state. The state government of Illinois will grant industrial hemp licenses to producers that cultivate CBD and other medical marijuana products.
Here are the laws affiliated with the legalization of CBD in Illinois:
2014 Cannabis Control Act
In 2014, the Illinois Cannabis Control Act passed, sanctioning the growth of industrial hemp for research only. Yet, the law defines industial hemp plants as those cannabis plant that hold less than 0.3% THC in its composition.
Senate Bill 2298
Senator Toi Hutchinson filed the SB 2298, which later became law in 2018. The bill signed by Governor Bruce Rauner subsequently lifted limitations on hemp production in Illinois. The bill quintessentially formed the Industrial Hemp Act of the state. It created a legal framework that allowed Illinois residents to grow and process hemp.
If you're an aspiring grower, you should first apply for a hemp license. You can submit your application through the Illinois Department of Agriculture (IDA)'s site. SB 2298 makes alterations to the Cannabis Control Act and the Noxious Weed Act. It basically removed hemp from being a controlled substance and noxious weed.
By the start of 2019, the IDA executed temporary rules for SB 2298. It reassessed industrial hemp to mean cannabis not containing more than 0.3% THC. the cannabinoid THC is the most active component in the cannabis plants and causes a euphoric feeling when consumed.
House Bill 1438
The ban on cannabis in the state of Illinois was lifted in June 2019 after Governor J.B. Pritzker signed HB 1438. The new law included a system to tax and regulate cannabis usage for residents over 21 years.
Other than legalizing cannabis possession and usage, the law expounds on the current medical cannabis licensing system. Some of which include offering financial aid to aspiring entrepreneurs and letting medical patients cultivate their own cannabis.
Licensing Requirements
To begin growing hemp in the state of Illinois, you'll need to make an application to the Illinois Department of Agriculture. The application must contain the following:
Personal address and Name.
Type of Business.
Business address.
Proposed hemp types.
Map and description of proposed growing area.
$100 application fee.
Generally, hemp license applications take 30 days for issuing. If accepted, a license will be valid for three years following the date of issuance. To obtain a three-year license, the cost will be $1,000. However, if you wan to opt for a two-year license, that will cost $700 and $375 in case you would want a one-year license.
As per the existing laws, persons with a felony affiliated with controlled substances aren't eligible to receive a hemp license at all. Not complying with the licensing protocols may result in fines reaching up to $10,000 for each violation.
Testing Requirements
Once licensed, hemp farms are subject to random tests to make sure the THC concentration in the cannabis plants is below 0.3%. The Illinois Department of Agriculture collects these plant samples, which they check and verify with another third-party lab. In case the IDA finds the THC concentration levels to be more than the optimal threshold, they will demand the disposing of the plant.
Possession
The cultivation and sale of CBD products derived from hemp are both legal in the state of Illinois. The state doesn't currently have any possession limits.
Is CBD Legal in Illinois? – The Takeaway
If you're an Illinois resident, there's no better time to start using CBD than now. The Cannabis Regulation and Tax Act allow Illinoisans to lawfully buy many CBD products from state-licensed dispensaries and cannabis shops. Thus, you can enjoy all the hemp-derived CBD products you want when in the state of Illinois.