Is CBD Legal in Delaware? – The Blue Hen State CBD Laws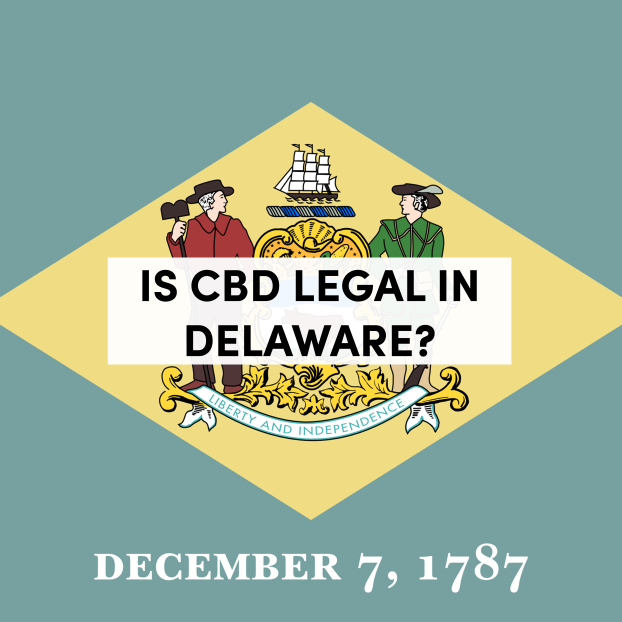 Posted on January 13th, 2021
Since the 2018 Farm Bill passed, which made cannabidiol (CBD) legal, most people assume all the states treat this compound the same way. The CBD market has been booming since the passing of that bill, that is for sure. As more and more people are becoming aware of the compound, future research on its potential uses also increases. Unfortunately, despite the available scientific knowledge backing it up, not all the states treat cannabidiol the same way. Today, each state is still able to create its own state laws and regulations surrounding the sales and possession of CBD. In the state of Delaware, things are even more complex, with regulators freely coming up with their own rules.
This brings us to the key question. Is CBD legal in Delaware, and if so, where can you purchase it? The answers are a bit complex, and so, this read will address CBD and better explain where it is safe to purchase CBD products in the state of Delaware.
What is CBD?
Also referred to by its full name, Cannabidiol, CBD is one of the most common compounds in the Cannabis Sativa L. plant. Unlike THC, the other most common compound and substance responsible for the psychoactive effect in marijuana, CBD is non-psychoactive and non-addictive but still offers the potential benefits of cannabis. This makes it an appealing product for people wanting to experience the potential therapeutic effect of marijuana without getting high. Some of those potential benefits include:
Pain and inflammation relief.
Anxiety and depression.
Suppressing seizures.
Treating arthritis.
Enhancing appetite.
CBD, as part of cannabis, has been a fixture of mankind's natural therapeutic treatments for centuries. Thus, it's only recently that modern medicine rediscovered its significant potential despite the past cultural taboos on it.
So, Is CBD Legal in Delaware?
Delaware took an uncompromising stand against marijuana. Having up to one ounce of the product in the state classifies as a civil penalty. This can warrant a fine of up to $100. However, hemp-derived CBD is actually legal in the state. Thus, cannabidiol products are available for purchase throughout Delaware. In addition to CBD products derived from hemp over the counter, the state ideally has a medical marijuana program. The program came to be following the passage of the Delaware Medical Marijuana Act.
After the Farm Bill's passing, a change happened to make hemp products completely legal. However, for most individuals, this caused some confusion.  People started to wonder: what is the difference between marijuana and hemp-derived CBD? Is CBD legal in Delaware, and where can you buy it? These became increasingly common questions for people in the state.
Hemp-Derived CBD Products are Legal
As mentioned earlier, cannabidiol comes from the Cannabis Sativa L. Federally; the product can contain up to 0.3% THC. Marijuana-derived products contain much more than that percentage and, like marijuana itself, are illegal for recreational use in Delaware. Thus, the thing to keep in mind is that the legal difference between marijuana and hemp is the THC amount present. Furthermore, the passage of SB 266 made the cultivation of hemp legal in the state for academic and research purposes.
For the product to be legal in the state, it needs to have less than 0.3% THC. If that's the case, any adult above 18 years can buy it, even without a prescription. As a result, there has been a rise in shops selling CBD oil in the state. The expectation is that this demand for CBD continues to grow as the awareness and popularity of the product increases. Doing a simple 'CBD oil Near Me' or 'CBD Stores Near Me' online search shall give you the address of quite a few shops selling it.
Marijuana-Derived CBD in Delaware
Marijuana is still a Schedule 1 drug under federal law, even with the recent legalization in many states. The federal government still classifies the possession of marijuana as a felony, which can lead to hefty fines and jail sentences.
Unfortunately, Delaware isn't like California or Colorado when it comes to marijuana. The possession of less than one ounce of the product is punishable. The maximum fine being $100 without jail time.
Anything more than an ounce but less than 175 grams is punishable with a fine of up to $570 and 3 months in jail. Possession of over 175 grams leads to a minimum of 3 years and hefty fines, depending on the amount they catch you with.
Is CBD Oil Legal in Delaware? Medical Marijuana's Exceptions
As said before, Delaware introduced a medical marijuana program in 2011. That made it the 16th state to allow the use of marijuana for medical purposes legal. This act allowed people in the state to apply for a medical marijuana card once they've received a prescription from their doctor.
The card calls for a $125 application free. You also need to have one of the following conditions in order to be eligible:
Alzheimer's Disease
Autism
Cancer
HIV/AIDS
Crohn's Disease
Seizures
Post-Traumatic Stress Disorder (PTSD)
Severe nausea
Wasting Syndrome or Cachexia
Terminal illness
Decompensated Cirrhosis
But there is one unappealing aspect of medical marijuana law in Delaware. It does not prevent arrest for possession of marijuana. It just gives you the right to legal defense if you are to face prosecution.
If they catch you with less than 6 ounces of marijuana obtained for medicinal purposes and your doctor can prove you are likely to benefit from the product, chances are they'll drop the charges against you. However, this does not save you the ordeal that comes with an arrest and trial.
Are Hemp-Derived CBD Products Safe?
When you deal with a high-quality retailer, you can rest assured that all CBD products are safe for you to use. They are legally obligated to ensure their hemp-derived CBD products contain no more than 0.3% THC. Also, they make their product using top of the line extraction methods. Finally, a 3rd party lab test to confirm its composition will have its results written on the label. This is the ultimate sign of quality CBD.
Can Hemp-Derived CBD Cause You to Fail A Drug Test?
As long as you consume high-quality, vetted hemp-derived CBD products, it's highly unlikely to test positive for THC and THC-COOH in a drug test. Even so, it is most important to keep in mind that very high doses of the product can lead to a positive urine screen.
Ideally, you need to find out the specific regulations brought forward by your employer and adjust your CBD consumption accordingly.
Isolate or Full-Spectrum CBD
CBD isolate is CBD in its purest form, while the full-spectrum does not fully remove the other cannabis plant compounds. When you pick full-spectrum CBD, you get to consume other beneficial compounds and cannabinoids, including flavonoids, terpenes, minerals, vitamins, and of course, less than 0.3% THC. All these compounds work in tandem to give what's known as the entourage effect.
CBD isolate undergoes processing to have 99% pure CBD and 0% THC. The powder is then turned into different CBD isolate products like edibles and oils. If you are looking to experience the entourage effect, then go for full-spectrum CBD. The entourage effect shows how the whole has a bigger effect than its individual parts.
Where to Buy CBD In Delaware
The answer to the question is CBD legal in Delaware is a resounding Yes. But where can you legally get the products in the state?
In most cases, it is best to buy CBD products online. This has many advantages, including taking the time to research the brands and products. On their website, you can also look at the test results. Finally, you get to have the CBD oil delivered right to your home.
Also, by getting your CBD from an online shop, you can enjoy their low prices. See, since they got less overhead than a brick-and-mortar shop, they enjoy reflecting that on their prices. New products come up often; most offline stores are hesitant to order them until they prove popular. Well, it's online selling that actually makes them popular in the first place. Thus, you can always find a bigger selection of products in an online shop than in a brick and mortar one.
Rather than having to drive around town looking into different stores, you can comfortably browse from the comfort of your home. Just click to pick the right dealer and product for you.
Is CBD Legal in Delaware? – The Takeaway
Delaware residents still cannot legally enjoy marijuana for recreational purposes. Yet, the state has a marijuana medical program for eligible patients. It also allows the sale of CBD products derived from hemp.
Thus, there are also quite a number of shops to buy high-quality CBD in Delaware, both online and offline. While you might get to enjoy getting your CBD right away, waiting for online shopping to arrive has its perks. Online sellers tend to have better deals compared to in-store vendors and have a bigger range of products to pick from. Researching your potential dealer is easier this way as you can review their site, assess third party laboratory reports, and even read customer reviews to get a clear picture of the supplier.
Also, since the CBD market is still new, it's no surprise stumbling upon sketchy sellers that sell CBD of questionable composition. Thus, better do your homework, background check your online suppliers in order to enjoy the best CBD you can find in Delaware.