Is CBD Legal in Arkansas? What You Need to Know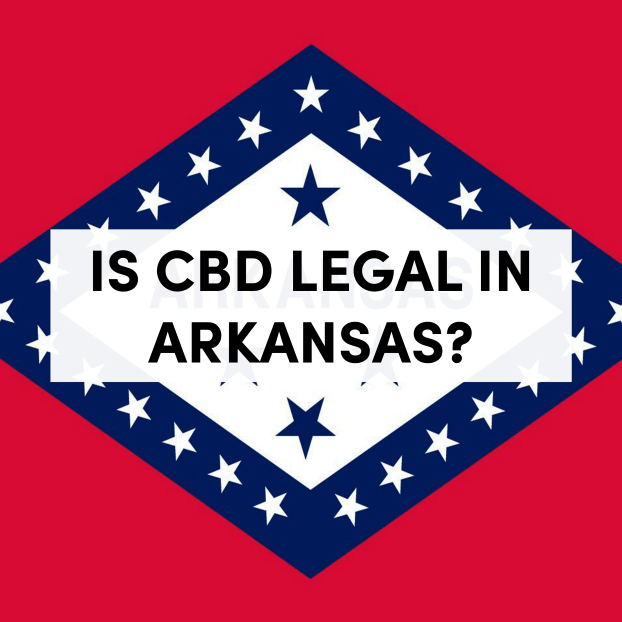 Posted on January 4th, 2021
Is CBD legal in Arkansas? The answer would be: "Yes." Generally, hemp-derived CBD products are legal and easy to get in Arkansas. The state's CBD laws and regulations adhere to federal rules specified in the 2018 Farm Bill. However, a couple of current legislation brought some crucial changes at the state level.
Much like federal laws, Arkansas distinguishes between marijuana plants and hemp plants, both being varieties of cannabis. It legally defines the former as plants that consist of more than 0.3% THC, while the latter is a plant that consists of less than 0.3% THC.
Arkansas passed legislation back in 2019 that deducts hemp-derived products from the state's comprehensive list of controlled substances. This, together with earlier laws associated with CBD products, made Arkansas's laws much more concise. It also effectively legalized CBD. For this reason, CBD and CBD products are currently accessible both online and in stores all over the state.
Is CBD Legal in Arkansas? CBD Laws
As mentioned, buying and using hemp-derived CBD products in this state is completely legal. The Arkansas Industrial Hemp Act became law in 2017. It created a research program to evaluate the agricultural and economic potential of hemp production in Arkansas.
Generally speaking, the state adheres to federal laws associated with cannabidiol – as specified in the 2018 Farm Bill. According to the bill, all 50 states may now grow, transport, and sell hemp-derived CBD. Based on federal law, the state classifies cannabis depending on the tetrahydrocannabinol (THC) content within the hemp plant. Typically, a cannabis plant with more than 0.3% THC content is the same as marijuana in the eyes of the law. Thus, those with less, the law legally defines as hemp.
As you might know, cannabis plants contain THC, which is its primary psychotropic compound. THC in high quantities will give you the 'high' you would experience if you ingested cannabis. In 2019, Arkansas introduced a new law. It ultimately removed hemp-derived CBD products from the state's own list of illegal substances.
Together with earlier regulations, this legislation essentially made hemp CBD legal. Ultimately, this made the state very open to CBD production. As a result, cannabidiol products in Arkansas are readily available both in online shops and physical stores.
More About Arkansas CBD Laws
The Arkansas State Plant Board (ASPB) formed a few months following the 2018 Farm Bill's passing. Under the Department of Agriculture, this group has been responsible for leading the state's hemp program since 2018. As a general rule, the ASPB requires all hemp producers to have a license to grow, sell, and process raw hemp and its byproducts. Below are a few laws to consider:
Arkansas Medical Marijuana Amendment
The lawmakers introduced marijuana prohibition laws in Arkansas in 1923. It was during this year that states such as Washington, Oregon, and Nevada also banned cannabis. Later in 2016, Arkansas introduced a law that allowed marijuana's medical use under state law. Thus, enabling cannabis use based on the medical marijuana program.
In most cases, people qualified to obtain marijuana treatment are patients with medical conditions, such as severe arthritis, ulcerative colitis, glaucoma, and cancer. They would need a written prescription from a qualified physician in the state before being able to use cannabis. In general, the legislation covers all CBD oil products obtained from marijuana plants.
House Bill 1778
This House Bill 1778 led to the formation of the Arkansas Industrial Hemp Act and the start of a research program. The law was written by David Hillman, a Representative, to encourage studies on the various economic advantages of industrial hemp production in Arkansas. In April 2017, the bill passed and became a law. Hillman essentially based the law on the hemp research program of the state of Kentucky.
House Bill 1518
In February 2019, a Representative called Justin Boyd introduced House Bill 1518, which saw approval a month later. The bill eliminated industrial hemp-derived CBD products from Arkansas's long list of controlled substances. The law further isolated marijuana from hemp. Thus, making it legal for all hemp farmers to grow, cultivate, and sell hemp-obtained products.
What Are the Licensing Requirements?
Based on the Arkansas Department of Agriculture, interested industrial hemp processors and growers need to submit a few things:
A complete application form.
An industrial hemp license fee of $200 for every application approved.
A non-refundable $50 application fee.
Apart from the licensing fee, the department requests applicants to pay program fees before issuing licenses. When it comes to approved growers, they often send an invoice for their applied acreage charging $100 for each greenhouse and a $100 GPS verification fee for every location ID.
For approved processors, they send an invoice for their applied processor fee and a $100 GPS verification fee for every approved location ID. Therefore, each applicant requires going through the program requirements and the Arkansas Industrial Hemp Act before applying for a license.
The Testing Requirements
Primarily, the Arkansas Department of Agriculture is responsible for sampling and testing the industrial hemp of its license holders. As a general rule, hemp plants shouldn't surpass the THC threshold of 0.3% outlined in the 2018 Farm Bill.
The department samples and inspects the license holder's hemp plots meant for harvest. Each variety also undergoes testing to ensure they meet the 0.3% THC threshold.

Is CBD Legal in Arkansas? – How Do I Buy It?
You can buy CBD almost anywhere in Arkansas. Often, retailers do sell cannabidiol products even if they don't have a license. Also, buyers don't need a prescription. But, because of new state policies, relatively low-quality cannabidiol products are rampant. Unethical brands sell subpar CBD. What's more, there might be brands that deliberately mislabel the quantity of THC or CBD in their products.
As a result, a lack of third-party testing might result in you purchasing CBD products not potent enough or with unchecked additives present. Therefore, you need to be careful who you are buying from.
Is CBD Legal in Arkansas? Where Do You Buy It?
In the state of Arkansas, there are, at the time of this writing, 30+ licensed dispensaries. Yet, not all of them are currently operating. If there is not a licensed dispensary nearby, you can get CBD in other places like vape stores and health shops. The most convenient way to buy CBD in Arkansas is via an online dispensary. Generally, users may compare different products from their homes' comfort.
However, you can also buy CBD online in Arkansas, and it might be the best way to do so. See, when buying online, you can take your time and do a background check on the retailers. The best retailers openly share their test results and label info online. Said test results often confirm the potency, THC content, cannabinoid, and terpene profile. Also, customer reviews are a click away for you to check past users' opinions on the product you are looking to buy.
How Do You Choose Which CBD Product to Purchase?
There is a wide variety of CBD hemp products available on the market today. CBD comes in topical, gummies, dab, vapes, tinctures, cosmetics, and many more presentations.
Which one is best for you? That depends on your particular goals. For example, oils are for those that want to feel CBD's therapeutic effects rather fast. Here are some of the things to bear in mind when looking for top-quality CBD products:
The brand should provide a comprehensive description of the product on their website. If they don't have one, that's a bad sign.
Check the product's THC level on the label or its Certificate of Analysis (COA).
Go through the product's user reviews to see if anyone's got something good to say about it.
If you're in Arkansas, you don't need a prescription to buy CBD products with less than 0.3% THC. Yet, can actually buy CBD products above the legal THC percentage level if you have a physician's written prescription for it.
Is CBD Legal in Arkansas? The Takeaway
Arkansas is among the most lenient states when dealing with CBD. They have a pretty flexible hemp pilot program to motivate farmers to experiment on the up-and-coming crop. They also allow just about any person to sell CBD without going through a licensing process.  Consumers often have a wide range of products to choose from.
Beware, the more lenient approach also opens the door for negligent brands to profit from unethical products. They might either use sub-par grown hemp or put misleading labels on it.
Therefore, if you want to save yourself the trouble and have the best shopping experience, buy CBD online. High-quality brands are always an open book for their customers to go over and make sure they are buying right. Also, online retailers have one thing you don't want to miss: lower prices. Since they have not to pay storefront and have, likely, less staff, they got less overhead than a physical store, which they often reflect on their prices for you, the customer. Just remember, if the online supplier you are looking to buy from is dodgy with sharing their test results, look elsewhere.