Is CBD a Relapse?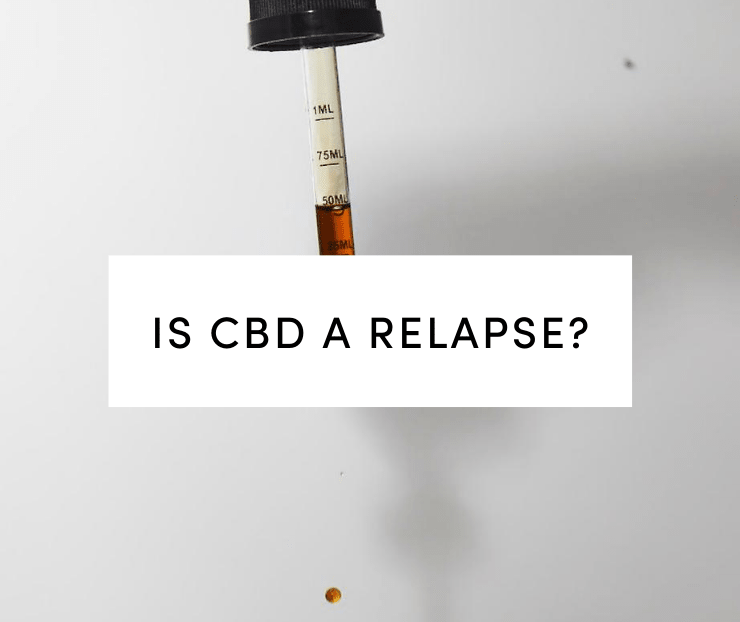 Posted on August 3rd, 2020
Lately, CBD has been commonly mentioned in recent news and on the internet as a new and revolutionary way to potentially help manage a variety of conditions. Cannabidiol, which is CBD in full, makes up one of the main active ingredients in cannabis. However, it's not a psychoactive ingredient, meaning it won't give you a "high". Tetrahydrocannabinol (THC) is the ingredient responsible for that. And if you're in recovery and are interested in using CBD, you are most likely wondering if it would be considered a relapse.
After all, CBD is still an active ingredient of marijuana, which is known for its psychoactive substances. Moreover, many people argue that marijuana has the potential to retrigger a full-blown addiction, and actually using marijuana can be considered a symptom of continued addiction. Others claim that non-compulsive and responsible use of marijuana is the total opposite of addiction, advocating that its use can help with the management of some withdrawal symptoms, including cravings.
However, advocates of CBD have complicated this argument further, and for a good reason. While CBD can be found in marijuana, it is also one of the main cannabinoids found in the hemp plant, and furthermore, can be used as a hemp-derived product with trace amounts of the psychoactive THC. 
What Is CBD?
CBD is in general terms the ingredient of the cannabis or hemp plant that is responsible for many potential health effects associated with cannabis. It was recently approved by the FDA for use in the treatment of two rare and severe forms of epilepsy in the form of a drug called Epidiolex.
While seizures are currently the only marketed use for the drug, it is believed that CBD has the potential to help with other health conditions, such as alleviating stress and aches.
Perhaps the best thing about CBD is that it may deliver these beneficial effects and more without getting the user high. CBD is a non-intoxicating substance, or more specifically, it doesn't activate the endocannabinoid receptors responsible for the intoxicating effects of THC. CBD influences the brain enough to, for instance, help alleviate stress or pain, without causing euphoria. 
Can CBD Help With Addiction Recovery?
CBD (and other cannabinoids) usually work by influencing the endocannabinoid system. This is a naturally occurring system made up of receptors CB1 and CB2, along with chemicals known as endocannabinoids. Whenever endocannabinoids bind with CB1 and CB2 receptors, they have the potential to produce a wide range of regulatory effects on the body, including regulating the levels of some neurotransmitters. 
Neurotransmitters are compounds in our nervous system that are responsible for controlling sleep, mood, appetite, behavior, and more. Certain neurotransmitters are involved with addiction, especially dopamine and glutamine. Both are commonly associated with the reward centers of our brains, and they enhance the effects of drugs and even increase the risk of relapsing for former users. 
While THC can be an addictive substance by itself, CBD is not. In fact, it has been shown to potentially regulate compulsive behavior and the stress response. CBD may have an effect on the opioid receptors, which could make it helpful for those recovering from opioid addiction. 
Why Is CBD Popular Now?
When the U.S. Farm Bill was passed in 2018, the federal government removed hemp products from the DEA's list of Schedule 1 substances. While this had no effect on the existing state-level cannabis programs, the bill led to an explosion of hemp-derived products in the market and gave growers the freedom to cultivate hemp for commercial purposes. Still, the crop is highly regulated in the U.S. with some rather strict provisions. 
Is CBD Legal?
There's a slightly complex regulatory framework surrounding CBD. The hemp plant contains a trace amount of THC, and if a CBD product exceeds 0.3% THC levels (by dry weight), it's considered marijuana by the government. This means that to be legal, a CBD product has to contain less than 0.3% THC. This is one reason why it's important to purchase quality products from a reputable source.
It's important to note that CBD derived from marijuana is illegal at the federal level, and is still classified as a controlled substance, no matter the percentage of THC. Even in the states where marijuana is legal, there are some restrictions on where CBD products can be sold and how they're marketed. 
Is CBD Addictive?
Those in recovery may not just be wondering if CBD is considered a relapse, but might also question if it's addictive. From the numerous clinical trials, studies, and research, CBD does not appear to be addictive. The main challenge is not knowing exactly what you're buying when you get CBD, in case your CBD includes high amounts of THC, that may be a different story. It's important to purchase high-quality CBD products from a reputable source. Be sure to look for a company that provides a certificate of analysis and third-party testing. 
Some important notes to consider before purchasing CBD:
Because CBD is not regulated by the FDA, it's important to know what you're getting in your CBD product. This is where third-party testing comes in. Third-party testing provides a certificate of analysis to allow the consumer to know what is in the CBD product. It's important to know not only what you're getting, but the amount of CBD and other cannabinoids which would affect the dosage and purity of the product. 

It is always important to speak with your physician before you start using CBD. Your physician will better understand how CBD can be used in your routine, and how it may interact with any of your current medications.  
Is CBD Safe?
According to the World Health Organization, CBD is a well-tolerated substance with a good safety profile. In their report, CBD was found to exhibit no effects that are indicative of any dependence or abuse potential. To this date, no evidence exists on any public health-related issues associated with the use of pure CBD. 
Mayo Clinic points out that while CBD is often well-tolerated, it could cause some side effects like diarrhea, dry mouth, drowsiness, reduced appetite, and fatigue. One key challenge for the CBD industry is that currently, the FDA is yet to substantiate the potential benefits or risks. 
Will CBD Make Me Fail a Drug Test?
The amount of THC contained in the product is critical here. Most of the drug screening tests usually look for a compound created when THC is metabolized in the body. To ensure that the CBD products you buy don't have more THC than claimed, be sure to see if the manufacture provides a Certificate of Analysis for its products. CBD products from reputable CBD brands and hemp growers should not cause any issues with drug tests. However, if you are concerned, you may consider using a CBD isolate, which is the purest form of CBD and contains no other cannabinoids.
How Might CBD Affect My Recovery?
If you're wondering if CBD is a relapse, it's important to remember that addiction recovery is an individual process. It may not be a straightforward question for all, as this may depend on the individual. There are people who feel that even using the prescribed anti-depressants is affronting their recovery because it makes them continue relying on drugs. Others are less strict, recognizing that we may all rely on different types of substances throughout our lives. 
Generally speaking, if your use of any substance is not compulsive and persistent despite negative consequences, then it shouldn't meet the criteria for addiction. Since CBD doesn't produce euphoria, it's unlikely to lead to that kind of use. Plus, it also doesn't produce any significant negative consequences like failed drug tests, which may make it a safe alternative for those battling with symptoms of depression, anxiety, pain, and other issues you might be facing in your recovery. 
Using CBD for Addiction
The ideal way to work CBD into your life is by using a CBD product that has been specially formulated. There are many products to choose from, some of which allow you to take CBD orally in the form of a tincture, water-soluble, or capsule. It's also available as vape e-liquid, premade edibles, topical creams, and more. 
Whatever product you choose, ensure that you read the included instructions. If you're just starting CBD it's wise to begin with small doses and build up as you learn how the product affects you. 
More importantly, while CBD may have the potential to help with addiction recovery, it's not a substitute for proper medical care. So, if you or a loved one is struggling with addiction recovery, it's important to seek help from a qualified healthcare professional to ensure that you receive the support and guidance you need. 
Conclusion
If you're in recovery and you feel like you might benefit from CBD, but are worried about a relapse, always make sure that you maintain a clear line between the use of this product and other drugs. It's important to know the difference between using CBD oil for relaxation and using a product with high THC content. And as always, make sure your CBD products come from a reputable source and speak with your physician introducing CBD into your routine.