How to Get CBD Oil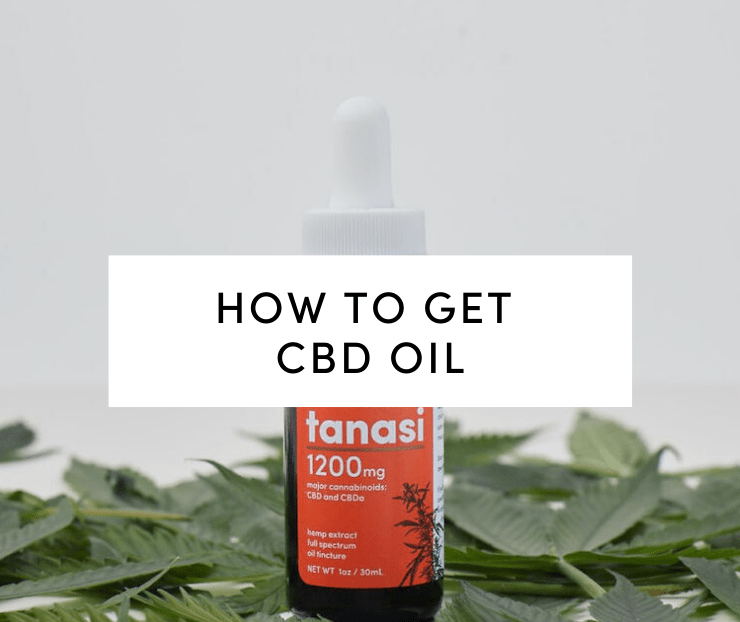 Posted on July 16th, 2020
Looking to join the growing army of people using CBD for its reported health benefits? Well, we believe you're on the right track. But now comes the big questions, like what's the best way to get CBD? Or, how much CBD should you take? 
The sheer variety of CBD products on the market today can be overwhelming. Each method of delivering CBD into your body takes a different absorption route, which will affect what you can use it for and how often you take your doses. Ready to add to that confusion? Your body will generally respond differently to CBD than will someone else's: no one way works for everyone. In this guide, you will learn about all the different ways to get CBD, whether you're shopping for your first product or are looking to optimize your current routine. 
Where to Buy CBD
Thanks to hemp's legalization all over the country, along with the growing body of research supporting its therapeutic effects, the demand for CBD oil rose dramatically over the last few years. This rise has been matched by a drastic increase in the variety of products available on the market. Knowing where to buy your CBD and what to look for is vital for both beginners and veterans, so you can select quality products that work for you.
Generally speaking, you have four options when buying CBD:
Dispensaries and stores that specialize in cannabis products and their accessories

Recreational dispensaries licensed to sell cannabis products to the public in states where they are legal 

Medical dispensaries that sell cannabis products to customers with a medical marijuana prescription or card

Online CBD shops, which sell cannabis and CBD products online
When shopping for CBD products at a dispensary or an online shop, you should ask the seller about the level of THC contained in the product you wish to buy, and how the CBD was sourced. For instance, is the CBD derived from industrial hemp, or is it from a low THC strain of cannabis? To avoid the psychoactive effects of THC, stick to CBD extracted from industrial hemp. CBD must contain less than 0.3% THC in order to be legally permitted at the federal level. 
What to Look for in a CBD Product
No matter the kind of CBD product you choose, there are a number of things you will want to consider as you shop. 
Full or broad-spectrum: Look for full or broad-spectrum CBD products instead of CBD isolate or distillate, to enjoy the full scope of health benefits associated with this cannabis plant extract. Full-spectrum oils contain all of the cannabinoids in the cannabis plant, including low levels of THC and high CBD concentrations. Broad-spectrum oils, on the other hand, contain a wide range of cannabinoids, but no THC. Both full and broad-spectrum products are generally less processed, meaning they retain some additional cannabis compounds, like terpenes, that carry their own benefits.
Lab Tested: CBD products are currently not regulated by the FDA. As such, it's important to make sure you buy CBD that's lab-tested by a third party. This ensures you know exactly what your product contains, and verifies your product's stated ingredients and concentrations.  
Organic, U.S. Grown Cannabis: It's wise to look for products made from U.S. grown, organic cannabis. This cannabis is subject to strict agricultural regulations and won't contain more than 0.3% THC. It also means that they're less likely to contain chemicals like pesticides. 
How to Take CBD Oil
Inhalation
CBD inhalation is one of the fastest ways to enjoy its benefits, as it goes straight into your lungs and bloodstream. CBD oil can be inhaled in two ways: vaping and smoking. 
Vaping CBD Oil
You can vape CBD oil using a vaporizer pen. Vaping is considered an alternative to smoking but contains its own inherent risks. 
Pros of Vaping
No smoke to irritate your lungs or throat

High concentration of CBD Vape Oil for maximum possible effects

Allows you to easily control your dosage
Cons of Vaping
Requires you to buy vaping accessories

The high concentration might be more than you want

Vaping is associated with several serious lung injuries 
Smoking CBD
You can smoke CBD by rolling a joint of dried, rolled hemp, or by using an oil rig, which is similar to a water pipe. Many people prefer rolling joints because they are easy to carry around and are more convenient because no batteries or assembly is required. 
Pros of Smoking CBD
Easy to manage the volume of CBD consumption

Delivers the highest CBD concentration in the fastest way
Cons of Smoking
The smoke can be harsh on your throat or lungs

Requires tools like a dabber, joint paper, lighter, etc.

The high concentration could lead to excessive dosing
Sublingual (Under the Tongue)
You can also buy CBD oil tinctures, which are little bottles that look like eye drops, and take your CBD sublingually. With this form of CBD, you just use the included dropper to apply several drops under your tongue. Then, just hold it in your mouth for about 30 seconds, then swallow. 
Pros of Sublingual CBD Consumption
It's a discreet way to take CBD

Easy to use, requiring no extra accessories

Has a long-lasting effect on your body

Easy to control your dosage
Cons of Sublingual CBD Consumption
Results vary from person to person

Slightly longer time to experience CBD effects

Some CBD tinctures contain alcohol (though others are made with vegetable oil)
Topical Application
Another way to use CBD oil is via topical application. This means applying the CBD directly on your skin in the form of a lotion, salve, or ointment. It's one of the most effective methods if you're using CBD for migraines, sore muscles, skin conditions like acne, or sore spots like your back, neck, or feet. 
Pros of Topical Application
No extra tools or resources required

Easy to use

Has the mildest effects compared to other consumption alternatives

Great for chronic pain and sore muscles
Cons of Topical Application
Since it has mild effects, you might need to use more CBD

The effects happen quickly but don't last as long as other methods
Ingestion
Using an infused CBD oil in your cooking is a great dosing option. You can get CBD edibles in full or broad-spectrum form. You can also create CBD edibles on your own like CBD infused pasta or butter. However, it's important to know how much CBD oil you put in your edibles. The effects of taking CBD from edibles can take anywhere from 2 to 4 hours to kick in, so it's wise not to eat too much. Wait a few hours to see how you feel before you eat more. 
Pros of Ingesting CBD Oil
Gives you the longest-lasting effects of CBD compared to other options

Very discreet as it only looks like you're eating something

Virtually endless options in terms of how to eat and make CBD edibles
Cons of Ingesting CBD Oil
Getting the right dosage is tricky, and you may need to do some experimentation

It takes up to 4 hours for the effects to kick in
What's the Right Amount of CBD Oil to Take?
CBD oil doses are hard to determine, especially for beginners. This is because the FDA hasn't yet established formal nutritional guidelines for CBD products. As such, there's no RDI (Recommended Daily Intake) for CBD. 
The right amount of CBD to take therefore largely depends on why you're taking it, the strength of the CBD product you choose, and your weight. Everyone's endocannabinoid system is different, so the right dosage will vary. Some people may find relief after taking 5 mg twice a day, while others will need close to 100mg or more four times a day.
Keep in mind that the reason you're taking CBD oil, whether it's to ease pain or for other reasons like insomnia or anxiety, will determine the amount of CBD you should take. Although it's difficult to get exact CBD dosage and serving size recommendations, we recommend using a dosage calculator to help your optimal amount. The key is to start low and go slow until you find the perfect dosage. 
Final Thoughts
All in all, how you take your CBD is entirely up to you. We can't really advocate for one best method of consuming CBD, because it ultimately depends on many factors.
If, however, you're a beginner, we recommend trying out CBD oils first. They are easy to dose and add into your daily routine. They also take effect quickly, are safe to use, and have the potential to address a variety of conditions. More importantly, the oils are available in a wide variety of strengths. This is important because if you're just starting out with CBD, you should ideally start with a low-strength product and work your way up to the minimum viable dosage that delivers your desired results.