How CBD Edibles Can Rock Your Day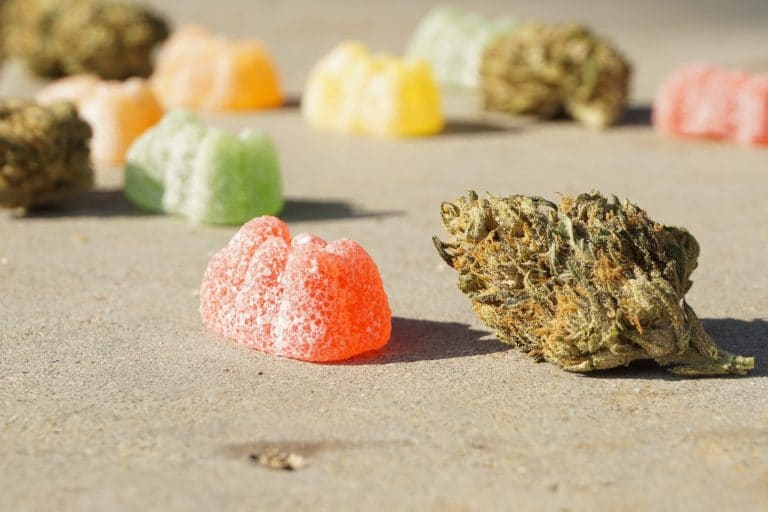 Posted on October 28th, 2021
CBD edibles offer a fun way to enjoy hemp extracts.  Since cannabidiol is linked to pain relief, CBD edibles may offer an all-natural way to manage your symptoms. And it could do so without the side effects of prescription opioid drugs. We source legal CBD from hemp plants, with just trace amounts of THC, so these edibles won't give you that high associated with marijuana use.
CBD edibles may also offer additional benefits. Some people say they help with better sleep quality and reduced stress, thanks to cannabidiol's interaction with serotonin in your brain. So if you want to feel better, manage pain and anxiety, and bring a sense of calm, CBD edibles could be your solution! Let's learn more.
What is CBD and what are the benefits of CBD edibles
CBD is the abbreviation for Cannabidiol, a chemical compound found in cannabis plants. Many people use CBD edibles to reduce stress, pain, and anxiety, as we just mentioned. We extract CBD from hemp plants, so it does not contain enough THC to make you feel "high." And, thanks to new regulations, hemp-sourced CBD is legal at a federal level in the United States.
As a plant-based supplement, many people hope to use CBD edibles as an alternative to over-the-counter medications. But, while some effects may help you manage unwanted symptoms, you should never stop taking prescribed medications without your healthcare provider's approval.
How To Use CBD Edibles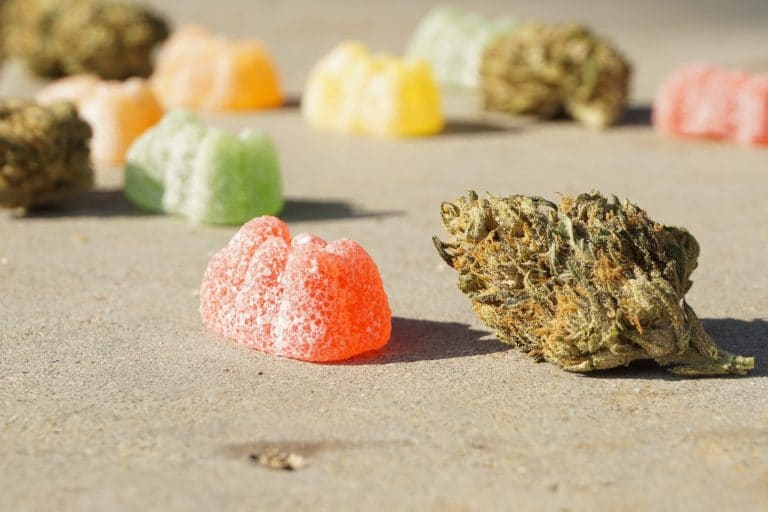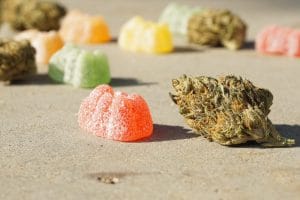 You dose this form of CBD orally. And edibles come in many forms, such as gummy bears, hard candies, lollipops, chocolate bars or any other food you can think of.
You can also add CBD oil to many recipes if you're concerned about dosage or taste.  Plus, this is a safer CBD delivery method than vaping or smoking, which are both linked to potential lung injuries.
Where can you purchase CBD products?
If you're looking for a safe and reliable CBD product, we offer a range of products on our website. And you can find the right type of CBD Edibles for you by doing some research. You can purchase edibles online, or in stores. But when you shop from an online CBD store, you're likely to enjoy a wider range of product choices. Plus, prices tend to be lower on the web than in brick and mortar stores. And it's often easier to find your CBD's certificate of analysis when shopping online.
Can CBD Edibles Get You High?
CBD edibles won't cause you to get high, as CBD is not psychoactive. Remember, CBD is a non-intoxicating cannabinoid. And even when you choose a full-spectrum CBD oil, which does contain trace amounts of THC, you still won't get high. That's because these THC levels are less than 0.3% of your total product. So there's not enough psychoactive compound to alter your mental state.
What Are The Benefits Of CBD Edibles?
CBD edibles may help reduce stress, pain, and/or anxiety. They may also help you manage sleep disorders; depression caused by mood disorders or chronic pain; seizures; cancer symptoms (more research is needed to support the anti-tumor effects, but they do seem effective at targeting nausea from chemotherapy treatment); muscle spasms, epilepsy, inflammation, arthritis pain, and more.
What Kinds Of CBD Edibles Are Out There?
Some CBD edibles are made with coconut oil to create a honey-like texture that you can easily mix into any food or beverage of your choice. It's easily digested, so some people with digestive disorders such as Crohn's disease or irritable bowel syndrome may still be able to enjoy this product.
CBD edibles are made with a variety of different ingredients. Some contain chocolate, while others have a sugary coating, just like your favorite treats. Pets can enjoy certain CBD edibles as well, so feel free to share with your furry friends, after consulting with your vet. Whether you want a chocolatey treat or one of your favorite dipped-childhood snacks, there's a CBD edible out there for everyone! Just try a few different options, until you find your favorite choice.
Sourcing High-Quality Product
As we mentioned, CBD edibles may help reduce stress, pain, and anxiety. They may also help manage symptoms of many other serious conditions. But that's only true if you choose a high-quality product. And if the product you buy actually contains the promised ingredients.
First of all, if you want to get the most out of CBD edibles, make sure that they're sourced from high-quality cannabis. If possible, look for U.S. grown hemp, since the federal government makes sure the plants grow free from harmful chemicals. And that keeps your end-product safe and pure.
You should also look for a product with lab tests verifying its safety and potency. With all the options on the market today, it can be difficult to know what is best for your needs. We recommend taking time to read reviews before buying any new products. That way, you'll have a better idea about how other people have used the same product. And this can help you feel better about trying it yourself!
It's important to remember that hemp-sourced CBD edibles are not psychoactive.  When containing less than the legal THC limit, they won't get you "high." But if you purchase a CBD product with more than 0.3% THC content, you could be in trouble legally. So that lab-tested certificate of analysis is very important.
Here's the good news: CBD edibles have a cumulative effect in your body. So, while it may take some time for you to notice their effects at first, the cannabidiol will build up in your body.  Soon, if you stick with your daily CBD routine, you should be able to see a difference in how you feel after dosing.
As you can see, CBD edibles are a tasty natural supplement. And thanks to its sweet flavor and convenient packaging, it could be an easy addition to your daily wellness routine. So, whether you are dealing with physical or mental issues, or simply want to try something new, CBD edibles could be a great addition to your pantry.