Is Hemp Seed Massage Oil Better than Other Massage Oils?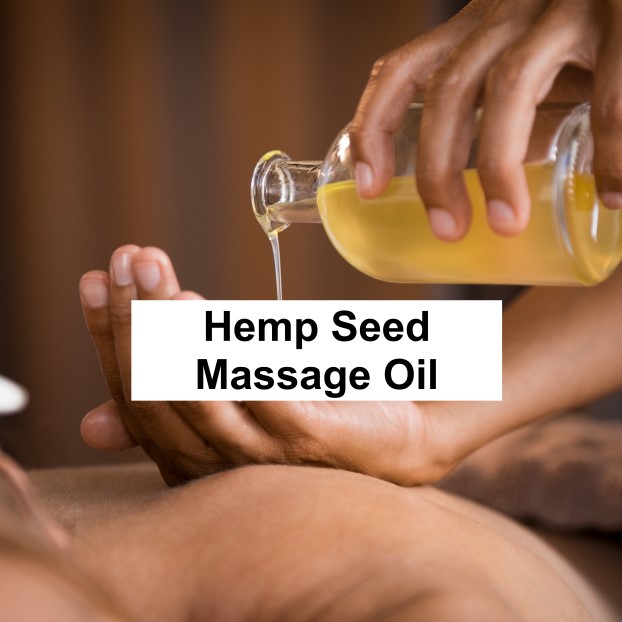 Posted on February 16th, 2021
Hemp seeds are seeds of Cannabis sativa, more commonly referred to as the hemp plant. Said seeds come from the same species that produces marijuana, the cannabis plant, yet, they are actually a different variety. The advantage of hemp seeds is that they hardly contain traces of marijuana or THC, the psychoactive cannabinoids. Hemp seeds, particularly, are full of protein, minerals, and healthy fats, including Omega 3s and Omega 6s. Thus, making them one of the most nutritious both for eating and as the basis for one of the best massage oils. Many people consider hemp seeds a superfood. Could hemp seed massage oil also be a sort of 'super massage oil' based on the quality of its source ingredient? Let's find out
Nutritional Benefits
As stated, hemp seed is a superfood of sorts. The seeds have a lot of elements that make them so, among them: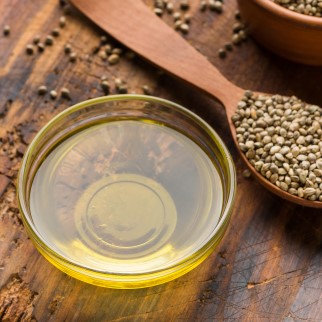 1. Protein
three tablespoons of hemp seed contain approximately 9.46 gm of protein. This is almost equal to the protein content of soybeans. Hemp seeds, with their high protein content, provide nine essential amino acids. These amino acids develop into the building blocks for proteins. Only a handful of plant-based foods are actually complete sources of protein; this is one of them. These seeds also have a high percentage of an amino acid called arginine that works wonders for heart health.
2. Unsaturated Fat
Polyunsaturated fat in hemp seeds contains omega-3 fatty acids and alpha-linolenic acid (omega-3). Usually, people consume more Omega-6 fatty acids and not Omega-3 fatty acids. Eating hemp seeds can balance that percentage in a swift way.
3. Fiber
The outer shell of hemp seeds contains a significant amount of fiber. Eating it could stabilize blood sugar levels on top of promoting gut health for a two-on-one healthy punch.
4. Vitamins And Minerals
Hemp seeds have Vitamin E, phosphorus, magnesium, and potassium. They are also a rich source of zinc, Vitamin B, and iron, including riboflavin, niacin, Vitamin B-6, thiamine, and folate. A true multivitamin and supplement.
Health Benefits
As hinted by the quality of their nutritional characteristic, hemp seeds also give out many health benefits if you eat them.
1. Protects The Brain
According to a Food Chemistry journal, hemp seed extracts have antioxidant effects. Experts links this effect to the antioxidant effects CBD derived from industrial hemp has. A 2018 study suggests that CBD and hemp seeds both provide antioxidant, anti-inflammatory, and neuroprotective effects. Thus, they might help boost your immune system in the long run. Ultimately, said properties make hemp seeds useful as a supplement for combating neurological conditions. Neuropathic pain, Alzheimer's disease, Parkinson's disease, childhood seizure disorders, and multiple sclerosis are some of the theorized conditions which hemp seeds might help with.
2. Improves Heart Health
Omega-3 fatty acids in hemp seeds might help keep the heart healthy and reduce risks for conditions such as arrhythmia. The seeds also consist of arginine, which converts into nitric oxide. Nitric oxide is useful for vein and artery dilation, which will boost the elasticity of blood vessels and keeps them smooth. Using hemp seeds daily, along with a healthy diet and low-intensity exercise, can keep the heart risk of strokes and heart failure in check.
3. Reduces inflammation
The balanced ratio of Omega-3 and Omega-6 fatty acids reduces inflammation significantly. Apart from healthy fatty acids, hemp seeds are also a rich source of GLA or gamma-linolenic acid. Polyunsaturated fatty acids are responsible for producing anti-inflammatory effects. Many studies suggest that GLA does wonders for us and are a convenient, easy way to get some of it. Reducing inflammation, it's also something that helps manage various chronic diseases. These include arthritis, metabolic syndrome, non-alcoholic fatty liver disease, heart disease, and type-2 diabetes.
4. Helps Deal with Skin Conditions
Acne and atopic dermatitis are usually the results of chronic inflammation. But hempseed's anti-inflammatory properties might be able to do much for those. According to a 2018 study, dietary changes and general lifestyle affect a person's skin. Yet, Omega-3 fatty acids can improve skin conditions and minimize conditions like acne. Therefore, eating hemp seeds, a great source of omega-3 fatty acid, is great for treating skin conditions.
5. Reduces Rheumatoid Arthritis
This autoimmune condition makes bone joints incredible difficult to move, and it's very painful. It will trigger the body's immune system to attack its own tissues, which leads to joint inflammation. Hemp seeds derivative, hemp seed oil, might be a great way to topically treat inflammation. Just apply to the skin the way you would a CBD oil or balm and wait for its anti-inflammatory effects to give you some relief.
Difference Between Hemp Seed and Industrial Hemp
As mentioned, hemp seed provides both nutritional and health benefits. But many people think that hemp and industrial hemp are the same. Well, many differences set hemp seed apart from industrial hemp. First of all, experts use hemp seeds to make hemp seed oil apart from eating the hemp seeds on their own, as many people do. On the other hand, industrial hemp is useful for making bioplastics, paper products, textiles, building materials, etc.
Industrial hemp, for its part, it's a bit like sugarcane. People use sugarcane juice to make sugar or even drink the juice raw. They use the remains as fuel. Similarly, manufacturers use industrial hemp to extract the cannabinoids; they then use the remains for other products. Industrial hemp grows stronger and durable than cotton, yet it requires less water and space to grow.
Hemp Seed Massage Oil
People derive hemp seed oil from Cannabis sativa plant seeds. Just as its source, it contains a high percentage of Omega-3 and Omega-6 fatty acids, nutritional antioxidants, and gamma-linolenic acid. Topical use of hemp-based massage oil reduces inflammation and body pain. Most importantly, people don't ever get a 'high' when they use hemp seed massage oil. This is because it does not have any THC on it.
Hemp seed massage oil is, thus, not for recreational purposes. Instead, it may help to reduce rheumatoid arthritis inflammation and body pain. Hemp seed oil might also boost cardiovascular health by improving high-density lipoprotein cholesterol, total cholesterol, triglycerides, and low-density lipoprotein cholesterol. Additionally, hemp seed massage oil also has anti-aging effects, antioxidant effects, and anticancer effects.
Why Use Hemp Seed Oil
Hemp seed oil is popular for its anti-inflammatory properties, providing superior moisturization and not clogging pores. Massaging the skin with hemp seed massage oil regularly can make it soft and supple. It can also keep fine lines and wrinkles away efficiently. Many pieces of research on hemp seed oil suggest that a massage with it can help heal sensitive skin, psoriasis, eczema, rashes, and acne, thanks to the high percentage of antioxidants in hemp seed. Here are some of the specific reasons Hemp seed massage oil might be great for you.
1. Moderates Oil Production
Oily skin can block skin pores, which later results in acne. Hemp oil works for various skin types because it doesn't clog the skin pores. In fact, it balances the oil content in people with oily skin. It hydrates the skin, keeps it soft and moisturized, and regulates the skin's oil production. Sometimes, dryness causes the skin to overproduce oil, which ends up causing acne. Hemp oil prevents skin dryness, which will not clog pores as excess oil usually does.
2. Soothes Inflammation and Moisturizes Skin
Gamma-linolenic acid (GLA) in hemp seeds is the main source of Omega-6 fatty acids. It acts as the body's anti-inflammatory source that encourages new cell generation and skin growth. This element reduces irritation on the skin and subdues inflammation. It helps keep the skin moisturized and nourished. Taking getting a massage with hemp seed massage oil regularly will ensure your skin remains soft throughout the week.
3. Targets Atopic Dermatitis
The balance between Omega-3 and Omega-6 fatty acids helps treat severe skin conditions like atopic dermatitis. A study on the effect of hemp seed oil on atopic dermatitis concluded that regular oil massage could reduce atopic dermatitis symptoms and appearance in just 20 weeks.
4. Addresses Fine Lines
The hemp seed oil also has anti-aging properties, making it a perfect massage oil for the face, hands, and legs. Users will notice the softening of fine lines, wrinkles, and crows' legs after regularly getting the massages. The human body doesn't produce oleic acid, and linoleic acid hemp does. Said acids are crucial for anti-aging and keeping fine lines light.
Hemp Seed Massage Oil or Traditional Massage Oil
Many people question whether it's best to use traditional massage oil or hemp seed oil. Well, the above benefits prove why hemp seed oil is always in high demand. Again, hemp seeds are not just useful for nutritional purposes. They are widely popular for improving skin health and for their plethora of health benefits.
Traditional massage oil may keep the skin smooth and soft, but it can't balance its skin's oil production, remove fine lines, or treat atopic dermatitis. Hemp seed oil, on the other hand, produces a wide range of effects that keep the skin moisturized and nourished for days. Massaging the skin with hemp seed oil regularly helps keep the skin healthy for a longer time.