Hemp Effects on Skin: Should You Use Hemp Oil for Your Skin?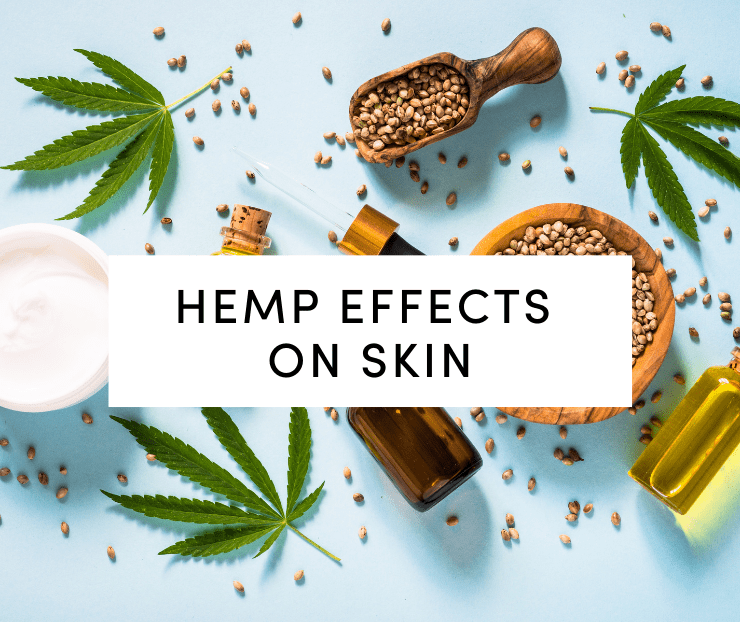 Posted on September 11th, 2020
As hemp products continue to rise in popularity, you may have heard about both hemp seed oil and CBD oil. Hemp seed oil is usually known as "hemp oil," and is a natural supplement that is harvested by the cold-pressing of hemp seeds. In most cases, hemp oil is unrefined and is typically a clear green oil and carries a nutty flavor. Generally speaking, it's different from cannabidiol (CBD) hemp oil as the latter is an extract of the cannabis plant and uses its leaves and flowers for its production. As the name suggests, hempseed oil is obtained from the hemp seed itself. It typically doesn't contain the psychoactive component, tetrahydrocannabinol (THC). Undoubtedly, hemp oil has many potential health benefits, some of which may include improving overall skin health. Hemp oil is rich in moisturizing properties and vitamins, therefore, it may be great for skin health. So what exactly are the effects of hemp on your skin? Read on to learn more.
What Are the Effects of Hemp Oil on Your Skin?
As aforementioned, there are numerous skincare benefits that you may enjoy from using hemp oil, either by consuming it or using it topically. Below are a few ways in which you can see hemp oil may be beneficial to your skin.
May Help With Skin Conditions
One thing that makes hemp oil so useful to the skin is that it is rich in omega-3 and omega-6 fatty acids. By consuming these nutrients, you may be able to help skin conditions such as atopic dermatitis. Based on one random, single-blind crossover study, it showed that hempseed oil lowered the appearance and symptoms of clinical atopic dermatitis in 20 weeks. While further research is needed, this study shows that CBD has the potential to help atopic dermatitis.
Moisturizes and May Reduce Inflammation 
Gamma-linolenic acid (GLA) is one of the many omega-6 fatty acids found in hemp oil. Primarily, it acts as a powerful anti-inflammatory when simultaneously promoting skin development and new cell generation. This could help alleviate the skin's irritation and inflammation by keeping it nourished and moisturized. It might also help fight acne and specific medical conditions like psoriasis. 
May Help Regulate Oil Production  
In general, hemp oil is ideal for most skin types since it can moisturize and won't clog your pores. Hemp oil has properties that could also help balance out your oily skin, hydrate it, and moderate the skin's oil production. How might this be helpful? Dryness could stimulate your skin to overproduce oil, and in turn, could cause acne.
Might Contain Anti-Aging Properties
We know that hemp oil is good for soothing and moisturizing the skin which can help combat skin aging, but it may also contain certain anti-aging properties. Generally speaking, hemp oil could help reduce wrinkles and prevent signs of aging. Furthermore, hemp oil has oleic acids and linoleic acids, which can't be produced by the body. However, they play a vital role in anti-aging and skin health; therefore, they're essential nutrients to include in your diet.
In general, the hemp seed oil is rich in antioxidant constituents: vitamins A, C, and E, and gamma-linolenic acid (GLA). Antioxidant skincare products might help provide your skin with some protection when it comes to premature aging.
Contains Potential Antibacterial Qualities
According to several studies, hemp oil may contain antibacterial properties. What impact this brings on your skin, if any, remains to be a priority for researchers. However, CBD oil, hemp oil, and other cannabinoids are still being studied as potential treatments for various skin conditions such as skin cancer, rosacea, psoriasis, eczema, and acne.
How Do You Use Hemp Oil?
There are many ways you could use to enjoy the skin advantages from hemp oil, including topically and orally. 
Using Hemp Oil Topically
One method of taking hemp oil is by applying it directly to your skin. You may consider this option if you experience dry patches or immediate skin irritation and you're looking for quick relief. But before using hemp oil, you may want to test it on your skin to ensure that you won't get an adverse reaction. You may want to test hemp oil on your skin by doing the following:
Start with clean and dry skin.

Apply a small amount of hemp oil.

Resume normal activities, but watch for any reaction.

In case any itching, burning, or redness occurs, it's safe to assume you're sensitive to that oil and should not use it. If you notice any reaction, immediately clean the spot with water and soap.

If you do not notice any reaction, you can assume that it is safe to use hemp oil on your skin.
Some may be looking to use hemp oil to help with their acne. If that's the case for you, try applying it topically, using the hemp oil directly on clean skin. For best results, consider waiting for a couple of minutes before cleaning it with warm water.
Alternatively, you could use a combination of hemp oil and other anti-inflammatory ingredients to help soothe your skin. You may wish to combine hemp oil, coconut oil, and essential oils to create a soothing mixture. You may also look for topical hemp products such as salves, balms, and lotions to find relief. 
Using Hemp Oil Orally
The second method of using hemp oil is to ingest it, offering the same potential skin benefits that you may see when used topically. One benefit of using hemp oil orally is that there is a reduced risk of any breakouts or skin irritation. The downside? You may notice other side effects such as a stomachache or irritability. 
We suggest starting with a low dosage and working your way up. For hemp oil, you may want to start with 1 teaspoon daily. You may choose to divide your doses into two or perhaps all at one time. As previously mentioned, hemp oil can have a strong, nutty taste that isn't suitable for all palettes. If you don't enjoy the taste of pure hemp oil, you might consider mixing it into some of your favorite recipes. 
Several popular choices are to use hemp oil in smoothies or salad dressings. You could also use it for cooking. That's right! Hemp oil can help create amazing recipes, so don't be afraid to try it with some of your classic dishes.
Before introducing CBD into your routine, it's always best to speak with your doctor to ensure it will not interfere with any medications or interact with other topical products you may be using. 
Are There Any Side Effects to Using Hemp Oil?
Hemp oil is generally safe for most people to use, however it may come with minor adverse effects. For those who wish to use it topically, you may experience mild irritation at the site of application. Therefore, as mentioned, it's important to apply it to a small patch of your skin first.
Ingesting hemp oil may also come with its own adverse effects. Hemp oil is fatty in nature, and therefore, may cause stomachaches or loosened stools. This is why it is encouraged to start with low doses and increase as needed. Hemp products may also interact with blood thinners, therefore, before consuming hemp oil regularly, speak to your doctor to confirm whether it's right for you.
Hemp Seed Oil vs. CBD Hemp Oil: What's the Difference?
Although they're derived from the same plant, these two products are very different. CBD hemp oil is generally a chemical compound present in the cannabis plant. You might be surprised to discover that hemp seed oil is typically low in CBD and other cannabinoids. Hemp seed oil, as the name suggests, is made from the seeds of the hemp plant. CBD hemp oil, however, is created using the whole plant, including flowers, leaves, and stalks.
How Do You Choose a Hemp Oil Product?
Generally speaking, hemp oil is incorporated in numerous cosmetic products, from bath products, tinctures, balms and salves, lotions, and soaps. But before purchasing a hemp oil product, you may want to take the following into consideration:
Take a Close Look at Its Ingredient Listing 
At times, some manufacturers will put only a small quantity of hemp oil in the product to market their product as a popular hemp product. Although hemp oil doesn't have to be the first ingredient, it shouldn't be the last either.
Think of Your Skincare Goals
You shouldn't just choose a particular skincare product because it consists of hemp oil. It would be best to consider what that product is specifically designed to do and determine whether it aligns with your particular skin's requirements. For instance, when your skin is dry, you will feel better with a more emollient cream than a light lotion.
Consider Other Ingredients
Generally, the other ingredients in that product will have to do with how that product functions. For instance, if you want a highly moisturizing product, which also comprises hyaluronic acid, it is an ideal bet. When it comes to anti-aging, glycolic acid or retinol are the best additions.
Experiment
Each hemp oil skincare product will feel differently on your skin. In case you do not care for one, feel free to switch it out for a different brand or type of product you might like better.
Bottom Line
Whether taken orally or used topically, hemp oil provides numerous effects on the skin. Hemp oil is generally considered safe for most people to use and it could be a beneficial moisturizer for your skin from the inside out. Remember to speak with your physician before taking CBD and begin with a low dose of hemp oil daily before increasing your dosage.