Gretchen Takes Back Her Tennis Dreams and Writes CBD Oil Review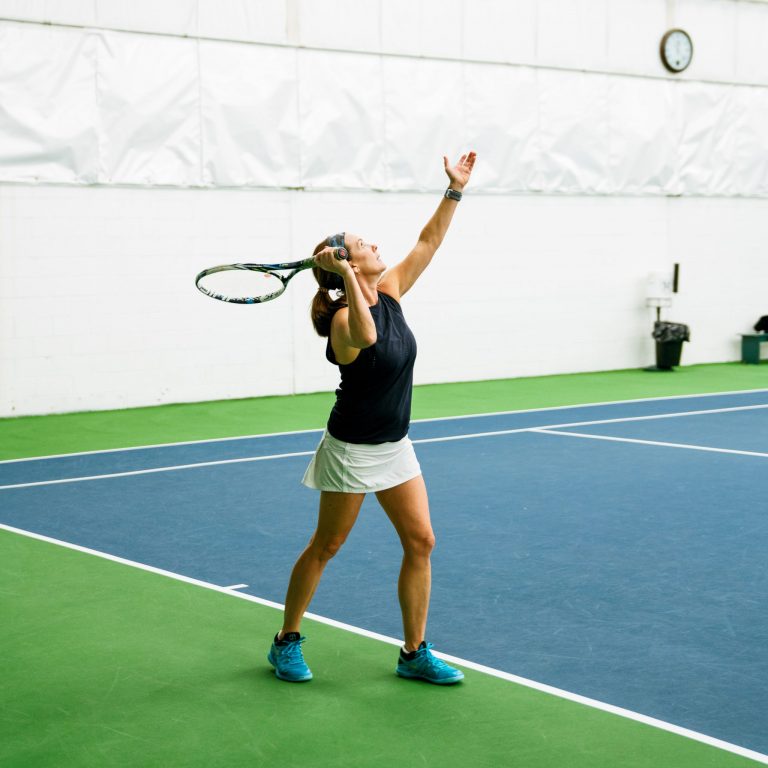 Posted on March 23rd, 2020
Tanasi's team is one big family. That's because we believe in what we sell: high-quality, full spectrum CBD oil products and you can read that in our CBD oil reviews. And because our belief is also backed by lab testing, we know with certainty that the products are safe and effective for your use. So, while we encourage you to try Tanasi's CBD products for yourself, you should know that we do the same exact thing with our extended family members. Don't believe us? Just check out what tennis phenom Gretchen Dahle (the wife of Tanasi COO David Dahle) has to say about her journey with CBD. When you're done? If you're so inspired, feel free to reach out to us with your own CBD oil review—we love to learn more about our customers' CBD experiences. But now, with no further ado, let's jump into Gretchen's story!
Early Days: Falling for the Sport 
Gretchen grew up in Jackson, TN, a relatively small city about 70 miles east of Memphis. And it was there, she says, that her love of athletics—and especially tennis—was initially sparked.
"I started playing tennis when I was five years old," she recalls. "That's when my mom and dad hired a tennis coach for my sister and I. Right away, we thought it was a great sport," she says. As a result, they weren't going to stop with just one or two individual lessons.
Instead, over the next few years, the sisters continued working with their coach. But, at the same time, they were also playing at the local country club. Now, the young athlete's schedule was certainly packed with school, tennis, and all her other activities, But it was never too much for Gretchen. "I played a lot of different sports," she says, "but tennis was always my passion. I played for a long, long time." And loved every minute of it.
As time kept moving forward, Gretchen stuck with the sport. She played for her high school's tennis team but took a break from the sport during college. "I wasn't quite good enough to play there," she admits. So, after putting tennis temporarily in her rearview, and completing her education, Gretchen found a new path. And, on that road, work and life obligations kept pulling her further away from the game she loved.
Switching Coasts, and Gears

After graduating from college, Gretchen moved out west, relocating to Los Angeles, California. Now, get excited, because this is the part of the story that brings her back to her roots. "I found my way back to tennis when I lived in LA," she explains, "because I worked in a tennis shop! So, while I was there, I started hitting again, in my free time." Immediately, she reconnected with the sport, remembering all the reasons she loved it in the first place.
Soon enough, Gretchen's free time led her to the next chapter of this story. After months of hard work, Gretchen was in serious need of a vacation. And, as luck would have it, her sister had a great one planned: a trip to Park City, Utah. Gretchen was thrilled to tag along and, while the journey was intended to be brief, it ended up being much more than a visit. That's because, on this excursion, Gretchen met David who, at the time, was living and working in the local ski town. So the rest, as they say, is history.
In summation: David and Gretchen fell in love and got married. Since David's job in Park City was already well-established, Gretchen relocated so they could start their life together. Fairly quickly, she was able to find her own in-town adventures.
"I worked for the Sundance film festival in Park City," she says—which was a very demanding job, as you might imagine. So, in order to blow off steam and stay active, she joined a working women's tennis league. "We played once or twice a week, at night," says Gretchen. And, for the next six years she spent in Utah, this was a great game and a great life. But then, 13 years ago, David's job situation changed, and the couple moved to Tennessee in pursuit of these new opportunities. Sometimes, big changes like those can be disruptive. But, for Gretchen, the move proved to revitalize instead. Want to know why? Keep reading for the next part of this tale: it's where we finally get to the topic of Tanasi!
Making Music City Tennis Town
While working in Utah, Gretchen could only make a little bit of time for her tennis dreams. But once she arrived in Nashville, she decided to shift gears, putting family first (obviously) but making tennis a close second after that.
"My husband and kids make fun of me," she says, "but tennis is a really big part of my life right now. I play three to four times a week—sometimes even five."
To get in that many games, Gretchen plays with a lot of different teams. "I started playing a lot more when we joined Hillwood Country Club," she says. And by that, she means a lot more. "I have contract time on Mondays and Fridays," she reveals, "and I play on my USTA team on Wednesdays. I do love playing tennis because it's really fun. But tennis also makes me feel really good, especially when I'm playing really well because I'm very competitive. So, I like to win. and I like to play well."
Now, if you're still thinking the game is just a really time-consuming hobby for Gretchen, think again. When it comes to her play with the United States Tennis Association, she explains, "That's my really competitive league. We've made it to state, which is really hard."
But Gretchen's ready for something even bigger. "If we win state," she says, "We get to go to sectionals, which is held in Mobile, Alabama. And if you win there, you get to go to nationals."
Here, in this sentence, comes a glimpse of Gretchen's future vision for her game performance: "My ultimate goal, in the next five years of tennis, would be to make it to nationals on the USTA doubles."
Now, that's a pretty big goal, but Gretchen feels confident she can get there…unless, of course, injuries keep her off the court.
Getting Hurt and Writing Her First CBD Oil Review
A few years ago, Gretchen hurt her leg and had to take about two months off from playing. Then, this summer, her painful history repeated itself. "I was on the court and went for a volley, and I strained my right hamstring," she says. She knew right away what she'd done because it was a repeat injury. And, afterward, she says, "I could walk, but it was really painful."
When she'd previously sustained this injury, she says, "I had to stop playing tennis for about six to eight weeks. This time, I didn't really have a treatment for it, and I didn't want to go back to my doctor and get a steroid shot or go to physical therapy."
Luckily for Gretchen, David had recently switched jobs again, this time joining the Tanasi team as our Chief Operating Officer. (By the way, he's not only a numbers guy, says Gretchen. He does basically everything for our high-quality, full-spectrum Cannabidiol CBD. So, when you buy CBD from Tanasi, there's a good chance David had a hand in your product, at the packaging stage, in the marketing moment, or somewhere—and everywhere—in between.)
Now, after that injury, David planned to get her back on the court. And, not surprisingly, that plan involved cannabidiol oil. So, right after that injury, she says, "I started using Tanasi's products. I have to embarrassingly admit, at one point I wrote a few CBD oil reviews even though I am a Tanasi family member. I couldn't resist because the product was so effective. David saw my CBD oil reviews and called me out on it. He was laughing as he said "The COO's wife should not be writing reviews!"
CBD: Paving the Road to Tennis Recovery
Before we keep going with this tale, it's important to remember that cannabidiol oil is just a form of CBD. Hemp-extract products can come in many different forms, including tinctures, water-soluble drink concentrates, salves, and lotions. Given all the options, Gretchen decided to work with more than just one form of CBD. As we're writing this post, she's totally loving Tanasi's lotion and tincture. But when she first began sampling Tanasi's wares, she started with the lotion.
 "Tanasi was a big part of my rehabilitation at the end of the summer," she says. "We just discovered Tanasi's CBD lotion. David told me to put in on my hamstring, so I put it on nightly, and I felt an improvement in about a week. I didn't have to go to the doctor, or go for physical therapy: I just put on the lotion and did some stretches in my home. After I started using this product, I was back on the court in about two weeks instead of six to eight. That's why I believe in it."
Anyone can appreciate a quicker recovery period but, for Gretchen, less downtime was a huge deal. As she explains in her CBD oil review, "When I can't play tennis, I get a little annoyed. I'm very active and I like to be active, so it's sort of a stress reliever." Which is why Gretchen keeps up with her games—and her use of Tanasi CBD products.
Growing with Tanasi CBD
If Gretchen's CBD journey began with a one-time injury episode, it's safe to say she's moved well beyond her limited relationship. In fact, as of this moment, it's basically a full-blown love affair. These days, she reveals, "I use two different products. I use the Tanasi CBD lotion on different parts, for all the aches and pains in my body. And I've got plenty because of all the tennis I play."
So, from her lower back to her tennis elbow, whatever's hurting gets a healthy application of Tanasi lotion: "I'm starting to use it everywhere," says Gretchen. But Gretchen has also embraced a different form of CBD: "Now I use the Tanasi full spectrum CBD oil tincture," she says. "I take the drops nightly, instead of counting sheep." Gretchen went on to say jokingly with a big smile on her face, "I may have to freak David out again and write some more CBD oil reviews."
As an informed member of our Tanasi family, Gretchen fully understands that "The Tanasi CBD dosage varies," for every user. But when it comes to her personal CBD dosing preference, she says, "I use about 1 ml a night from the 1200mg bottle. I may even start taking more." 
Thanks to her discovery of CBD, Gretchen is feeling really good about her current tennis games. And she's already looking towards a very active future. "Now I'm in my 40s," she admits, "and I'm still playing, but I like to pretend I'm in my 20s…" a feat she can pull off, since her body's feeling better than it ever did, even years ago.
Still, she's also facing increasingly challenging competition from an unexpected source: our very own David Dahle. "Before, when David and I played tennis," says Gretchen, "I used to always win. Now it's sort of even." Even so, she continues, "Occasionally, he wins…but not usually. He's really more of a golfer."
Regardless of the sports they prefer, Gretchen envisions a long and healthy life for herself and her family—and she knows that continued use of Tanasi CBD products will help her get to that goal.
"I really want to be playing tennis in my 80s," she says.  "I want to stay healthy and fit and injury-free, so I can keep playing the sport I love." This is why she plans to keep training, keep pushing hard, and keep on using her favorite hemp-extract CBD products from Tanasi! And, having heard her story, aren't you all ready to do the same?
How Does One Leave CBD Oil Reviews?
Here is an easy path to leave a CBD oil review. At Tanasi.com go to the "our products" tab. Simply choose your favorite product and click on the picture. From there, scroll down the page and click on the "write a review" tab. Fill out the form from there. Every CBD oil review is extremely important to our Tanasi family. We would appreciate it if you could take time out of your busy day to write us a review.