Full Spectrum vs CBD Isolate – How Do They Compare?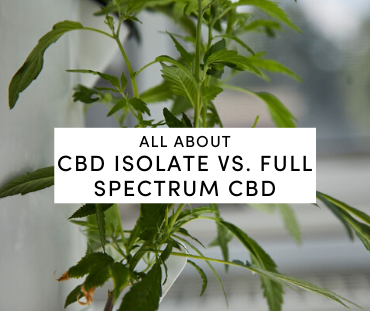 Posted on April 11th, 2022
If you're new to CBD, you may find it difficult to choose the right products or delivery forms for you. There's a wealth of information about cannabis plants, extracts, forms, brands and manufacturers. That's why there's no wonder many people feel overwhelmed when it comes to making the best decision for their health. This article takes a closer look into the full spectrum vs CBD isolate debate. Our purpose? To provide you with a better understanding of the main differences between the two. Read carefully to learn their advantages and drawbacks, Then, you can choose the one that best suits you.
But first, let's learn more about each of these forms of CBD.
What Is Full-Spectrum CBD?
Full-spectrum CBD contains all of the cannabis plant's cannabinoids, fatty acids and terpenes. This full-plant extract also contains THC, but in such low amounts that it can't get you high. Nonetheless, it could get you in trouble with drug tests. In such situations, a full spectrum vs CBD isolate comparison would favor the latter.
In order to obtain this full spectrum extract, manufacturers extract and filter out cannabinoids without removing any active compounds. The resulting product may have enhanced health benefits. For example, the anti-inflammatory properties of terpenes will pass on to the full spectrum CBD product.
Full Spectrum vs CBD Isolate: The Entourage Effect
There's a whole theory suggesting that taking terpenes, CBD and THC together can be more effective than taking pure CBD. It's known as the entourage effect, and it's the subject of many studies. Briefly, by taking full-spectrum CBD, you may enjoy a wide array of benefits such as stress and anxiety reduction, pain alleviation, inflammation reduction, and neuro-protective effects.
In addition, a full spectrum CBD product may help you with seizures, cancer and fungal infections. Furthermore, according to a 2011 GW Pharmaceuticals study, keeping CBD in the mix, minimizes the unwanted side effects of THC.
While there are other studies that emphasize the compounded health benefits of full spectrum vs CBD isolate products, these things aren't crystal clear yet. More research is needed for a better understanding of the entourage effect.
What Is CBD Isolate?
CBD isolate is pure CBD manufacturers obtain from the cannabis plant by using a series of extraction processes that remove all other naturally occurring compounds in the plant. This is to say that CBD isolate products don't contain any THC.
As you can see, the main difference between full spectrum vs CBD isolate is the THC content (or lack thereof, along with the other cannabinoids and terpenes.)  As a result, their potential health benefits are also different. Here are a few of the potential effects of CBD isolate:
– immune-modulating properties (it may help strengthen the immune system)
– may prevent vomiting
– anti-inflammatory
– could suppress certain tumor growths
– has pain-relieving potential
In addition, CBD may improve sleep quality, prevent seizures, or one day contribute to the regeneration of the nervous system. Still, we need more research to confirm all of these effects in a clinical setting.
That being said, the big question is when to choose full spectrum and when to use CBD isolate. While there's no straight answer to this question, we are going to take a closer look into the main uses and benefits of each of them.
Pain And Inflammation Relief
CBD isolate products may provide pain relief and anti-inflammatory effects to a certain extent. However according to research, a full spectrum CBD product would be more effective in such situations, thanks to the combined action of CBD and THC that results in a more powerful analgesic effect.
Anxiety
There are several interesting studies that show CBD has anti-anxiety effects, thanks to its ability to alter the way our brain reacts to serotonin. These studies focused on various demographic segments such as teenagers with social anxiety and adults with anxiety or sleeping problems.
Epilepsy
Epilepsy isn't a condition to overlook or to take lightly. You have to closely cooperate with your doctor to keep your seizures under control. Also, you should inform your doctor about your wish to take CBD products. In fact, when it comes to epilepsy, your only FDA-approved choice is a drug called Epidiolex. Your doctor can explain to you in more detail the benefits and the risks of this medicine.
Full Spectrum vs CBD Isolate: Side Effects Comparison
The potential side effects of full spectrum CBD may differ from the ones of CBD isolate products. As CBD isolate is nothing but pure CBD, it comes without saying that it has fewer potential side effects than a full spectrum product that contains additional compounds such as THC and terpenes.
Some of the side effects of CBD include: appetite modifications (either increase or decrease), sleep troubles, irritability, fatigue, gastrointestinal troubles, and body weight modifications (either gain or loss).
On top of all these, full spectrum products may trigger additional side effects. These include drowsiness, dizziness, and nausea. Furthermore, taking a full spectrum CBD product may result in a positive drug test. This is why you shouldn't take such products when undertaking activities that require you to take regular drug tests. If you take part in sports competitions, you may want to choose a CBD isolate product instead, as it wouldn't put you at risk to get a positive test and therefore get yourself banned from competing.
The other thing to keep in mind is that CBD can interact with your regular medication, decreasing its effectiveness. This is why you should discuss your intention to take CBD with a medical doctor. And you should follow that advice regardless of the CBD product type you intend to choose.
Conclusions
CBD can help improve the quality of life of many people suffering from various medical conditions. However, choosing the right products and delivery forms can be difficult, as there are many differences between them. One good example is the comparison between full spectrum CBD products and CBD isolate ones. As you can see from this article, there are situations when full spectrum CBD products are a poor choice. Such situations include professions or activities that require passing regular drug tests. Also, in case you're allergic to any of the compounds in the full spectrum product, you should choose a CBD isolate instead.
If you don't have such problems, though, you may want to choose a full spectrum CBD oil, in order to benefit from the enhanced effects of all of the terpenes, THC, and other substances that are naturally occurring in the cannabis plant. This so-called "entourage effect" can help you enjoy a wealth of benefits and improve your health and wellbeing in a more significant way.
Regardless of your choice, however, buying your CBD products from a trusted source is the key element to enjoying an effective and safe experience. Major brands are very careful, so they invest in batch control procedures and best practices that allow them to provide their customers with the same high-quality products at all times. It is true that they are more expensive, but you should never compromise on quality for the sake of a lower price. Your health is at stake, so make sure you pick the best products and you order them from trustworthy sources. Whenever possible, buying them from the official website of the manufacturer or from an agreed distributor is the way to go.