CBD Tincture vs Gummies: What's the Difference?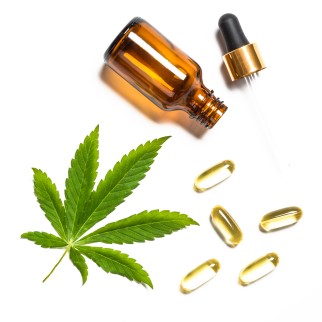 Posted on October 10th, 2021
CBD tinctures vs gummies: is one a better choice? Both are popular products with a variety of potential benefits. But there are several differences between the two. And that's why CBD users often prefer one over the other.
Want to find out your personal preference? You need to know how CBD tinctures and gummies work. Then, you have to explore their benefits, dosing recommendations, potential side effects and cost. Finally, you can discover where to buy them, and what they're best used for. Sound like lots of work? Don't worry! This article will cover everything, to help you determine which form of CBD is right for you.
Main Differences: CBD Tincture vs Gummies
First of all, these products come with different administration methods. And that can impact how quickly they work for you.
CBD tinctures are cannabis extracts infused into a carrier oil such as MCT oil or hemp seed oil. Then, it's diluted with another type of liquid. This can be an alcohol-based solution like ethanol, or it could be glycerol, vinegar, glycerine, propylene glycol, or a combination of any of these ingredients.
CBD gummies are made from cannabidiol isolate infused into jelly candies. The carrier oil for this product varies depending on the manufacturer. But it could be coconut oil, sunflower lecithin, palm kernel oil-based, or a blend of ingredients.
CBD Tincture vs Gummies: Relief and Effectiveness
Dosing for these products is also different. You dose sublingual tinctures under your tongue, so you absorb soluble cannabinoid molecules directly into the bloodstream. As a result, you bypass your digestive tract. And that means tinctures offer maximum bioavailability and MUCH faster effects. (That's because of how they're absorbed. But also because the sugar in CBD gummies can slow down their absorption rate.)
Gummies' effects also tend to take longer to kick in. Also, gummies usually have less CBD per serving than a comparably sized bottle of tincture. As a result, you'll need more gummy servings per day to achieve your desired effects. If you're also taking other oral supplements, you may need to take the gummies at a different time from your other pills. (And talk to your healthcare provider about dosing, so you don't experience negative drug interactions).
CBD Tincture vs Gummies: Taste & Dosage
CBD tinctures taste like the herbs they were brewed with.  And many people report that they don't like the liquid's natural taste. Gummies are generally sweet and fun to eat, and the taste is often compared to sour, fruity candy. Even so, you may experience a slight aftertaste with gummies.
Most tinctures come in bottles ranging from 0.25 oz (smaller and more discreet) up to 16 oz or larger for people who want to buy a longer-lasting supply. Gummies are generally sold in 30-60 serving packages with a price ranging between $20 and $50.
When it comes to dosage, it's easier to control a CBD tincture serving. Tinctures typically come with droppers, so you can easily measure out doses without wasting product or accidentally taking too much. Gummies, on the other hand, are typically sold by weight. Some manufacturers sell them in small doses (such as one gummy per day), while others offer large bottles that can last longer or facilitate sharing.
CBD Tincture vs Gummies: Are There Any Side Effects?
Tinctures have virtually no side effects. But some users experience stomach discomfort because of gummies' high sugar content. And this stomach discomfort can make it difficult take CBD gummies daily.
CBD gummies and tinctures aren't psychoactive, as long as they're derived from hemp. (With THC content below 0.3%.)
No, CBD isn't linked to any known adverse side effects. But if you take certain medications, cannabidiol may interfere with your dosing. That's especially true for diuretics, anti-depressants, anti-epileptics, and blood thinners.
As for how you can safely dose? Well, as with any supplement, it's best to start with your lowest dosage possible. Then, you can work your way up if needed. Additionally, if you're not sure about your doses, consult with your doctor or a qualified CBD advisor before starting a new routine.
Safety Precautions When taking Gummies, Tinctures, and other CBD Supplements
– Always check the ingredients. You don't want to take something that might make you feel worse.
– Double-check the dosage on the bottle. CBD is different for everyone. You may need a dose as low as 2mg or as high as 150mg per serving.
– Don't take CBD gummies on an empty stomach. Instead, have something in your stomach first. That way, the effects may be more noticeable, and you'll be less likely to experience mild nausea.
– Pregnant or breastfeeding? Talk to your doctor before taking CBD gummies. We don't have enough research to support safe CBD usage during these time periods.
– CBD is not psychoactive. But it can affect your mood and behavior, or make you feel sleepy. If this happens, try taking your daily dose before bedtime.
– Keep an eye out for side effects like changes in appetite, sleep problems, and jitteriness. Discontinue use or lower your dosage if problems develop.
– Be aware of the side effects like drowsiness and vomiting. If you feel nausea, dizziness, or any uncertainties, talk to your doctor.
– Always keep the supplement out of reach from children.
– Be sure not to mix CBD with alcohol, prescription medications, and/or anti-depressants without first talking to your doctor.
– You should be able to find CBD in most health food stores. This product is federally legal, but you might need a prescription from your doctor in certain states.
– If you have any pre-existing medical conditions, talk to your doctor before taking any form of CBD supplement.
Conclusion
Both CBD tinctures and gummies offer an easy way to reap the benefits of this miracle plant without having to smoke, but there are some significant differences between these two options. If you're looking for quick relief from daily stressors or pain management, then a sublingual tincture is an excellent choice for you. If your primary goal is to incorporate CBD into your daily routine, then gummies are the way to go.