CBD Topicals and How to Apply Tanasi CBD Salve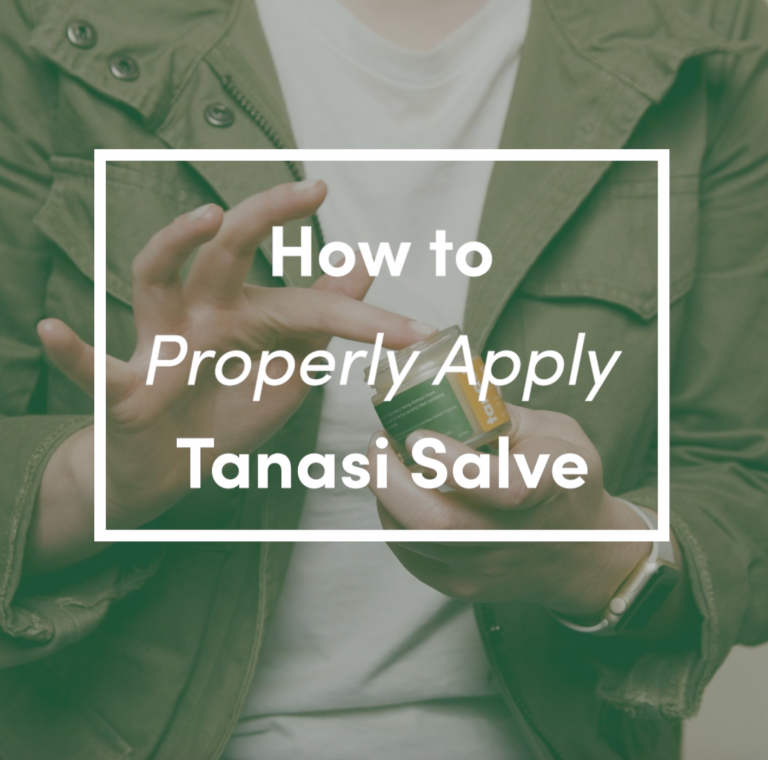 Posted on February 28th, 2020
If you're a first time CBD salve user, you may be wondering what to do with this viscous pot of magic. Well, don't panic: we're here to help. We even made a YouTube video for you on how to apply Tanasi CBD salve! But before we share our top tips for applying CBD, let's take a closer look at what goes into our CBD topicals. 
What is a CBD Salve?
A salve, with or without CBD, is an ointment that's meant to benefit or heal your skin. You could also call it a balm, but it all boils down to the same thing: a blend of ingredients, infused with plant-products (in our case, CBD), and mixed with carriers such as oils and beeswax. The carrier oils do one simple job—they help carry infused CBD to your skin for easier absorption.  In our Tanasi salve, we use almond oil, but hemp oils are also popular choices as carriers. 
Now, a CBD salve is similar to CBD creams or lotions, because you apply it directly to your skin. But there is a key difference. Both lotions and creams contain water, which means they also have an expiration date. Water-free salves last much longer, and are unlikely to dry up. Also, because they have no water content, salves are much thicker than creams or lotions. 
How Do I Use CBD Salves? 
Unlike tinctures or water-soluble CBD, which you dose orally, you have to apply CBD salve topically (directly to your skin.) From there, your body absorbs the CBD, and this cannabinoid gets to work targeting the area around your application site. Now, since the dose of CBD in your salve is absorbed through your skin, it works locally—you won't get the same effect you'd see with oral CBD doses. For that reason, you'll want to maximize your dose with the best technique for applying CBD. So keep reading for our 3-step guide to the perfect application process but most important to know is that each scoop is 5mg of CBD for your tender spot!!
This is the Best Way to Apply Tanasi CBD Salve
Choose your target zone
Got a specific spot that needs a little love? Before applying CBD, try to pinpoint your exact problem areas—say, if your arm hurts, is the problem closer to your shoulder or your bicep? Pinpointing one area can really help you get your desired effect. Of course, even if you aren't in pain, you can still enjoy applying CBD salve. Many people like to target common tension spots, such as your wrists, temples, neck or even the soles of your feet. There's nothing like a proactive dose of CBD salve to help you unwind at the end of a long day! 
Clean Up
Once you know where you're going to apply Tanasi CBD salve, it's time to prep yourself. Carefully wash the area you'll be applying CBD. This will help clear away unwanted dirt, germs or any kind of particle that could interfere with your CBD absorption. And it will help ensure that you get the maximum effect from your daily dose. 
Choose your tool 
Since every ounce of CBD topical contains active ingredients, using an applicator like a spoon is a good idea. This way, you target the spots you want, and avoid treating the parts—like your hands—that may not need the CBD love. So, grab your tool, get a generous scoop of salve, and firmly but vigorously rub the salve into your skin. After that, the dosing is up to you. Some people like to go for two or three applications; others are good with just one time. We suggest starting low and slow. See how the first application works for you, and go up from there, until you achieve your desired effect. 
    4.  Scoop Don't Swirl! 
If you don't have a small spoon, dig in. Scoop out a generous amount of salve on your finger and generously apply to the area in need. Sounds simple, right? Well, that's the beauty of our CBD salve. It's easy to use, easy to absorb, and it feels great going on. In fact, we love making CBD applications part of a special pre-bed ritual. Self-care in a jar: what could be better?