CBD Therapy – How Can CBD Help Your Journey?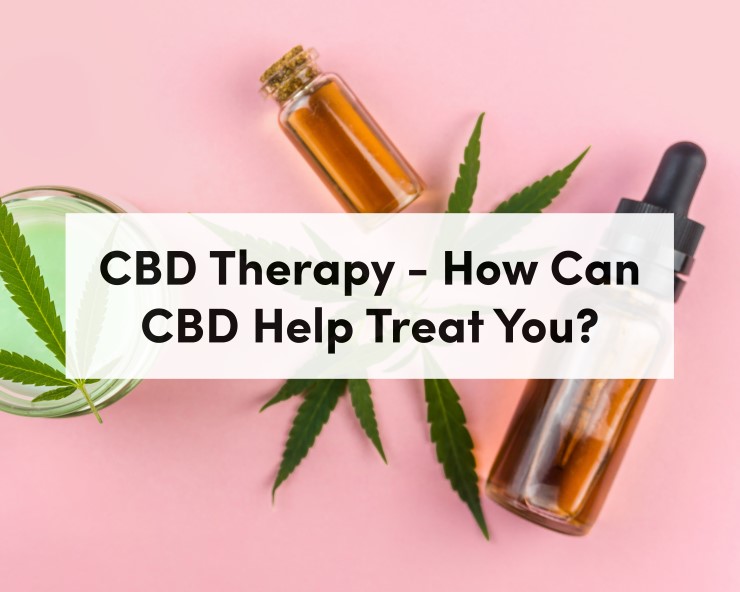 Posted on October 15th, 2020
CBD or cannabidiol has taken the world by storm in the last several years. Both curious and health-conscious consumers have been on the search for an alternative to conventional medicine, and CBD has fascinated them in regards to its potential therapeutic value. So, how does CBD affect the body, and what does CBD therapy mean for human beings?
Is Cannabidiol Marijuana?
Well, yes and no! Cannabidiol can come from the marijuana plant. But it does not contain the compound THC, which is responsible for the high or psychoactive effect marijuana smokers experience. Thus, CBD does not result in an altered state of perception since it lacks those psychoactive elements.
How is Cannabidiol Made?
CBD oil is created by extracting the compound cannabidiol from the cannabis Sativa L plant; the same plant marijuana comes from. It's then diluted with a 'carrier oil' like coconut oil.
How Does CBD Affect Your Body?
If you get into a CBD routine, there's an array of potential benefits to enjoy, based on what reports from other users' experience:
Addresses anxiety symptoms.
Promotes insomnia relief.
Targets anti-inflammatory conditions such as arthritis.
Faster post-workout recovery and healing.
These are just a few of many benefits you may enjoy by adopting CBD therapy. While more research is still ongoing to know more about the casual effects of cannabidiol. Many users claim to have seen improvements in pain, inflammation, and nerve-centered diseases because of its relaxation and anti-inflammatory properties.
Cannabidiol Topicals
Athletes are not the only ones who can benefit from CBD therapy. Last year, the Arthritis Foundation found out that 80% of participants considered utilizing CBD creams and lotions for pain. People should apply cannabidiol cream to painful regions so that the substance can penetrate the skin quickly and start working on the targeted area. There's strong evidence to suggest that topical applications can impact internal systems
Users can use these topicals in conjunction with other powerful and anti-inflammatory herbs capable of alleviating pain that persists for an extended period. If you are hesitant about using cannabidiol edibles, you can go for CBD lotions to target specific areas of your body. Ideal CBD topicals do more than just mask your pain or inflammation. The high concentration of cannabinoid receptors in the human skin is also responsible for the efficacy of topicals.
Major Benefits of CBD Therapy with CBD Oil
In this section, we are going to look at the most widely reported benefits derived from CBD therapy. Different users report varying levels of relief, depending on the extent of their issues and also how the cannabinoid interacts with their bodies. However, most individuals claim it has wonderful potential health benefits and therapeutic value.
1. Enhanced Focus
Have you been having trouble during your working hours lately ? Many CBD users claim that their focus level increases with the consumption of CBD oil. That is most likely because the cannabinoid increases the serotonin and dopamine effect and minimizes the level of distractability, anxiety, and depression in some individuals.
2. Reduced Inflammation
One of the fascinating CBD oil properties is the manner in which it seems to interfere with inflammatory reactions. Thus, helping reduce the body's level of inflammation. Inflammation is an integral part of various health disorders such as headaches, pain, arthritic pain, and muscular disorders. While research in this field is still not conclusive, CBD users report an improved sense of well-being due to the relaxation properties and the compound's ability to influence neurotransmitters found throughout the brain and body.
3. Improved Neurotransmitter Activity
As hinted above, neurotransmitters are found not just in the brain but also throughout the body. They're chemicals messengers that act as nerve transmitters and transfer the chemical effects to other synapses or nerve endings. That results in the chemical aspects transferring to other parts of the body. Cannabidiol can increase dopamine levels in the body, which boosts your consciousness of the environment. Dopamine production is ideally responsible for minimizing pain receptors. So, this can result in pain reduction, which can be helped by cannabidiol.
4. Anti-aging Effects
According to a study in the Journal of Investigative Dermatology, CBD helps keep the skin looking young and vibrant because of its antioxidant properties. It is also possible that cannabidiol boosts overall skin health, in addition to clearing up acne, eczema, and other skin conditions.
5. Antipsychotic Effects
Research also has it that CBD has the potential to provide antipsychotic effects on users. Unlike marijuana, CBD does not contain THC, which leads to psychotic episodes in people with schizophrenia and other mental conditions. In fact, CBD has seemed able to reverse the effects of THC.
6. Boosts Sleep Quality
Some individuals have found that cannabidiol hampers insomnia and makes them feel more relaxed, thus getting a good night's sleep. Individuals who get at least 8 hours of sleep a night tend to be well-rested, focused, and active during the day. As such, this can help you feel better and more capable of undertaking your daily routine after a good night's rest.
7.  Can Help Users Stop Smoking
According to a study in the National Library of Medicine, some CBD users found it easier for them to quit smoking after using the product regularly. In the study, smokers were given an inhaler containing CBD oil and told to use it for one week each time they had the urge to smoke. The results of the study showed that people who used the inhalers had a minimized their cravings for smoking. These studies are still in the early stages, but the results so far are encouraging as they show the potential for CBD to curb smoking!
Possible CBD Therapy with CBD Oil Side Effects
As with any product, it's imperative to know some of CBD oil's potential side effects. These are minimal in most cases, but you could experience the following symptoms due to regular use:
Dry mouth.
Fatigue
Diarrhea
Lightheadedness
Reduced blood pressure.
Changes in weight or appetite.
Nausea
Research & Studies on CBD Therapy
Cannabidiol studies are still in the early stages as the Food and Drug Administration has only recently approved its production for OTC sales. CBD is now legal in most states, and as more and more people use it, there will be more conclusive studies in the future. Users report that consuming CBD boosts alertness, relaxation, and a generally improves mood.
While still needing more studies, those who use CBD usually report a feeling of well-being in addition to a host of other benefits.
When we look back at the biggest health developments of the century, we think that cannabidiol has the chance to appear near or at the top of the list. Apart from basic necessities like food and water, we would be hard-pressed to name another product with as much research suggesting it has a wide array of health benefits with little risks. If you go through the studies and research, chances are you'll walk away convinced that cannabidiol can help out almost everyone. If you are yet to be convinced, let us take a look at some of the incredible reviews and clinical trials on CBD published over the last several years.
1. It Can Alleviate Anxiety & Depression
A review of existing studies around the subject appeared back in 2015. Those responsible for the review compilation came across studies supporting that administering CBD could benefit individuals with panic disorder, obsessive-compulsive disorder, PTSD, generalized anxiety disorder, etc. Based on the available information, many scientists consider cannabidiol to be a strong anxiolytic agent.

2. Can Relieve Pain
Cannabidiol also has well-documented anti-inflammatory properties, and this has resulted in many using the substance to manage chronic pain. But does it really work? Back in 2018, Cannabis & Cannabinoid Research released a survey of 2,409 individuals, most of whom consumed the substance to manage chronic pain. About 36% of the participants used nothing but cannabidiol to treat their conditions, all of who reported that it worked perfectly by itself.
3. Neuroprotective
One of the first CBD properties that researchers came across was the ability to protect the brain by improving blood flow and alleviating inflammation. Pediatric Research documented these findings in a study that was published back in 2008. Research on pigs revealed that acute CBD consumption could prevent neuron death and reduce brain damage in case of a stroke.
4. Can Reduce Acne
The overactivity of the sebaceous glands in the skin is what results in acne. These glands release too much oily sebum that results in dust and dead skin cells clogging the pores. Fungi and bacteria trapped within the pores start to breed uncontrollably, leading to the formation of Pimples. CBD not only has the potential to kill fungi and bacteria without drying your skin, but it can also regulate the sebaceous glands, making them minimize sebum production.
CBD Therapy – The Takeaway
If you wondered whether getting into a CBD therapy program is worth it, this read should be convincing enough. Given the many potential benefits CBD has to offer you with little to no adverse side effects, it is certainly worth the shot.