How Does CBD Paste Differ From Other CBD Products?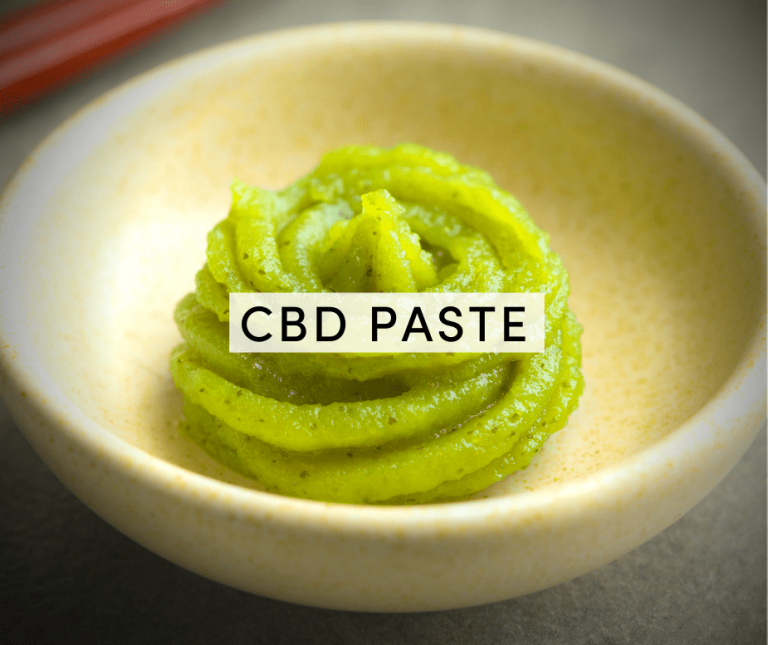 Posted on February 8th, 2021
In recent years, CBD has been gaining popularity all around the globe. As cannabis laws continue to change, more legal CBD options are becoming available on the market. You may already be familiar with various products like CBD tincture, gummies, and capsules. But did you know that there is now a new form of CBD? CBD paste is one of the more recent developments in the cannabis world. We're here to tell you everything that you need to know about it.
What Is CBD Paste?
Just like the many existing products, the main focus of CBD paste is the concentration of cannabidiol. However, it differs quite a lot when it comes to potency. It is typically much stronger than the other CBD variants and has a higher concentration. Some companies are beginning to add this new and exciting product to other oils. 
Paste is a great option for those who need to use higher doses for a number of reasons. As such, it benefits those needing more for specific conditions when smaller doses fail. In essence, CBD paste is a very thick liquid that contains oil, wax, or butter, and CBD extract. 
Even though CBD still comes from the cannabis plant, products containing it have very low THC levels. According to the Farm Bill 2018, hemp and CBD products with less than 0.3% of THC are legal. While the paste is a bit stronger, it still should not cause a user to experience any intoxicating effects. 
CBD oil usually comes in a regular glass bottle with a dropper. In the case of the paste, it tends to come in a syringe since it is so thick. Due to its viscosity, it becomes hard to use with a dropper. With a syringe, precise dosages are easier to measure. 
Research on CBD Paste
Since CBD is a hot topic, researchers are still conducting many various studies and tests. Many of these studies suggest that CBD may offer many potential benefits. One of the main benefits is that it can be used as an option for targeting pain. 
This is due to the fact that CBD paste affects cannabinoid receptor activity. When this happens, it reduces the inflammation levels in the body. A scientific study also suggested that CBD paste can work wonders for multiple sclerosis and chronic arthritis. However, it should be noted that this study, in particular, used a spray variant of CBD which isn't legal in the US. 
The spray was known to contain THC which is the federally illegal compound in cannabis. Some thought that the THC had some part to play in the results. The following are some of the other uses of CBD paste:
 -Addressing chronic pain
 -Possible relief for arthritis and other joint-related pain
 -May help with mood disorders such as depression and anxiety
 -Used by many for insomnia and other sleep disorders
 -Nausea
 -Asthma 
 -Allergies 
 -Emerging research on its benefits for people with Parkinson's disease and Alzheimer's disease  
Other Possibilities
Additionally, supporting evidence also indicated that CBD paste may work to relieve the pain associated with cancer. It can also ease the vomiting and nausea from chemotherapy. In certain dosages, it can also aid those suffering from various types of epilepsy. Due to this, there are certain prescription drugs that actually include CBD. Epidiolex is the only such drug that the FDA has approved.
Other CBD studies on animals and humans have yielded other possible uses for the cannabinoid. However, these findings won't be completely accepted as fact until there is more information to prove the claims.
 -May have antipsychotic effects on test subjects. 
 -Seems to inhibit the spread of certain cancer cells.
 -Aids with substance abuse and addiction. The study indicated that CBD can help stop substance abuse especially with tobacco, cocaine, and even opioids. 
The Benefits Of CBD Paste?
As previously mentioned, there are already a ton of CBD products on the markets. These include edibles, cosmetics, creams, tinctures, and even oils. One of the main benefits of CBD paste is that it is very versatile. Manufacturers generally use natural products such as coconut oil, hemp oil, and other natural ingredients that are edible. They mix these with the hemp extract to create the paste.
Ideally, users place the finished product under the tongue. CBD paste can also easily mix into both drinks and food. Additionally, it can also go directly on the skin. Since it lacks the intoxicating components, it is safe for human and even animal trials. While research is still ongoing, CBD paste is considered safe by researchers and users alike.
Dosage
As with most drugs, higher doses of paste have greater effects on users. Unlike other CBD products, users can now finally get a very high dose from a small amount of paste. When compared to other options, the paste is much more cost-effective. You can also make your own edibles from CBD paste.  
Just like any other product, there are some minor drawbacks. These are as follows:
Determining a suitable dosage is a bit harder than other products. The main reason for this is the high concentration of CBD in the product. This makes it easier for users to take more than they intended to.
CBD paste also tends to have a stronger taste in comparison to other CBD products. Since this variant is a paste form, it can also become easily stuck to both teeth and gums. 
Choosing CBD Paste
-Type
When purchasing CBD, you'll have a choice between the broad-spectrum and the full-spectrum. If you're intending to stay away from THC, go with the isolate or broad spectrum. Isolate contains no other cannabinoids but the one you want; in this case CBD. However, there is a lot of research suggesting that combining cannabinoids produces better results. This is called the full-spectrum entourage effect.
-Potency
CBD paste is much stronger than other CBD products, so, keep in mind that this might not be the product for first-timers. 
-Third-Party Testing
Many companies in the industry have already started making false claims for products. So, before buying, it's a good idea to look out for a certificate of analysis. This just simply means that the paste was tested by a third party. They will test for contaminants such as heavy metals, pesticides, and even mold along with others. 
-Source
In order to get the best money can offer, it's a good idea to look out for those who have followed strict regulations and sourced their seeds or plants within the US. If they are certified organic this is even better. 
-Customer Reviews
Customer reviews are the best option to determine the quality of the product that you're purchasing. Hence, reviews are the baseline and they even indicate problems that are faced with the product. Paying attention to this is a great idea. 
Safety And Side Effects
Several credible sources indicate that even though CBD is safe, there are still some side-effects that may occur. Some of these include the following:
Weight loss 

Fatigue 

Changes in appetite

Diarrhea

Dry mouth
Before taking CBD paste or any other related product, you should consult a medical professional. This is due to the fact that CBD paste may interact with various medications. Additionally, avoid combining CBD with foods that contain high compositions of fat. This significantly increases the likelihood that you will experience adverse side effects. 
Takeaway
Well, we have just looked at everything that you need to know about CBD paste. If you're trying to up your cannabidiol dosage, traditional oil and gummies may not be enough. If all else fails, maybe paste is the thing to try. 
CBD paste is generally more potent than other CBD products. However, it isn't recommended for first-time users since it contains a higher concentration. If you want to work your way up to such concentrations, consider starting with a full spectrum tincture. You may find that it's exactly what you need. 
CBD paste can potentially be more effective when dealing with severe pain, symptoms from chemotherapy, and anxiety. The main benefit is the lack of severe side effects that some pharmaceuticals cause. Also, while shopping for CBD paste, be on the lookout for reputable companies that offer users a certificate of analysis (COA). 
If you're still wondering if CBD is legal, just remember that as long as a product contains less than 0.3% of THC it is legal in the United States. Some states allow for higher THC levels, so check you state laws to be sure. Feel free to search Tanasi's blog for your state's specific CBD laws.