Is CBD Oral Spray the Best Marriage of Convenience and Effectiveness?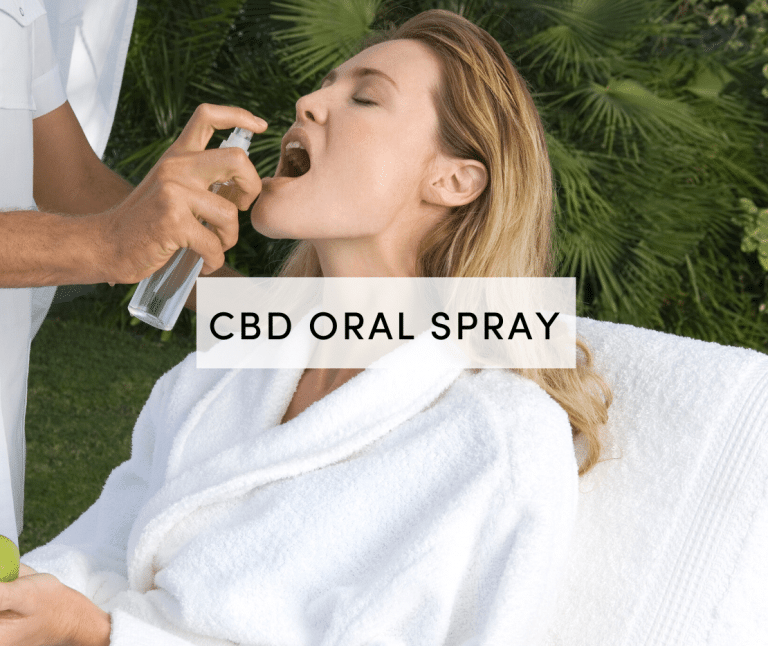 Posted on May 28th, 2021
Cannabidiol (CBD) is an extremely popular supplement for those looking for alternative remedies for certain health conditions, such as anxiety and pain. There is a wide variety of products like CBD oral spray, topical products, as well as edibles. This article looks into how the spray form compares with others that are available. Read on to discover more about the use, effects, and possible advantages of CBD oral spray.
CBD Oral Spray
A CBD oral spray typically includes cannabidiol that comes from hemp plants, mixed with a stable carrier oil in a bottle with a spray top applicator. The majority of CBD oils on today's market come with an eye-dropper style bottle that allows you to measure out your CBD doses drop by drop. Oral sprays can help to eliminate the guesswork out of dosing and offer pre-measured doses with each application. 
Why Use Oral Spray?
In general, the primary difference between oral sprays and the standard tincture oil is the applicator. Although this might look like a minor difference, this applicator can significantly change how you take your cannabidiol. Undoubtedly, CBD can be very versatile in its effects. These might include a good night's sleep, a normal inflammatory response, healthy joint mobility, and helping to maintain a calm and relaxed mood. 
It may be truly beneficial for a wide range of health conditions. It is important that you select a product in your suitable potency range to get the proper dosage. If you're not sure what that is, just start low and increase gradually. There's no risk of overdose. Ensure that you also purchase from a company that utilizes a reliable hemp source with thorough top-of-the-line production measures. 
Advantages
Now, you know what CBD oral spray is and some of its uses. But you must be wondering about the actual benefits of using spray as opposed to other forms of the product. One 2019 study in the Pharmaceutical Journal found that oral sprays deliver supplements to the bloodstream very effectively. Below is a short list of benefits you could expect from CBD oral spray:
– Makes dosing straightforward
– Non-intoxicating, meaning you won't get high
– Smoke-free
– Enhanced bioavailability
What Are Cannabinoids?
Cannabinoids are the cornerstones when it comes to any therapeutic properties of cannabis. They're basically a class of chemical compounds present in marijuana and hemp that interact with the cannabinoid receptors in the endocannabinoid system (ECS). 
The overall advantages of medical cannabis is due to the mechanism of cannabinoids stimulating the CB1 & CB2 receptors throughout the brain and body. Activating CB1 & CB2 receptors allows your body to communicate with various systems in your body to better maintain homeostasis (balance). 
What is CBD?
Cannabidiol (CBD) is simply a naturally existing compound in the cannabis plant. It is among phytochemicals (plant compounds) called phytocannabinoids that can interact with the body's ECS. The ECS is basically a signaling pathway uniquely able to control homeostasis (balance) in your body. 
Researchers have thoroughly studied the vital receptors in the ECS. They look at their effects on healthy inflammatory function, immune function, mood, and energy metabolism. The ECS's communication between cannabinoids and the rest of your body is why CBD has the effects it has on you.
Effects of CBD
Research interest in CBD and its many products has grown tremendously because of CBD's potential health advantages. CBD does not adhere to either CB1 or CB2 receptors like THC does. Researchers have recently realized that CBD might help lower the ability of THC and other cannabinoids to attach to the CB1 receptors. This might minimize the psychoactive effects of THC and might also boost the number of circulating cannabinoids. Based on research from Surgical Neurology International, CBD might help ease the brain's inflammation by indirectly interacting with your CB2 receptors. 
The FDA also approved Epidiolex in 2018. Epidiolex is a CBD prescription for managing two rare epilepsy forms. 
What's more, anecdotal evidence as well as preliminary research claims that CBD might help manage a broad scope of health conditions. These include chemotherapy side effects, weight loss, nerve and muscle pain, dementia, schizophrenia, depression, and anxiety. Nonetheless, researchers should continue to look into the effects and possible health advantages that come with using CBD. 
According to a statement by the WHO in 2017, CBD may provide therapeutic advantages for patients with a number of issues. Some of these are complications from diabetes, cardiovascular diseases, inflammatory bowel, and Crohn's disease. Also, infections, inflammatory diseases like rheumatoid arthritis, depression, anxiety, psychosis, brain injuries associated with restricted blood flow, chronic pain, and neurodegenerative, like Huntington's disease, Parkinson's, Alzheimer's, and multiple sclerosis (MS) may also see some benefits from CBD.
How Does CBD Work?
With decades of research, there is enough evidence to suggest that phytocannabinoids like CBD can be a significant aid when it comes to supporting general wellbeing. But what exactly is this endocannabinoid system? And how does it relate to CBD oral spray? 
Scientists discovered the ECS in the 1990s. It may be one of the largest and essential receptor systems that helps with maintaining good health. It has also been called a vital modulatory system when it comes to the function of the brain, immune and endocrine tissues. 
Based on recent science, not only does the ECS respond to Endogenous cannabinoids (ones your body makes) but it also reacts to phytocannabinoids (from plants) as a way to improve the body's ECS function.
There are cannabinoid receptors (CB1 & CB2) within the ECS, which are also spread all over the body. In other words, these act as doors, and the cannabinoids are a sort of key. These CB1 receptors are present in large numbers in the brain, specifically the Hypothalamus, Amygdala, and Hippocampus. 
On the other hand, CB2 receptors occur mostly in the immune cells, thymus, tonsils, and spleen. The ECS undoubtedly has a vital role in homeostasis.
Will CBD Oral Spray Get You High?
CBD will not make you "high" or induce any intoxicating side effects. But, you must understand the real reason why you won't become high after using CBD.
Although it does come from the cannabis plant, CBD is only one of the numerous cannabinoids existing in the family. Some of these include the infamous THC, which is primarily responsible for providing the euphoric effects of marijuana. These two compounds share numerous similarities because they both interact with the ECS. 
Because both THC & CBD are similar to the endocannabinoids in the human body, they work with your receptors. The brain's neurotransmitters convey messages between cells to deal with immune functioning, sleep pain, and stress. Nonetheless, these two compounds have more differences than most think and they also differ dramatically in their overall effect. 
Using CBD Oral Spray 
One of the most efficient ways to get CBD into your bloodstream is to apply it beneath the tongue. CBD oral sprays are simply meant to be sprayed directly under your tongue. You then wait about a minute for your capillaries to absorb the cannabidiol before swallowing. Quite frankly, it is one of the most convenient methods to receive a healthy dose. Although many enthusiasts may opt for tinctures, they are not quite as convenient for individuals who are always on the move. 
CBD capsules are another good choice. However, if you choose to take this form, your digestive system breaks down the compound more than sublingual methods. Because of this, you could miss out on some of CBD's advantages. The amount of a chemical that your body actually has access to is called bioavailability.
Vaping is generally one of the most efficient methods to take CBD. However, not everyone wants to inhale vapor or smoke into their lungs. What's more, most companies do not allow smoking/vaping indoors. When it comes to edibles, although discreet and convenient, they do not provide a high level of bioavailability. CBD oral sprays offer convenience as well as a high bioavailability. Many claim they are the best marriage of advantages in a CBD product. 
Conclusion
Many people with panic disorders and anxiety have reported that CBD can be an excellent way of taking the edge off. In a pinch, when your stress levels are spiking, you want something that is easy to take quickly. Oils can be messy and harder to measure a dose. Capsules can take a long time to work. Vaping isn't possible in every environment.
CBD oral sprays offer many benefits. One is the fact that it's a quick and easy CBD delivery method, especially if you're nauseated or need quick pain relief.
Furthermore, a spray absorbs quickly via the capillaries and membranes in the mouth. Talk to a doctor before you try CBD, in case you take other medications that may interact negatively.